Joined

Sep 22, 2004
Messages

536
Location
Thought I'd throw up some pictures of my trip to Africa this last October. I know Moosie's heading over there sometime this summer, give him something to think about for a while.
I spent two and a half weeks back there with my father-in-law who has been there several times, but for me it was my first. Have to say that if anyone has ever thought about going back there it is a must. So hard to try and explain to someone until they actually do it. I was no different. But now that I've been, it was unbelievable what an experience it was.
I won't bore you guys with a bunch of stories, but if anyone is at all interested in going over there I'd be more than willing to help out. The outfit I went with was awesome. Did anything and everything to make sure we had a good trip. Would highly recommend them to anyone.
Anyway....here's some pics in order of when I got em.....
Female Gemsbok. Felt good to just get that first one under my belt. Was a little surreal seeing that in my scope when your used to seeing Deer or Elk.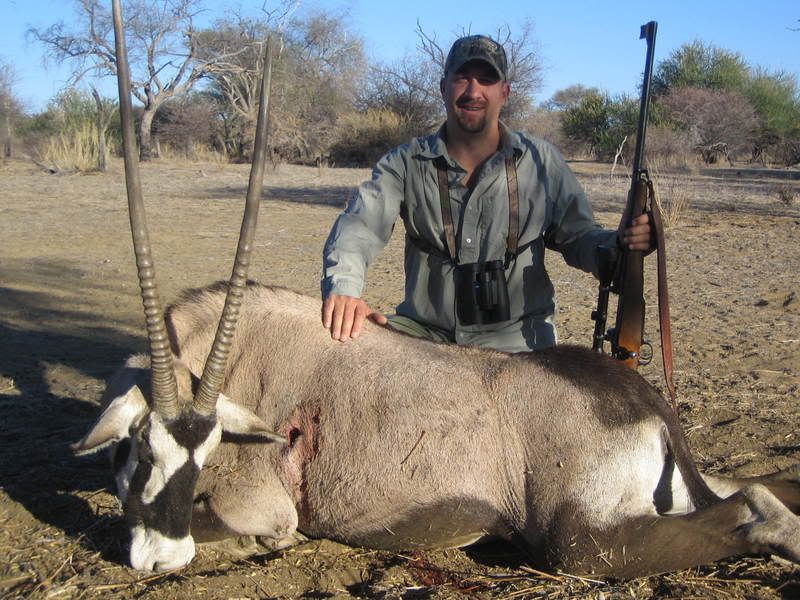 Kudu....In my opinion the most beatiful animal over there. I called them the African version of a bull Elk. Very majestic animal.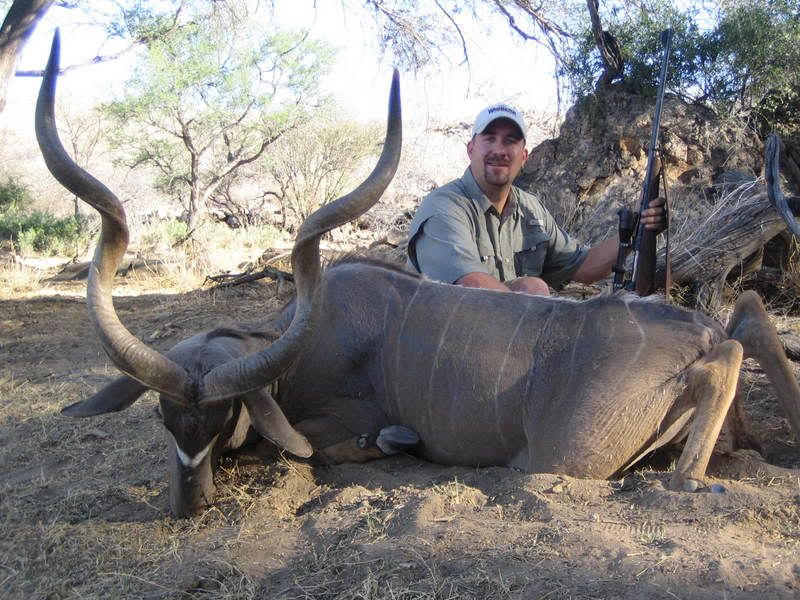 Male Gemsbok. If you notice the horns on the Males are generally shorter than on females, but are noticably thicker. This was a good Male. He'll go on a pedestal.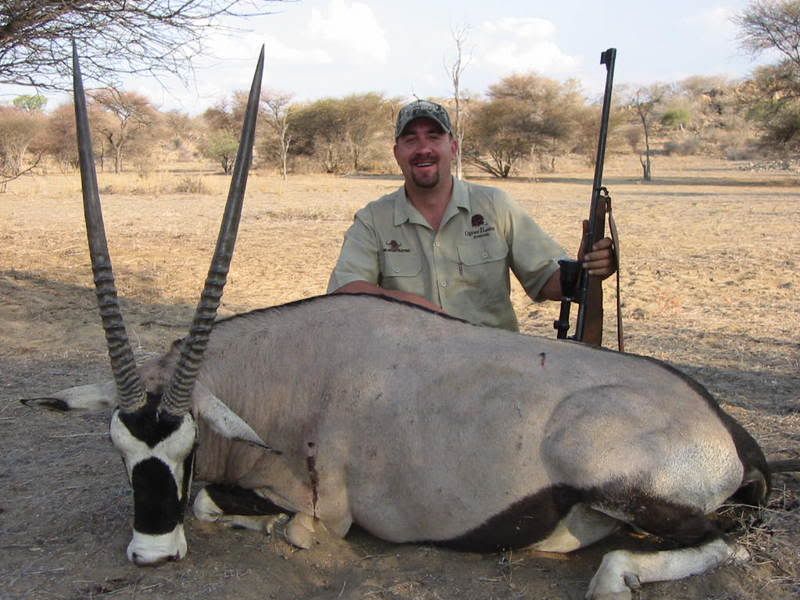 Then we took a three hour drive and spent 3 days over in the Kalahari Desert. What an unbelievable place that is. Nothing like I expected. Better.
First animal I got over there was this Springbuck. Much like "our" Antelope over here. Very elusive critter.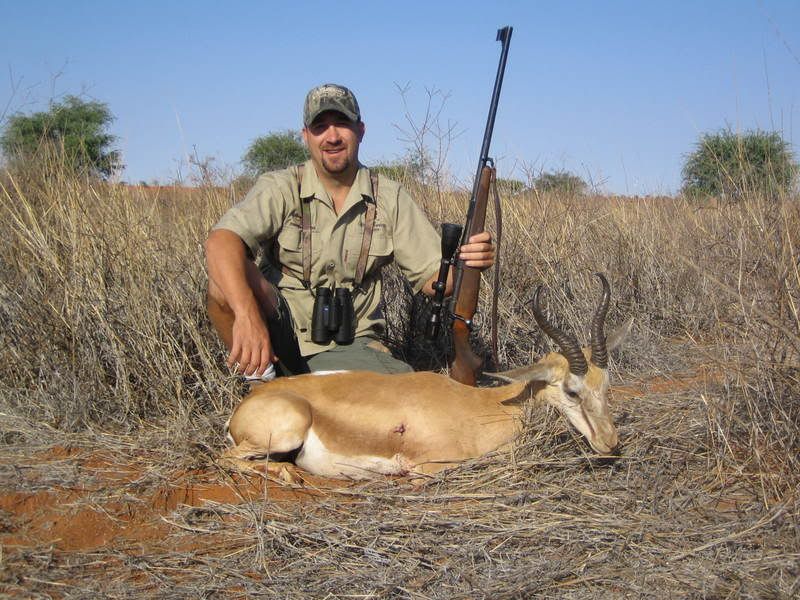 Blesbuck. Also a very elusive critter. Probably one of the harder ones to hunt.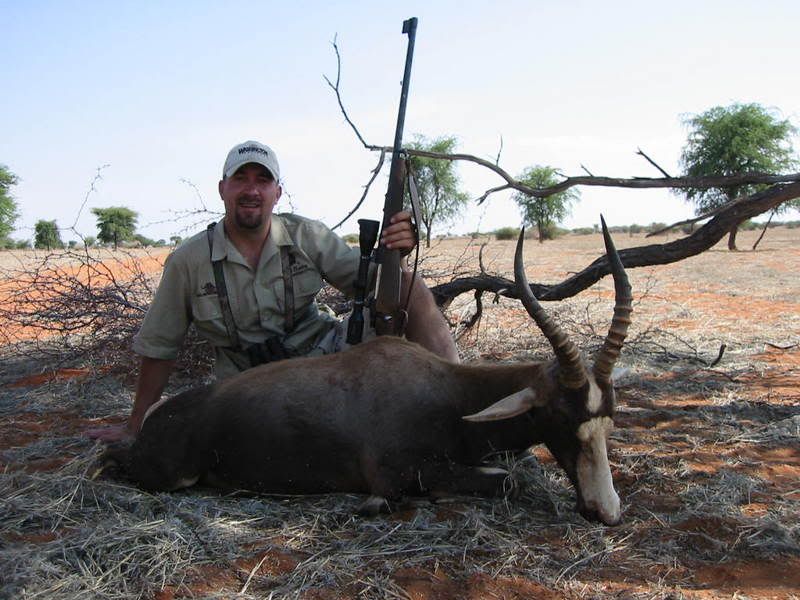 Black Wildebeest. They call this the poor man's Cape Buffalo. It's got horns like a Cape, but obviously is a cousin to the Blue Wildebeest.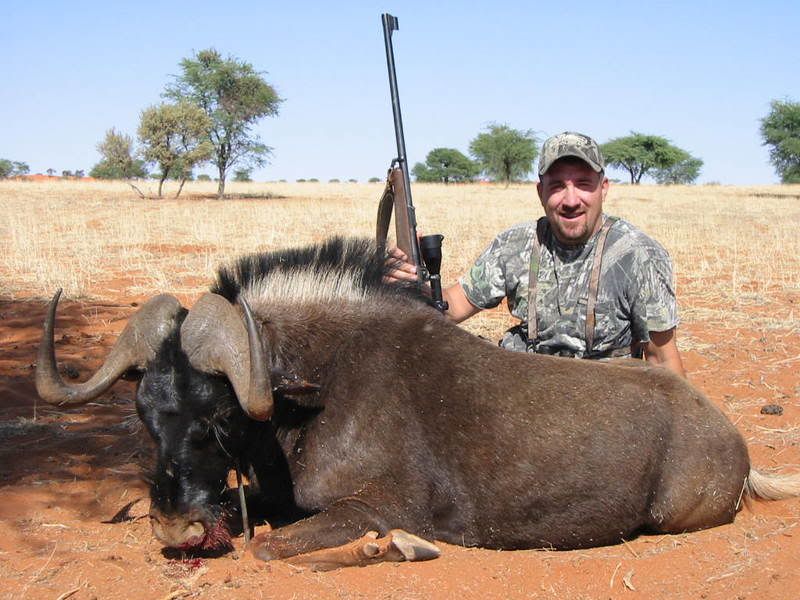 Blue Wildebeest. Tough animal. Not really the smartest critter walkin' the Desert, but they get in herds and can be pretty difficult at times to get close to em' with all those eyes.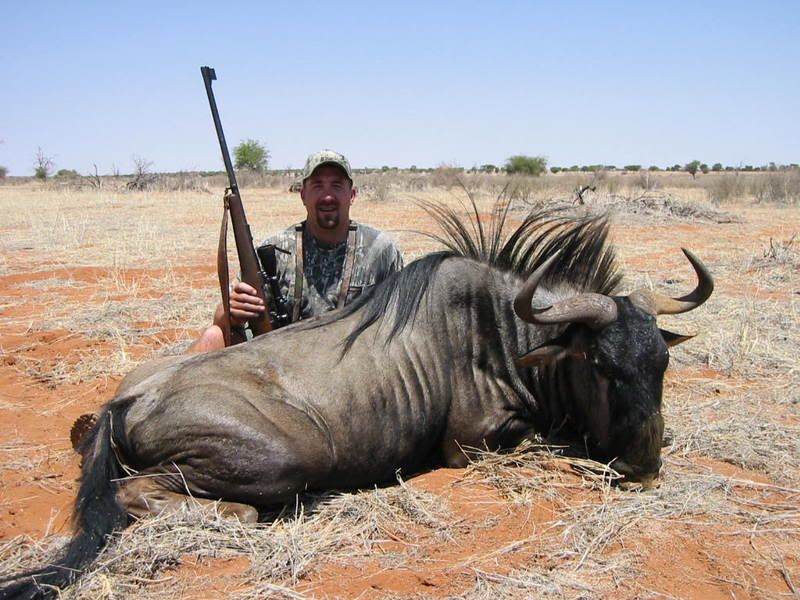 Then came back and hunted the area we orginally started. I was pretty much done with all the larger game animals I was gonna get so I took out the .22 Hornet. Was hoping to get a Jackel which is their version of the Coyote but you usually only catch flashes of em' as they're flying across a dryed up river bed or something.
Anyway I did get this Steenbok. Cute little things. I would see quite a few of them, but they're usually bouncing through the thorn bushes and trees. I'm actually gettin' a full body mount on this dude. That'll look cool.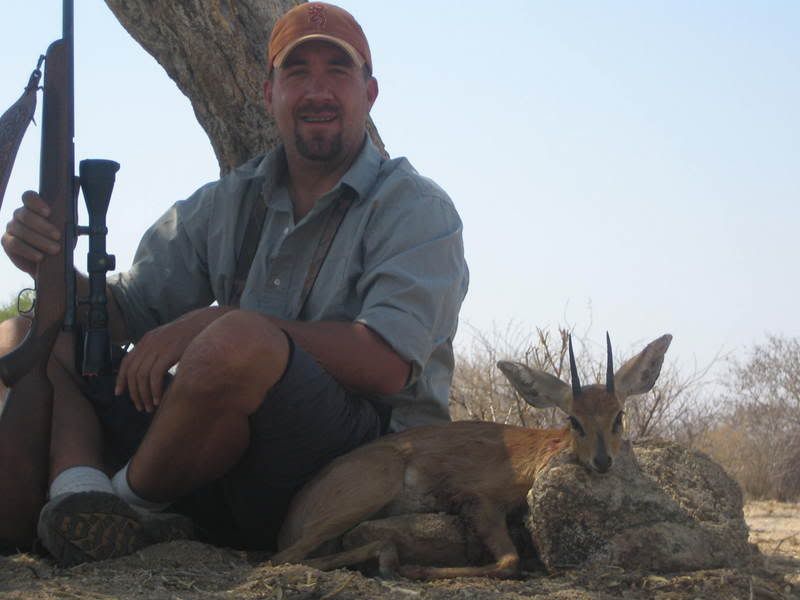 So I didn't exactly get everything I was going for, but that's a good thing. Leaves me something to go back for. I'm hoping to go back in 09'. Only a couple weeks earlier so I don't miss deer season over here.
Like I said.....Awesome trip and would say if you have the slightest chance or have the slightest urge to go.....do it!