Joined

Mar 26, 2012
Messages

15,500
Location
Or maybe it should read "5 Really Friggin' Cold Days in the Big Sky", or "How Many Freaking Elk Can Be on the Valley Floor?"
Anyway, I loaded up the Ram, chopped a bunch of firewood for my family that was without power (and would be until after I got home), and hit the freeway. I survived ice, snow, and 4WD over Homestake Pass. I reached Destination Unknown at 0130 hours, got four hours of sleep, and took the Model 70 for a walk.
Elk were everywhere on the valley floor, but not so everywhere where the public could reach them. I saw a dozen the first day that were way the hell up the mountain and too high for me to reach them before they timbered up. The winds and snow conditions weren't conducive to hunting them, so I left them be.
On Day 2 I tried a different area. No elk, but I caught this buck in the timber. I mouth bleat and he stopped at 80 yards. Big mistake as he got a ride on the Mystery Ranch Express.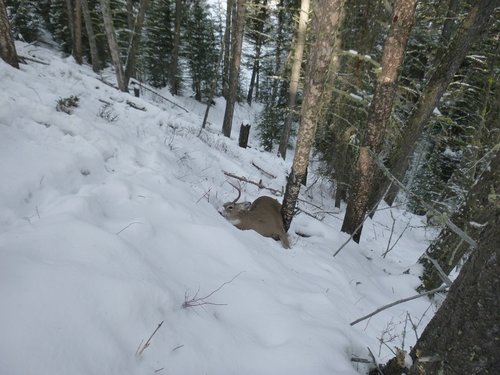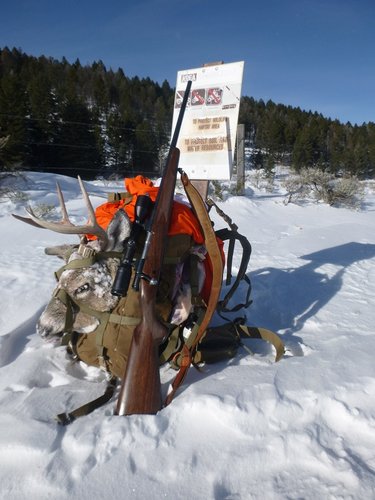 Later in the day I tried a new spot I'd never hunted before. I managed to get stuck trying to get to the parking area in an 18" drift. A little maneuvering and digging and I got out and was off. I hiked into this basin that felt like the North Pole. After thinking I'd never be warm again, I hiked out at dark.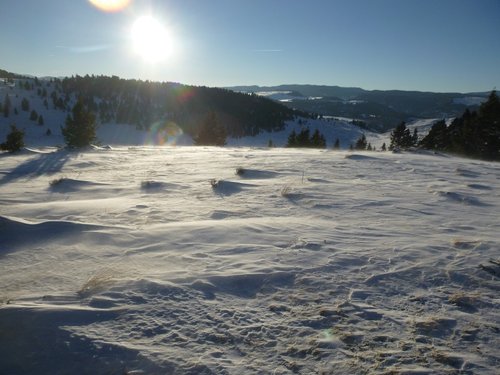 I caught this bit of the sunset and the oncoming full moon. I froze my ass off sleeping in the back of my truck as the mercury hit -5 that night. I ended up crawling up front and letting the diesel idle all night long with the heater on.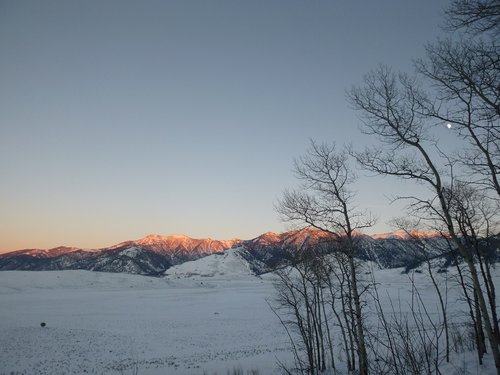 This is what the inside of a Mystery Ranch pocket looks like when your camera gets left on and fires repeatedly.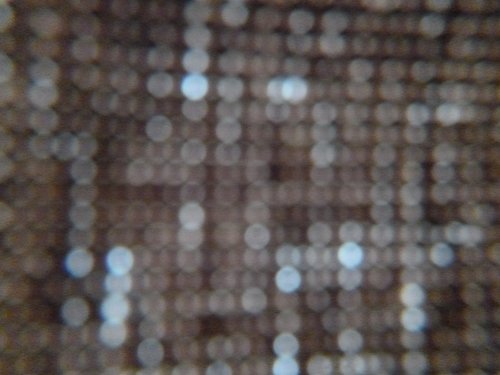 I went to a different spot on Day 3 that I hadn't hunted in many years. I got to watch a great sunrise.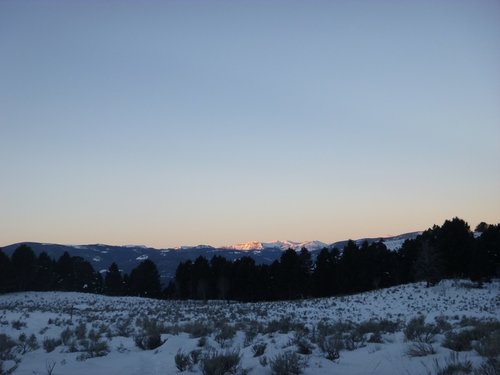 I saw a mountain goat at around 11k feet on a God forsaken ridge. Those creatures simply amaze me. I saw a stupid 4 point mule deer buck trying to get lucky with a rather aloof doe.
I ran into tons of people, to my dismay. I couldn't believe the pressure this area was getting. The most surprising thing though, was late in the afternoon I was sitting on a ridge glassing. I saw two hunters walking towards me. Lo and behold, it turned out to be two 20-something coeds from Bozeman.
We visited a bit, and one of them lamented the fact that she had too much fun at the Cat-Grizz game and they got a really late start that day. They asked me to take their picture so they could prove to their friends they went out elk hunting, which I did. I pointed them in the direction they wanted to go to the trailhead. I absolutely love seeing non-traditional style hunters in the field, as it give me hope for the future of hunting.
Day 4 found me in a different spot at the advice of a friend. At 0800 hours I was in the lodgepoles still hunting up a ridge. I saw a very blond patch. It also had a very brown patch. It also had a brow tine. It also got shot. 80 yards later, I found this.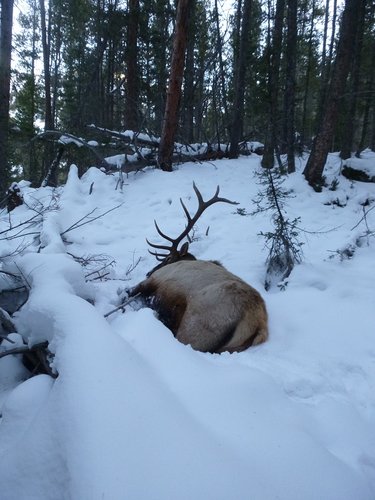 I walked around him and he looked like this.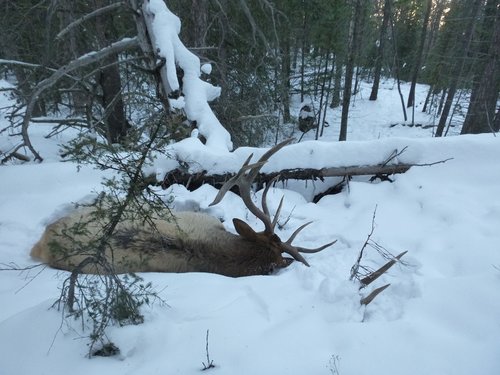 I was stunned. I was somewhat emotional. I was thankful.
I didn't have trailcam photos of him. I didn't name him. I didn't scout him all summer. I simply followed the advice of a very good and generous friend and kept the wind in my face while going slow.
I didn't have a posse with me, so I had lots of work to do. I found this in him.
On one trip to the trailhead, I passed a guy hiking in. I asked if they had any luck that morning and he proceeded to tell me that he saw some elk at 300 yards, but he only takes head shots and they wouldn't stop. He proceeded to tell me that head shots are the best because they drop or you miss.
Of course, I've seen a number of animals with jaws shot off, but I obviously wasn't as smart as Mr. 300 Yard Head Shot. I passed him on the way back in. As I was moving the antlers to load the two front shoulders, Mr. 300 Yard Head Shot walked by, looked over and said nonchalantly "that's not a bad rack." I smiled and said "no it's not".
After five trips I had one of these. Who cares if it's 10 AM?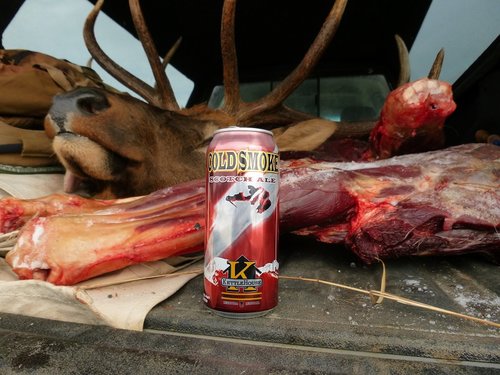 Did I forget to mention I love sunrises?