Joined

Dec 22, 2000
Messages

2,479
Location
So when it gets cold and most normal sane people choose to involve themselves with indoors activities. So what do crazy Montana coyote hunter's do? We get all giddy, dress up like a snow man and go hunting of course.
I have not been on here much lately. I've finally got my health back and I've been spending every spare minute I can find out hunting or fishing. It does wonders for my mental well being. On Christmas day, by the afternoon, things had settled down around my place so I decided I'd slip out and make one quick set before dark/dinner. I promised my wife I would be home in time for dinner at 6pm.
I'm really glad I decided to go as it turned out pretty well. I had a very successful stand. This first photo shows this coyote exactly where he fell 330 yards from where I was sitting. It was an instant kill and quite frankly a pretty decent shot considering it was around -10 and my heart was racing. Shots over 250 yards off shooting sticks, while in a sitting position, are always tough. I'm really starting to like this new custom 6.5 Creedmoor rifle of mine and it's making me look good.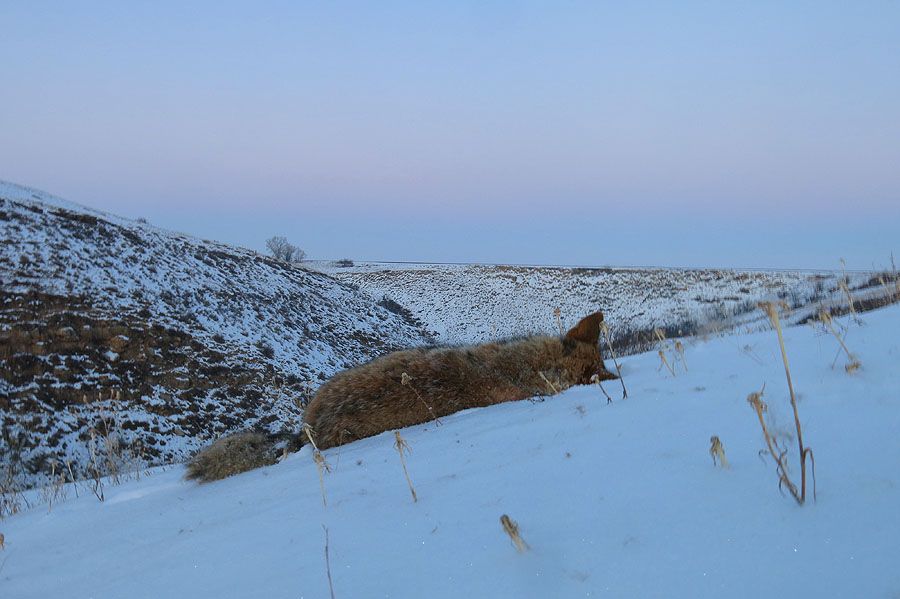 I actually killed two coyotes on the stand. The first was at only 70 yards and like I mentioned the second was as 330 yards. The only bummer about the whole thing is they both had mange. That is a very bad word among coyote hunters and can often lead to a major population drop in coyotes if the outbreak is bad enough. I sure hope it doesn't wipe them all out. As much as I like to hunt them, I also like seeing and hearing them. I don't need to kill every one of them as I like to have at least a few around. Mother Nature sometimes doesn't see it that way and that mange can really decimate coyotes in short order.
I went out the next morning and took a partner that was new to coyote hunting. We only got to make two stands and nothing came in. We also ended up spending half the morning digging his new Chevy pick up that had brand new tires out of the snow. We got it stuck pretty good. By the time we got it unburied we were both tired and ready to call it a day. I was pretty bummed about how things went, and decided I was going to get up the next morning and make one or two quick sets on my own. I was hoping I could redeem myself. I got up early and hiked a 1/2 mile in -15 degree weather. My face was getting pretty frozen and walking through all the deep crusted snow was wearing this fat guy out. I finally get to where I wanted to call from and sat there for 30 minutes calling. I'd picked this place because it usually results in success, but it wasn't meant to be. All I saw was cows and deer. For some reason the walk back to the pick up seemed a lot longer than the walk out. I was going to go home but remembered there was one place that I could stop and call on the way home. I don't normally like to call the place because it gets a lot of pressure from other coyote callers, and I rarely kill anything there, but it was a handy spot to stop. I usually only like to sit on a coyote stand about 20 minutes but I decided I would go a little longer on this one. Right at the 30 minute mark I saw a pair of ears appear on the crest of the hill just under 200 yards away. Then I see a coyote head and just a few inches of his neck. He would not come in any closer. It was a small target, but I steadied my rifle as best as I could and sent a 140gr AMax his way. I thought I had missed but decided to go check anyway because I wasn't sure. Any time I have any doubt, I always go check. Turns out he died so fast I didn't see him drop. This is absolutely one of the prettiest and most perfect coyotes I have ever killed. Please don't misjudge my photo. This is not me being cocky, this is me being absolutely satisfied with life and how things turned out that morning. I usually sell my coyote hides, but this one I'm having tanned and I will keep.
Yesterday and friend of mine and I decided to team up and hunt coyotes. It was bitterly cold and snowing most of the day. The roads were a little tricky and we had to drive about 60 miles on icy roads in poor visibility conditions. We hunted hard all day and finally at around 2:30pm a pretty coyote showed up and my partner was able to put her down. It felt good not getting skunked. We were hunting a new area and it was a bit frustrating to make stand after stand and not see anything. It was just one of those days you just have to keep grinding until you either have success or the day ends.
Unfortunately that was the last stand we planned to hunt and so we really didn't have anywhere else to go. We decided to head home. I got back to town and realized I had time for one more quick stand before dark. So I ran up into the foothills above my house and got settled in to watch the sun go down. I really wasn't expecting much after having hunted all day and only seeing one coyote, but the coyote Gods decided to take pity on me. Just about 5 minutes into my calling stand this big old male coyote showed up. As he came across one tiny opening in the brush I quit calling and thankfully he stopped at 200 yards. Had he walked another 10 feet he would have been in the brush, and it's likely I would have never seen him again. Anyway the 6.5 Creedmoor barked one more time and he hit the ground. Here is what I like to call a "As they lay" photo". This is exactly what I saw as I walked up to him.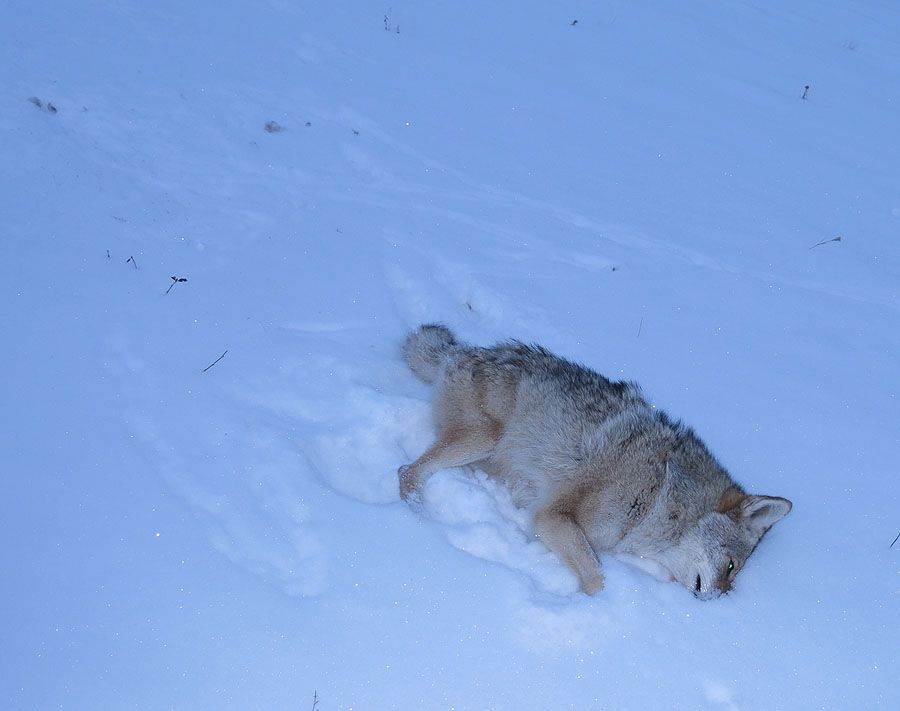 After dragging him back over to where my gun and caller was, I had to take at least one hero shot. It was a long uphill hike back to the pick up. It took me nearly 30 minutes to hike up the hill that normally only takes me 10 minutes or less. Granted I was dragging a coyote out, but about half way I realized I hadn't eaten anything since 6:00am that morning. I was just plain out of fuel and whipped. I have a real bad habit of getting really focused on hunting or fishing and forgetting to eat. It really kicked my butt last night. Combine a steep uphill hike, with deep snow, nearly 60 lbs of gear and dead coyote, plus -10 degrees and it sort'a takes a toll on a guy. However today is a new day and it's all good. Heck I might even go make another stand this evening if the wind doesn't pick up.