Joined

Sep 19, 2016
Messages

2,701
Location
Formerly of
MT Private Land Doe Slayers
(with a surprise buck tag), and
FL to MT 2020
(with buck and elk tags, but none injured), Dad and I headed back to Montana again in November with two Type A deer tags in our pockets and a lucky antelope tag for the area we'd be chasing deer for dad. Since thread is not actually live I'll (try to) go a little briefer than I have in the past.
My goals for this trip were as follows, in order of priority: kill my first mule deer buck, get dad a buck, fill that pronghorn tag. Same rules as the past, the spotter gets first choice to shoot or pass, and my eyes are still better than dad's LOL.
Y'all are familiar with the long drives we make. Since my move to TN last year the drive dropped from 40 hours or so to approximately 30 hours. Same as last year, we left east TN and drove to Sioux Falls, SD on the first day (+/- 16 hours). The second day we stopped in Billings, MT (+/- 10 hours) and the final drive on the third day took us into Havre, MT (+/- 4 hours). We left my house early in the morning on 10/30, missing out on Halloween and trunk or treat with my family (which will be held over my head for the next 12 months I'm sure) and arrived in Havre early/midday on 11/01.
Day 1:
Kory, whose land we would be hunting, had told us in advance that none of his CRP property had been cut this year but that nearly all other properties around him had been cut in some way. Upon arrival, we found this to be true but that our expectations of higher concentrations of game on land we could hunt due to this information were false. The main parcels that we hunted our first year in MT lost a lot of game last year after emergency cutting of CRP for hay and they simply haven't returned yet. Our first day turned into scouting both the private land we had access to along with various small public parcels nearby.
Day one included this picture of us about to set off on our first hike, but not much else.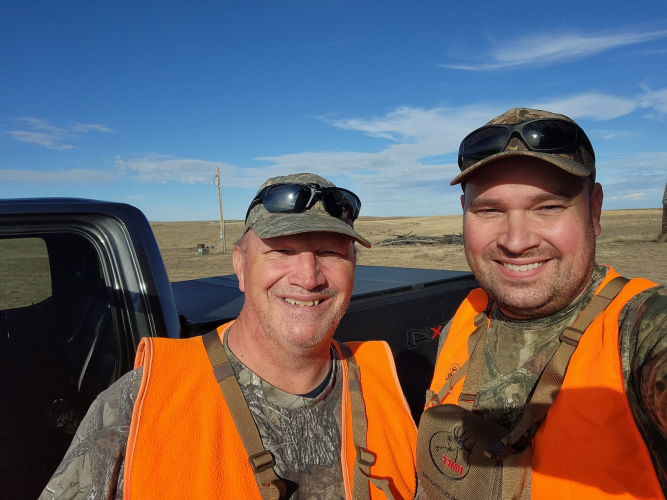 Day 2:
The one property we didn't get to scout on day 1 was a family "farm" north of the rest of the parcels. I put "farm" as only a small piece of the property is still actively farmed while the remainder is basically sage flats and rolling hills. It is bordered Canada on the north includes a wholly surrounded (very small) piece of BLM and some decent topography for the area. We had seen bucks there last year after dad had filled his buck tag and knew no one was hunting there and the deer were unpressured. The goal today was to scout the northern property and see what was hiding out. In our search, we turned up and spooked a big group of whitetail does with maybe a little buck included. You may notice how bright and sunny the above picture is. Well, today was much colder, and way, way windier. The wind would make multiple appearances on this trip. The wind included snow and made it literally impossible to keep your eyes open for a decent picture to send the wife.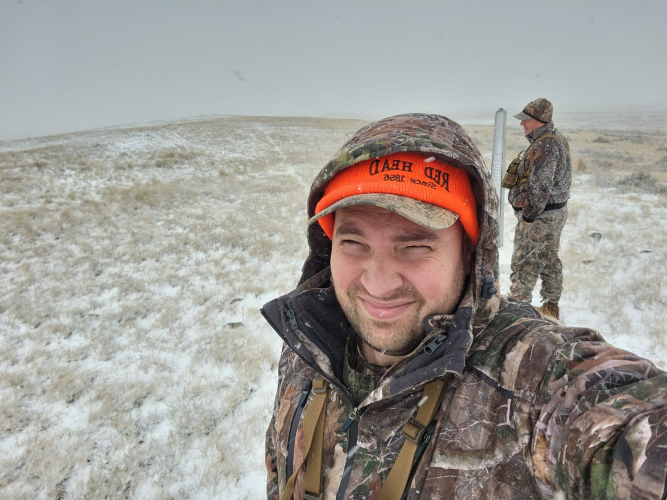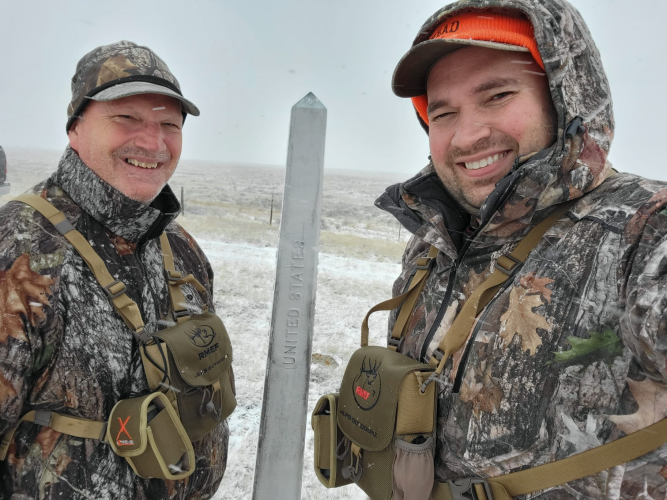 We made our way back to the bottom, heated up water to make soup, and spent some time glassing and warming up.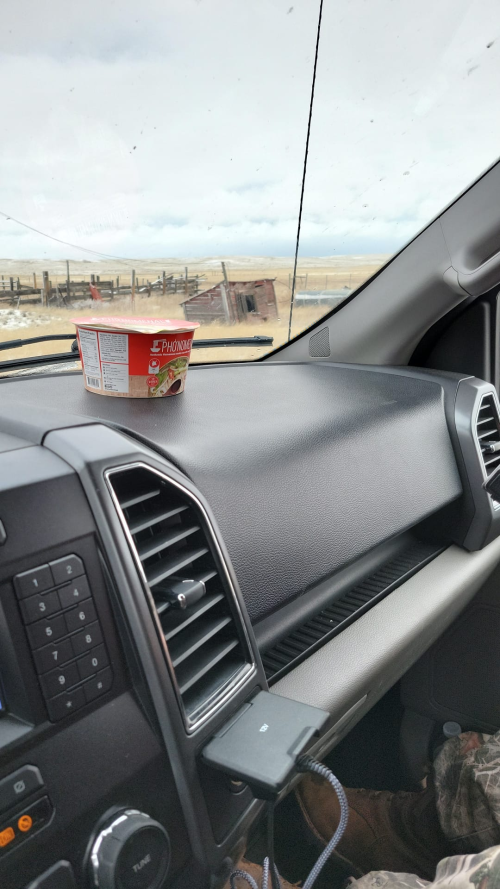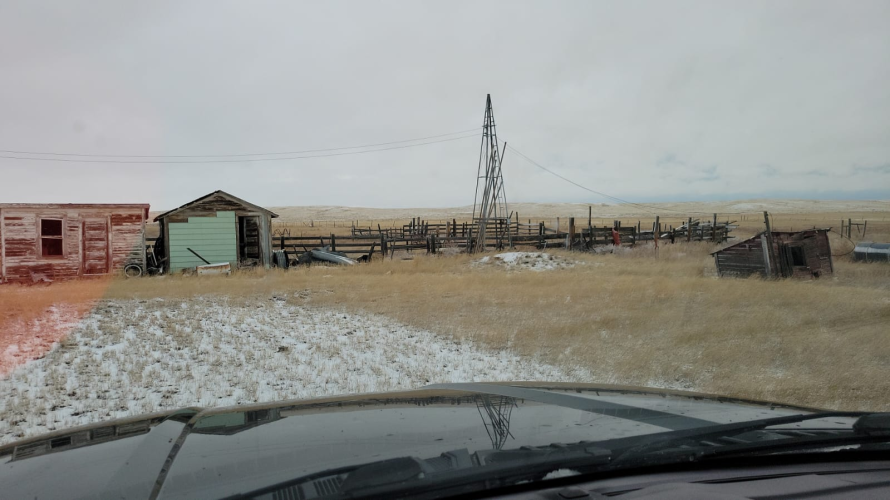 While glassing, I thought I saw a deer bedded up in a little bowl. My first instinct was to tell dad, "I'm just about positive I see a mule deer buck bedded way up there." This was followed by much doubt and going back and forth since our viewing angle was somewhat blocked by that tower in the picture. Eventually, we remembered that we had a spotting scope and, if we braved the wind and cold, we could get a better look. The spotting scope confirmed mule deer buck and, more importantly, mule deer buck I would shoot given the opportunity. Quickly we devised a plan where we could drive the truck and then make a hike get in position for a shot.
The buck was smart, and had bedded in a bowl that both protected him from the wind while also allowing him to view all of the ridgelines where something like us could try and sneak up on him. Additionally, the bowl was small enough that by the time we got within view of the buck we would be close, probably within 100 yards. Spoiler alert, the bucks planning worked out well for him. We stalked until we could see antler, and then got down and tried to crawl to where we could get a shot. The antler view confirmed that not only was this a shooter buck for me, but likely a shooter for both of us. He was a tall, heavy 4x4 with eye guards and was much bigger than I was expecting. Unfortunately, due to the slight slope we were working with and the bucks situational advantage, he caught glimpse of something he didn't like. A quick turn of his head turned into a fleeing buck (no muley look back this time) with no shot opportunity and disappointed hunters. Still, it was day 2 and we'd put a stalk on a shooter muley and were happy with our prospects despite the overall lack of game. The stalk plan generally worked, even if we'd blown it.
We ended up back at the house a little early but with a plan for the morning.
Day 3:
We know knew that our best chance of getting to look at bucks would be at the northern farm and that's where we planned to be. Today was colder, but there was almost no wind which we expected had kept the deer down the last couple of days. We hoped that the combination of the cold but windless weather would have deer out and moving. If nothing else, the sunrise was beautiful.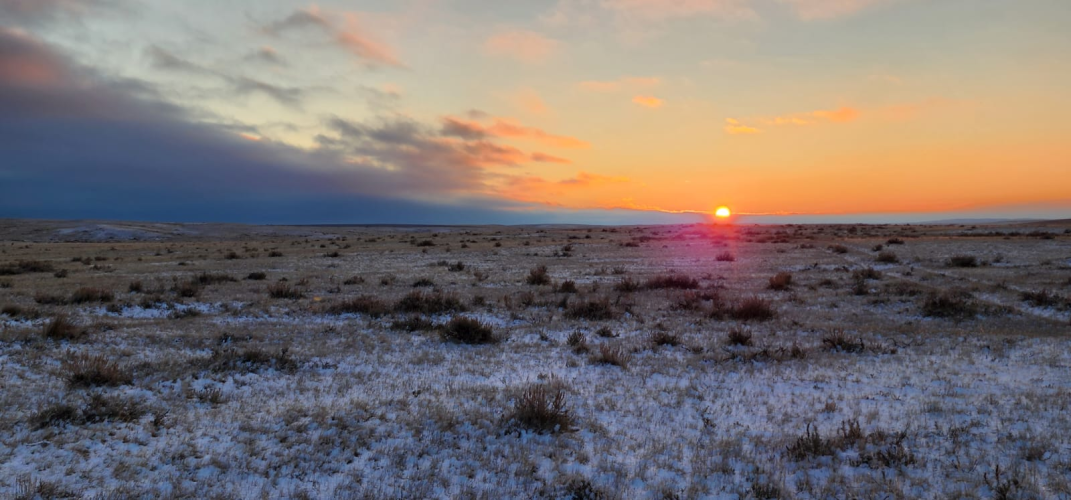 Right off the bat, we were seeing deer. We bumped two small whitetail bucks in the dark as we pulled into the farm immediately got our hopes up for the day. We started our glassing from the bottom like we'd done the afternoon before and quickly turned up bucks moving up top. A plan was devised and put into action. Park, hike, find deer, reposition to get in range, kill deer. Initially, this worked out great before I was reminded of an ominous comment on my thread from last year. . .
@ajricketts

I think I know a home in Maryville TN that needs Santa to bring a good range finder for future adventures in hunting!!

Glad you gents had a grand father son adventure.
Due to the lack of background land features. I was having a hard time getting a range on the buck. Dad and I both agreed that, due to past failures in similar situations, we'd hold dead on and hope for the best. I was shooting prone, laid across my day pack, rock solid. *Bang* . . . nothing other than deer confused by sound they can't pinpoint. I must have done something, pulled something. Breathe, relax, calm, *Bang* nothing. Okay, maybe the distance is off, go down a hash mark on the scope. Breathe, relax, calm, *Bang* nothing. Welp, I had one round left and no idea what to do with deer that were getting antsy.
I'll throw in here that we sighted in when we got to MT and we both dead on where we'd left our scopes.
I look at dad, who is further behind me and can't see everything but is getting confused. Hand and body gestures ask for a range and he gives me something like 217 which should be a dead on hold. His range finder has been consistent and reliable when we use it, so again, breathe, relax, hold dead on, *Bang* nothing. The bucks are moving off now, but actually heading somewhat in and to our left while dad sneaks up to me.
Dad: Do you want me to try? What happened?
Me: I'm out; I only had 4 in the mag. No idea, go for it!
Dad: Ok let me get set up move over.
At this time the target buck out of the group of 4 was lagging behind and still trying to figure out where we were. Dad got on the pack and did the breathe, relax, calm *Bang* and a "You hit him, but he's up moving to the left. Hit him again!" Dad's second shot was true and put the buck down within the next couple of seconds and we were rewarded with our first buck of trip, dad's first whitetail buck.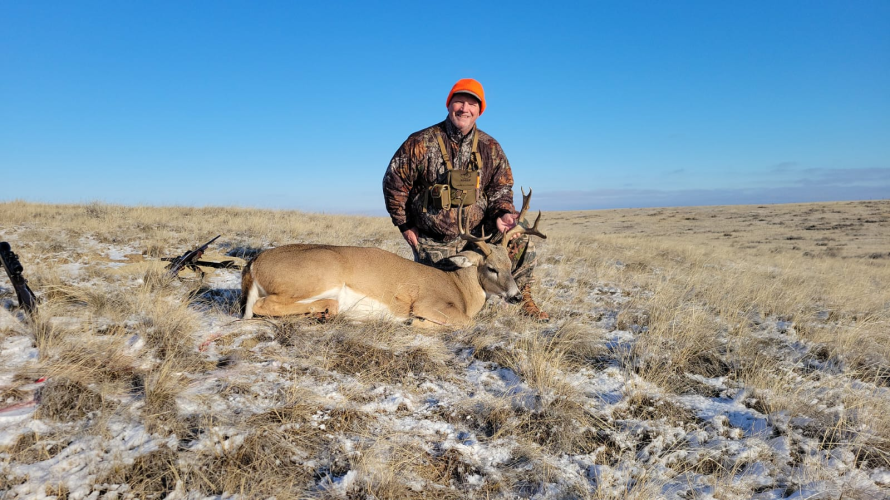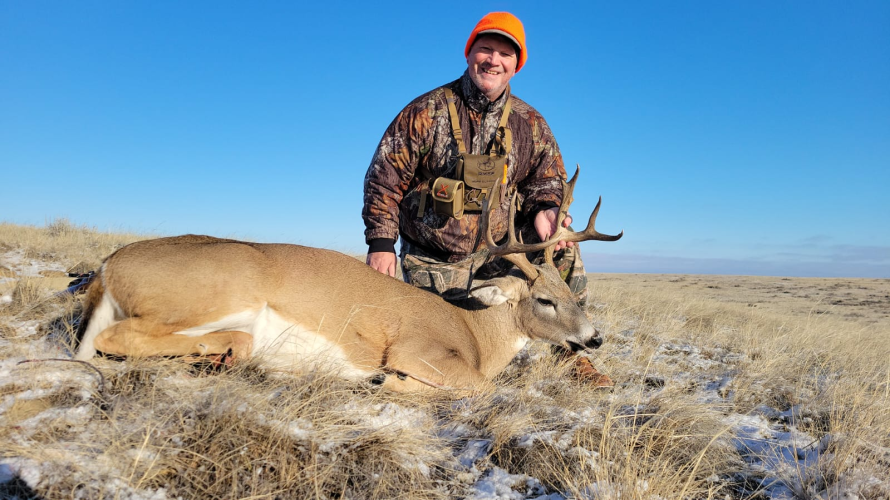 These pictures don't do it justice. The body was huge and he's a solid mainframe 8 with a kicker on each said making him a 10. My son holding it back at home gives a little better perspective.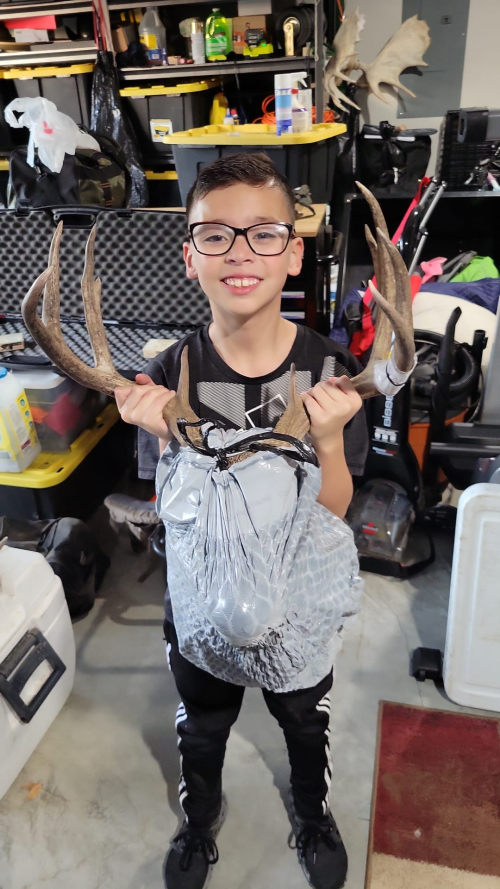 I've actually be wondering if dad's buck is a hybrid based on a few thing. One, both sides have the kicker like it's looking to be a 4x4 muley style rack. Two, the nose seemed to be longer and the overall facial structure seemed a little different. Three, his body was just huge. Four, he wasn't quite as skittish as the other whitetails he was with. But, all that being said, his tail was full whitetail and all of the other bucks with him were whitetails.
More to come.
Last edited: