Just got back from my first archery Elk Hunt in Southern Colorado. I just wanted to say thank to all on this forum who contribute info to those who aren't as seasoned. Pretty sure I watched every elk episode of OYOA over and again to soak in any and all info I could as well as read many, many threads. I was able to close to under 35 yards on 3 elk in 9 days: 1 6pt, 1 cow, and 1 world class 7 point (will have nightmares for sometime). Overall, it was a LIFE-CHANGING experience and I cannot wait to do it again. 4 months ago, a public land elk hunt was a dream. I talked about making it happen....but was never sure when. Well the opportunity presented itself and I was in....and 20 pounds over weight.....and full of excuses. Well I now had the bug and a purpose. Over a 2-3 month span I had dropped 35 pounds and cut my body into mountain shape. My legs and lungs were ready for almost any challenge. It was a great feeling. My bow was tuned and driving tacks. I got some gear and a new pack and was ready to head west. Fortunately, my partner has a friend who owns a primitive cabin that he allowed us to stay in. It was a short walk from there to the public ground. It wasn't much....but on cold, wet nights it was comfortable. In the words of Jim Shockey....."We were living like kings." Here is a photo:
There was a cold, clear steam nearby that gave us unlimited water and quick showers.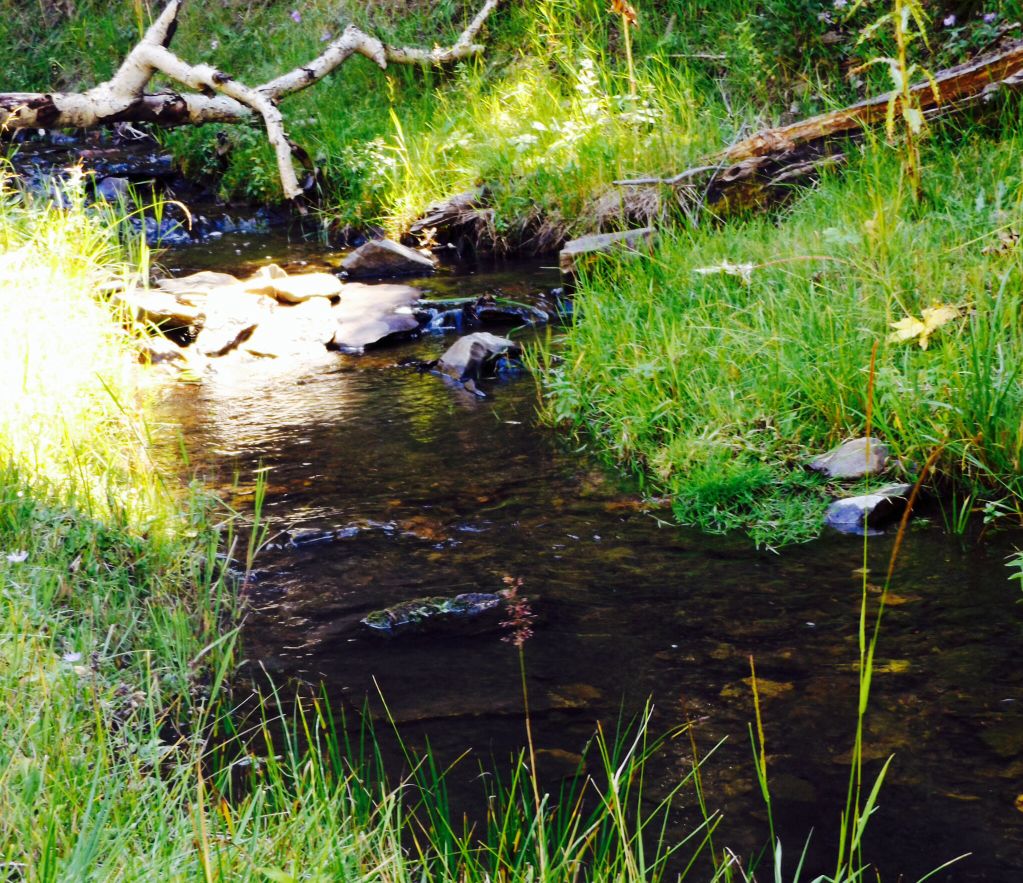 Once Camp was set, I was ready to head out. I had spent probably 5 hours scouring google earth and looking over the area I would be hunting looking for pockets far from the road...and pockets that others may overlook....or think they were too tough to access. Thanks to my new body....these would be my spots to hunt. On my first hike to a spot a 6 pt bull suddenly stood up off the trail. I nocked an arrow and drew. I needed him to take half a step to get a shot. After about a 5 second stare-down...he was off....and I was pumped! After 30 minutes of elk hunting with a bow...I DANG NEAR filled my tag! He was at 35 yards.....I would have been ruined for life.
I remember people saying....work into the wind and you will find elk. I did. At dusk a 6 pt and 5 cows moved through a meadow. Although 200 yards away....and no way to close in...it was a very cool site. In my first evening...I had seen 2 great bulls! Here is the meadow:
I barely slept that night. The next day I could hear a pair of elk walking through the thick timber below me. I closed in and called softly. They called no joy. I remembered....its easier to call elk to where they are going...not where they had been. My plan was to try to get in front of them. And I did. I moved ahead and found a perfect pinch point...and the wind perfectly in my favor. Problem is...the elk didn't come through like I had planned. They must have went up and over the ridge, or bedded. I was bummed...but had made a good move. The next few days were a little slower. Warmer temps and a few showers led to very little elk activity and very little day time movement. All the meadows were full of sign so i figured they were active mostly at night. I found 2 really cool 6 point sheds...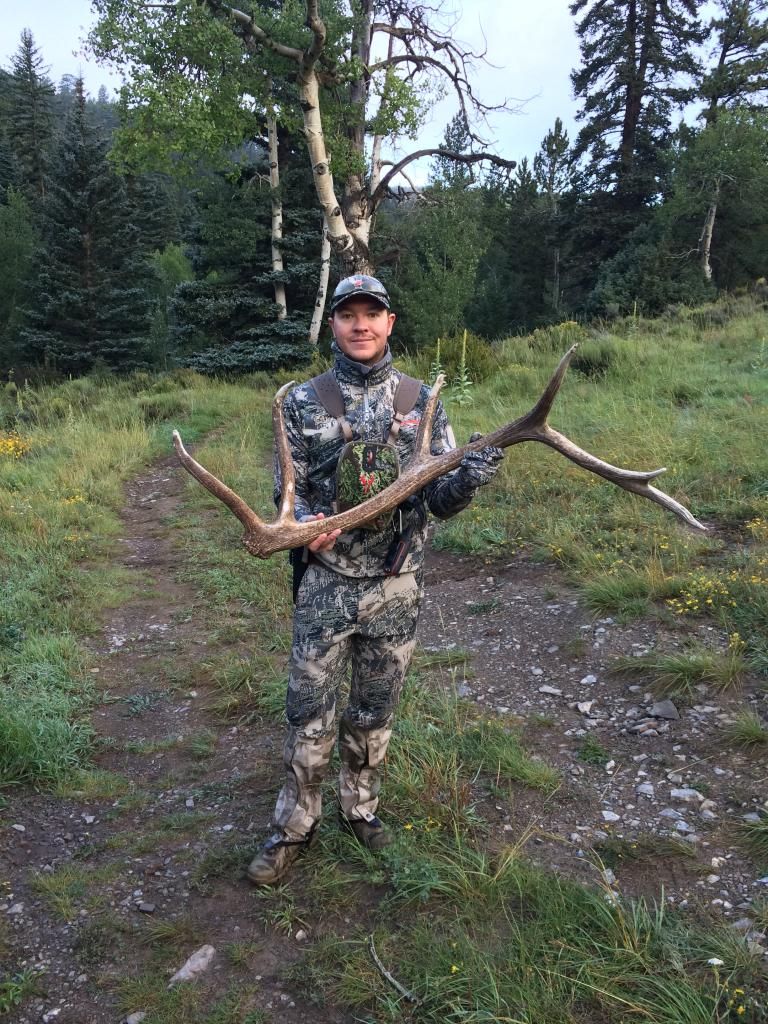 With 3-4 days left in the hunt...I found myself a mile in from the cabin on a lookout where 3 drainages met...and 15 minutes until shooting time. I sat in silence as the light began to fill the timber.....and all HELL broke loose. I heard a chuckle about 150 yards below me and to my left....followed by a Large, loud, growly bugle down and to my right. It was ON!!! I quickly threw on my pack, buckled up and checked the wind. I backtracked a little and bombed down the ridge like I was on skis. I had the wind in my favor...and at least two bulls having a shouting match less then a quarter mile away. We closed the distance to what I thought was less then 60 yards. We couldn't see the elk. The terrain was not ideal...but it would have to work. After a soft cow call....and a huge bugle....I found myself about to draw. A mass of hair and antlers and wild eyes emerged from around the corner and behind the thick brush. I stood locked eye to eye with the biggest 7 point bull I had ever seen on the hoof. I couldn't do a thing until he took one more step. One MEASLY LITTLE STEP! He takes thousands of them per day....yet he wouldn't take the one I needed him to...exposing his vitals. He BUGLED...and I then felt I would need a new pair of shorts
. He spun around...and was gone. Here I am after the encounter.
I was this close to shooting the bull of my life....of most peoples life....but it was not to be....
The next few days there were a few bugles...but not like this morning. The wind made it very tough as well. It was blowing kind of hard....and very very sporadically. It made it hard to hear elk...and when I did....it wouldn't blow the same way for more then 10 mins. It ruined a couple promising stalks for me. I saw some very nice bulls...but from a distance. I couldn't catch up to any more. I saw a cow walk into some brush and I figured she was about to bed down. The wind was in my favor. I crept slowly down a trail and she stood suddenly at 15 yards...but again...covered by BRUSH and behind a TREE. MAN! I couldn't catch a break. I had been in lethal range of 3 elk....and hadn't released an arrow. It was wearing on me but at least I was having chances and close encounters. After this cow encounter...I no more then got back to my pack and across the ridge where I just was....came a Large, long tined 6 pt. He trotted across the ridge...look back and let out a long bugle (as tho he was looking right at me...and saying Ya...come and get me). Once he hit the timber I was off. I never did catch him. He was bulging and moving rather fast. I tried to stop him with cow calls...and challenge bugles....but I never could catch him. After about 3/4 a mile uphill....and through thick timber...I almost collapsed. The final morning brought almost no elk activity....and relatively warmer temps. I had seen what I thought was a wallow on google earth. I thought It would be a good place to spend the middle of the day....but it was 3.5 miles from the cabin...and 5 miles from the road. I was up to the challenge. I finally got to the spot and as I crested the hill....I spotted a JET BLACK 6 point bull that had probably been wallowing for 30 mins and he was just finishing when I arrived....I was too late. He trotted slowly into the timber never to be seen again. He wouldn't respond to any calls. I figured he moved off back to his bed after his playing in the mud. Pretty much summed up my hunt....ever so close. Elk hunting can be frustrating........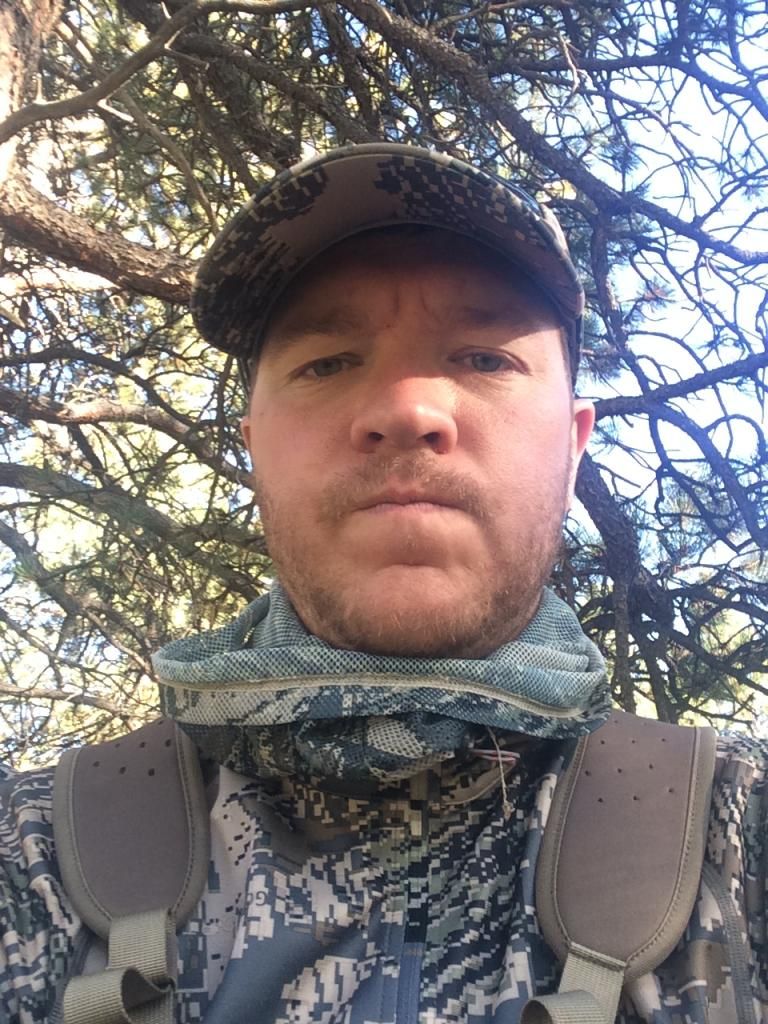 But I am now hooked for life. I can't wait to go back next year! Here are a few more photos....Thanks for all the help...and for reading! Good luck out there this fall and stay safe everyone!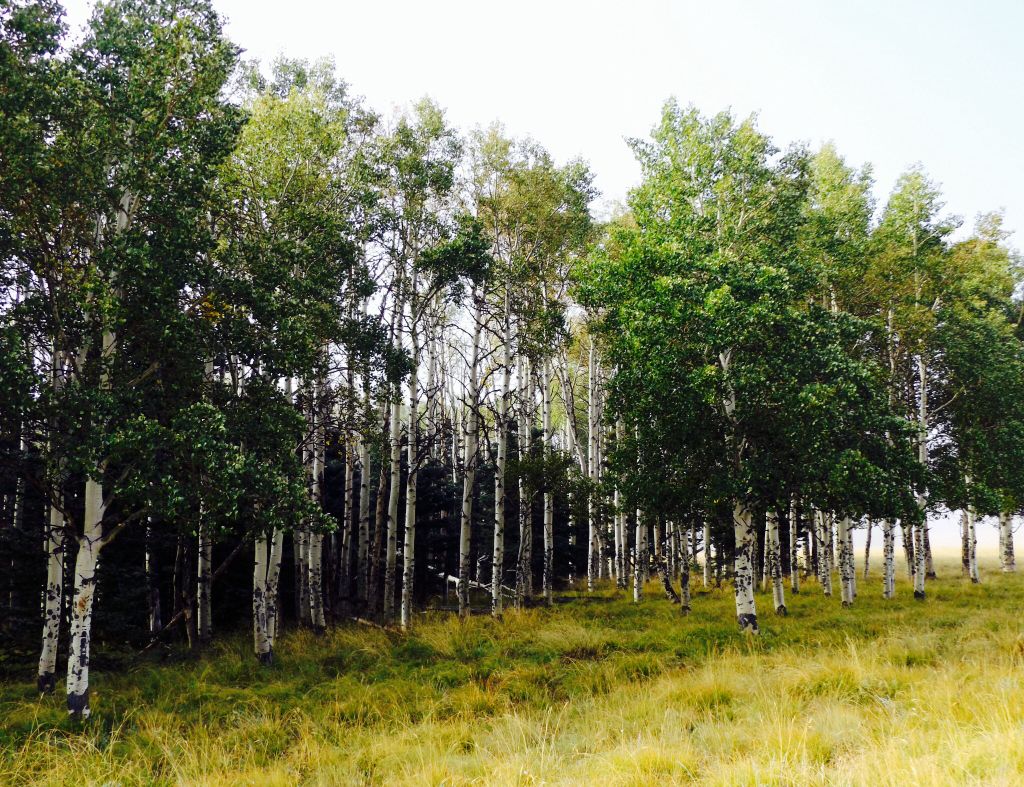 THANKS AGAIN!