Administrator
Staff member
Joined

Dec 27, 2000
Messages

15,125
Location
Many of you have seen me using all kinds of different coolers over the course of the TV show. I've been sent coolers by most every company out there and I have bought plenty of them with my own money.. Some performed pretty well, some were a disaster, and some in between.
About this time last year, a guy got in touch with me and said he worked for one of the premier kayak companies in the world, Jackson Kayaks. He went on to tell me that they had started making high-end coolers, branded
Orion Coolers
, and wanted me to abuse them and give some feedback. I had no idea who he was, but he sure knew a lot about our platforms, our audience, and our style of hunting.
Before I ever do any testing or offer to try something new, I want to know who is involved and what is their commitment to hunting and conservation. This guy obviously knew about us and how we use equipment. He could tell me about "Episode X" of our show and how he wanted to do the same hunt or had done the same hunt. As I inquired more, I came to learn of the many other self-guided hunts he had done on accessible lands. OK, he and the company passed that first test. Damon is the real deal and is committed to our style of hunting.
He sent me a link to his
blog
. Some cool adventures there, and more to come as he traveled the west this hunting season doing what I do, but without the complication of video cameras.
I spent sometime researching the company and talked to some serious kayakers who instantly knew of the parent company, Jackson Kayaks. They spoke very highly of the kayaks and the how the company is an innovator. I did my own research on the features of the coolers and how they were made at the factory in Tennessee. OK Damon, send me some
Orion Coolers
and let's see how they work.
With that, I went about inspecting, using/abusing, and trying to destroy some Orion Coolers. I used them for typical cooler applications. In Colorado, I left two of them in the warm hotel room, full of frozen milk jugs, for seven days. I did this for two reasons. First, to see how long ice would last in room temps that were consistently high over 24 hours of 7 days, rather than the warm days/cold nights world of our camps where we keep everything in the shade and under blankets to protect them from sun. Second, I was thinking I would surely need that ice for the big buck I was going to kill. When we left, I still had lots of ice in those milk jugs. Unfortunately the big deer I was chasing was still running around, making that ice unnecessary.
I used them for camp chairs, cooking tables, cutting boards, lantern stands, foot stools, storage bins, ladders, and most any other application for which you can employ a cooler in a hunting camp. They bounced around in my trucks for a few thousand miles (I failed to use the tie down system) and they are no worse for wear. They held ice, food, beer for the camera guys, and did so with great results.
Point being, I was impressed. You all know how picky I am when it comes to gear and equipment. I turn down way more equipment than I ever accept. I buy a lot of my own gear, even when some companies with inferior products are offering to pay me to use their gear. I always require a lot of field testing before I will speak about a product. There are a lot of products I've field tested that you have not read about on Hunt Talk, given they did not meet the standards we have. Not only does the product need to meed the quality and durability requirements, the company need to be committed to our style of hunting and conservation.
I'm going to see if I can get them to send me one to use for some sort of promotion for our followers. I can assure you that no matter your application for coolers, one of these Orion coolers will exceed your expectations.
If you have a few minutes and want to see what thought went into this cooler, here is a video to watch. It is probably better than me listing feature after feature here on the forum.
https://www.youtube.com/watch?v=8J3TpP_0yT0
I can fit five of the 65 quart coolers inside my Titan topper, along with a lot of other junk. And I can fit a lot of stuff in a 65 quart cooler.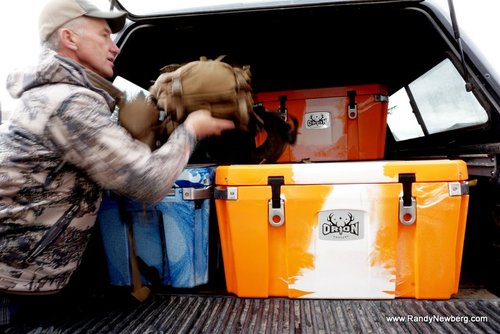 Here is a link to the
Orion Cooler website
, if you want to do some of your own research.
http://orioncoolers.com/