Joined

Jan 9, 2001
Messages

14,484
Location
Cant believe the MT season is in the books already, but I had a great time this year as usual.
My Dad, Brother and I put our annual MT camp in on the 22nd of November. We got some pretty good conditions on the 23rd and my Brother Matt and I decided to make a run at some country we'd hunted many times in the past, but havent in the last few years. We usually concentrate more on whitetail hunting in the lower country. Even though our camp is primarily for whitetail, since 1980, we've taken 31 elk out of the area.
Matt and I started the day of November 23rd a couple hours before daylight. We hiked into the country we wanted to hunt, really taking our time as Matt was fighting a very bad cold. Right away we spotted a real nice 5x5 whitetail buck that managed to give us the slip. We pressed on with good snow and found a small herd of cow elk. Then we found some mule deer, but they were a long way off and there were definately no good bucks amoung them. I was glassing a distant ridge and found a raghorn bull feeding in a draw covered with ceanothus. I grabbed my spotting scope and determined it was a 4 point bull, definately not worth the mile long hike and 1200 foot elevation drop and gain to get to. I continued to glass and found 2 more small bands of cow elk. I then glassed back to the raghorn and saw another bull with him. I looked back through my spotting scope and found them...and was surprised to see the second bull was not a raghorn, but a pretty fair six point.
I looked him over and told Matt we should definately try to get the six point. Matt was really not looking well, and told me to go ahead as he flat didnt feel up to making that kind of hike. So, I took off, and after getting about 40 yards down the hill, stopped and asked Matt one more time if he wanted to try to make it over to the bulls. He told me again that he was just flat feeling like "shit" and wasnt up for it. Its too bad he was fighting a bad cold or that bull would have been in deep "shit", as Matt is usually more than happy to shoot elk.
Anyway, I take off and stopped about halfway down to relocate the bulls and discovered they'd both bedded. My plan was to get to the ridge in front of them and shoot about 300 yards across a draw. In about 45 minutes I'm on the ridge I thought I could shoot from...but I cant find either bull. There was one fold in a small draw that I couldnt see into, so I assumed thats where they were. I hiked up hill to an old logging road and crept into the small draw. Just as I got there a small mule deer buck jumped and ran up the draw, spooking the two bulls I first saw, plus 2 others I hadnt seen. I picked out the biggest of the two six points and promptly took an off-hand shot at 120 yards and missed as he was trotting up hill, but made good on my next shot.
Turned out to be the best bull I've ever killed in Montana and I'm real happy to get him.
While I was quartering the bull for the pack out the next day I heard something below me making a hell of a racket, and the racket wasnt that far away. I glassed the ridge below me and saw a mountain lion walking right up a ridge 200 yards away. I took some video footage of him and If I picked up the sound, I should be able to hear him scream or howl or whatever the hell sound a lion makes.
The only down side to the hunting season happened today. Matt and I went on a deer hunt this morning in conditions that are about as tough it gets in the country we hunt. Crunchy snow and public land whitetails that have been hunted for the last month. Matt and I found an outstanding whitetail buck today, a buck that I'd hunt an entire season for. A no question 6+ year old buck with a huge body and a rack that had it all...mass, length, and width. Matt missed him, but made no excuses, just flat blew it. I know I felt worse than he did about missing that buck. After seeing Matt hunt in tough conditions all week with a nagging cold...it was a heart breaker. Matts only comment was, "I sure wish I had rewind for that one".
Anway, a couple pics of the bull.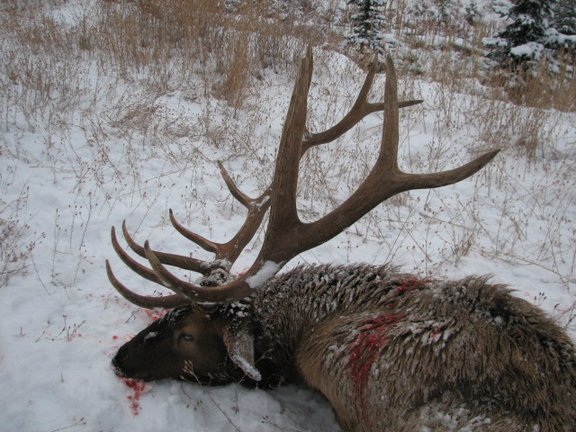 Another look:
Me and the bull: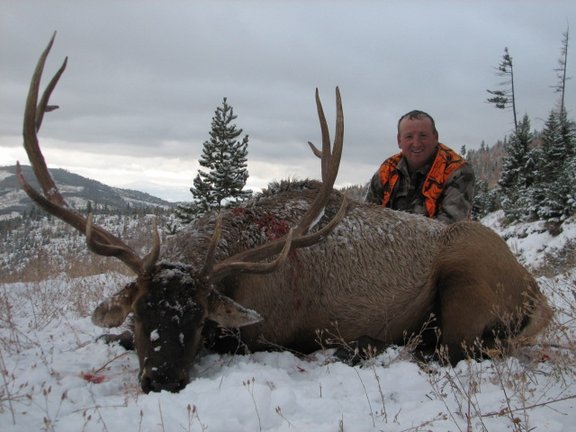 Last edited: