Administrator
Staff member
Joined

Dec 27, 2000
Messages

15,123
Location
On Your Own Adventures - Season One, is coming to YouTube on January 1, 2016 (eight days). If you have not already subscribed to our channel, please do so and you can watch all of our videos for free. As we load them up, you will get notified that a new video is live.
In the second week of January we will load Season Two of OYOA, then Season Three in the third week of January. We have most of them loaded, but have not yet made them public.
We will then start loading Season Four of OYOA with two episodes released per week. That will follow with Seasons One, Two, and Three of Fresh Tracks being released over the months that follow.
In addition, we are trying to get our Elk Talk Series ready for launch. It will walk the viewer through the process we use for drawing tags and the research techniques and services we use. Then, we will analyze what Over-the-counter and general tag options are available to us when we need to fill out the schedule. That will transition to how we do our E-scouting before season, giving us a head start when we get to the field.
In July and August we will load a bunch of elk hunting ideas that will help you find elk when you get there. It will be the core of my seminars on finding elk on public land. Then, we will add more ideas to help you be successful while in the field.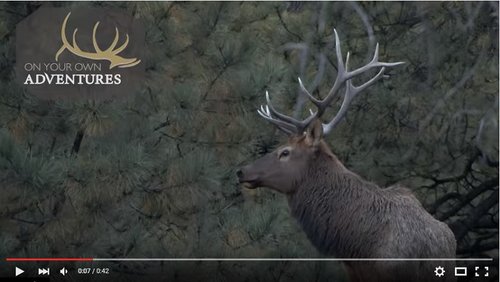 https://youtu.be/yy_p2e9eESM
We hope all of this new content gives you reason to subscribe to our YouTube channel and share these videos with your friends. To subscribe, click on the video above to watch it and when you see the logo in the lower right, click on that and it will take you to the Channel page to subscribe. See the example below.