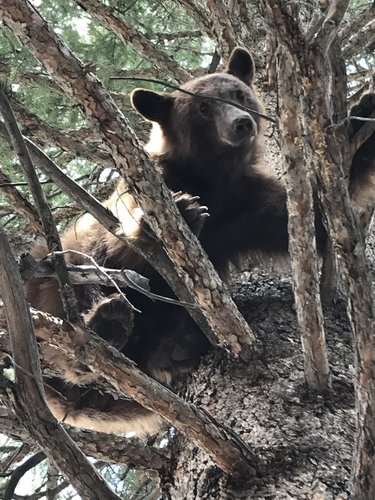 Geez, Utah is proud of their bears. Took 10 years and 9 bonus points to pull this spring bear tag.
Start the hunt on Thursday. Fortunate to have some cool guys with hounds who volunteered to take me under their wing so should be a blast and I should learn a ton a bout bears—a critter I have hardly hunted.
A view like this, on a big bear is what I seek on this adventure.This is a large very old sow. Picture taken a week ago by Zach Fisher, one of the super talented houndsmen who is also a dog breeder who provides trained dogs to guides and outfitters. Zach is helping me and was scouting in my hunt area when he treed this bear and has a "pursuit" permit where he can chase and tree bears but it does not include a harvest tag.
So a few guys with these pursuit-only tags, each with their own pack of hounds they carefully breed and train, should be helping me out as they can fit in their schedules during a long weekend hunt. Weather may be tough first couple days—we will see.
Last edited: