Joined

Apr 5, 2001
Messages

6,419
Location
Well finally have the time for a write up of my Idaho elk hunt from a few weeks ago. As I had originally posted prior to the hunt, I was undecided on just what I was going to take with; I knew my bow was going and at first the backup was to be the .300 Win but after asking the thoughts of some of the group here, I did in fact decide to take the .350 Rem Mag to use should archery tackle not bear out.
https://www.hunttalk.com/threads/voices-from-the-safe.308664/
Even with the screwed up shoulder, I got the bow grouping well out to 40-45 yds but with the poundage cranked down a bit. Was a PIA to reposition all the pins to account for the drop in speed from 70# down draw to the current 58# but all ended up good to go in the end and I could both pull back and hold comfortably enough to give the bow a whirl should the opportunity present.
The ammo FINALLY arrived and the .350 got pulled out for some long awaited shooting. Getting things set up and my gear laid out I got hit with a little case of melancholy. I realized the last time I had shot my dad's gun was when he was still alive. Since he passed in February of 2003, the .350 had been sitting in its silicone sock for the better part of two decades…no wonder finding ammo for it was like searching the bar at 2am for one that you could introduce to your mom.
I had originally pulled the trigger on some overpriced rounds I finally located on Gunbroker but the seller later contacted me and said he was having some "shipping issues". About that same time I got a DM from a buddy that an outfit in Montana (Black Dog Ammo) had two boxes available for HALF the price I was gonna get nicked for on Gbroker. I emailed the seller back, wished him luck in his shipping situation, and cancelled my order. I called to the owner of Black Dog on a Wed, he sent me a shipping label the next morning and the two boxes were at my door the following Mon afternoon- nice guy (George) and great service!
Fresh from Black Dog in Scobey, MT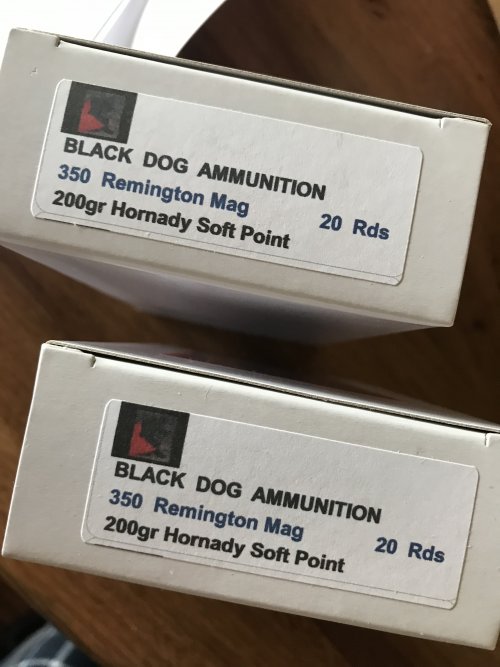 Speaking of that I want to thank
@Jbotto
,
@Mica Man
,
@Addicting
, and
@fishing4sanity
for their advice, tips, and offers of help in my ammo search. Much appreciated the comments from all the other HuntTalkers in helping me decide to actually take the 350 along!
Since the rifle hadn't had a bullet down the tube in 20 years I put the target up for an initial 50yd verification and, MUCH to my surprise, it was pretty much centered horizontally and about 6" high. As worked it down towards the bull the wind started howling. Three shots at 50 got me where I felt I wanted to be and three more at 100 with the gusty wind, ammo scarcity, and my shoulder told me it was "good enough". I had forgotten how much that little 5.5 pound bastard popped your shoulder, 200grainers and an 18.5"bbl all don't help with "shooting comfort". At about 1-1/2" high at 100 I felt good out a max PBR of about 250yds and I was not going to shoot past that with an unfamiliar rifle and a fixed 4x scope.
Set up at my range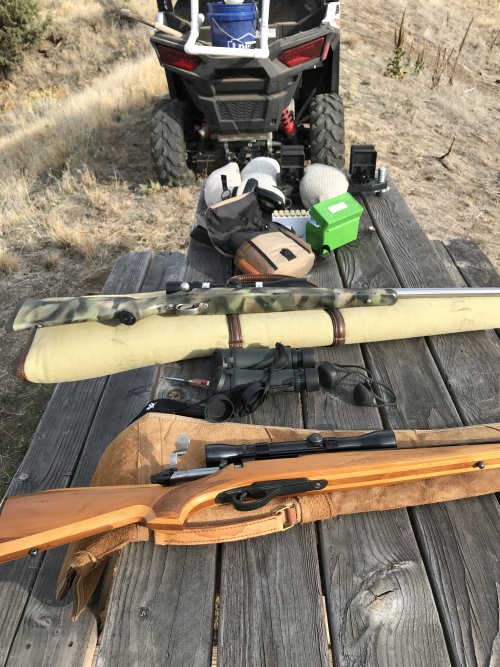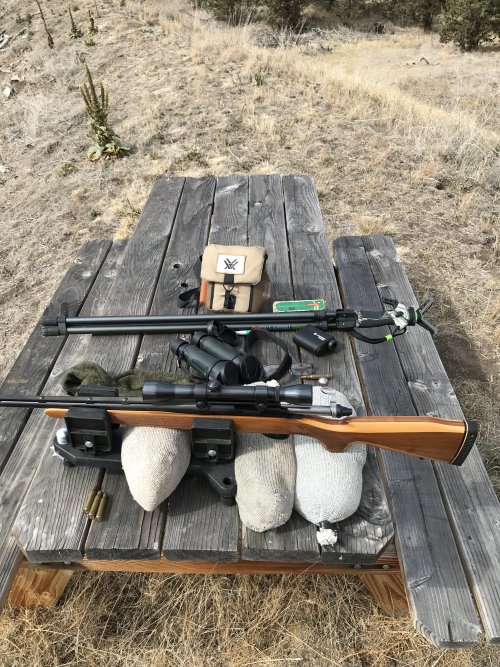 Shots 1-3 at 50yds, shots 4-6 at 100yds in a howling wind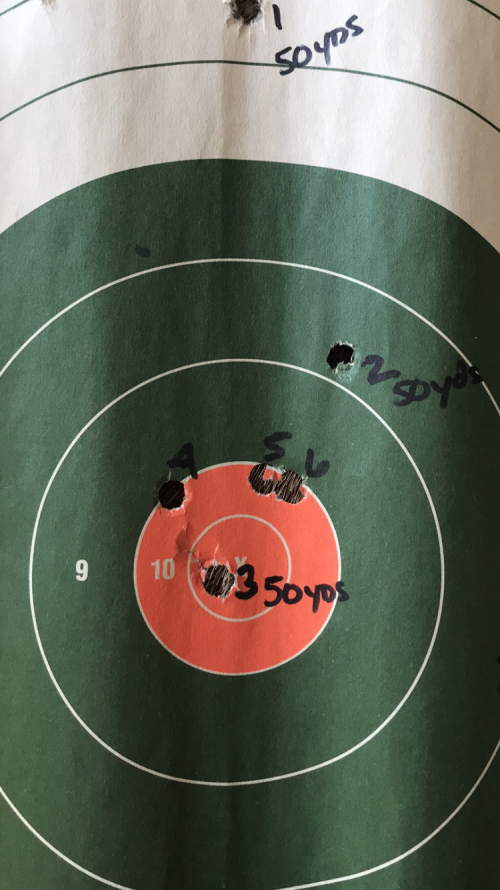 Gear together for the trip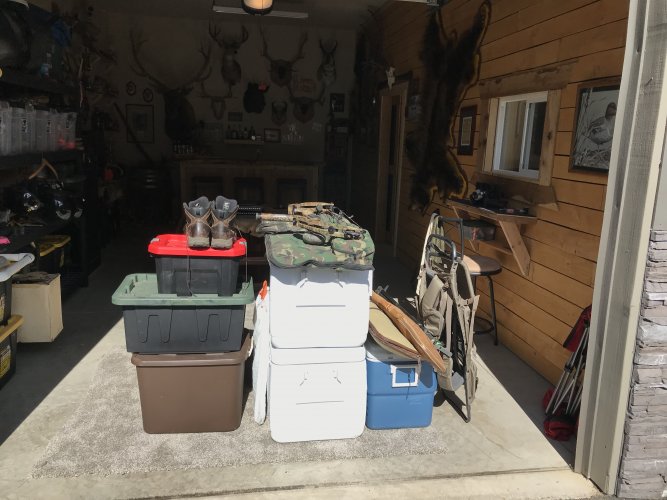 So it was off to Idaho for my wife's doctors apt (she's been battling Lyme for years but her specialist in CDA has really helped her to turn things around). This was to be a bit of an odd trip for me; I was the only one with a tag and was going to meet a friend up there and we'd be hunting while my wife stayed/visited friends about an hour away. My buddy had tagged out already during archery season and since he still had leave he needed to burn and knowing that I would be battling my recently replaced knee, he offered to meet me there as provide an extra set of eyes, legs, and back. He was going to get in a few days ahead of me while I was shuttling the Mrs and see if anything was still around where he had hunted a month prior. I couldn't wait to meet up in the morning…