Administrator
Staff member
Joined

Dec 27, 2000
Messages

15,677
Location
You are seeing our push on Hunt Talk to create strategic partnerships with companies whose audience and services are compliments to our audience, both web and TV. As part of that, you see the ads for Extreme Elk Magazine starting to rotate around the site.
In addition to being a partner on HuntTalk, you will see Extreme Elk have some presence in our TV show. You will also see in the release above that they have asked me to write a column in each edition of the magazine. As you would expect, it will be about the self-guided public land elk hunting experience. Their announcement is at the link below.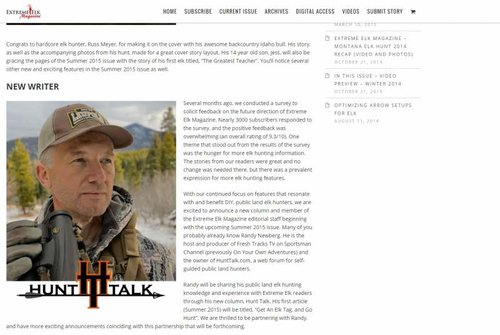 http://extremeelk.com/new-tagline-new-writer-and-new-sponsor
Corey and Dirk have been regulars on this site for years. If you see them posting about their magazine, or you notice links in their signature lines (only allowed for approved partners), it is all part of our effort to collaborate on efforts that target the same audience. With that, welcome the good folks at Extreme Elk magazine. If you are not already a subscriber, you should be. Here is the link.
http://extremeelkmagazine.com/
And if you have some cool elk hunting stories and pics, submit them to the magazine. There have been a few Hunt Talkers featured in that magazine, even gracing the cover on occassion.