Joined

Dec 29, 2011
Messages

804
Location
For those that haven't heard about this very unusual hunting season for me, back in March I put my stepson together with 4 other youth hunter buddies on a limited draw bull tag. I also put the 4 dads (plus one other guy) on the adult draw in the same district. In April, I learned we all drew. For the adults, this is a every 3-5 year type tag so we're not talking the Breaks or the Elkhorns or anything like that. In May, my name was drawn for a MT goat tag and an MT sheep tag. Two once in a life time tags plus this group of dads and their boys hunting in a limited draw bull elk district was incomprehensible for me. The other dads said, you gotta focus on that goat and sheep, but I wasn't about to let this unique elk hunt go to waste. With the goat tag punched and the sheep rut about a week away, I was dead set on 5 days of hunting the elk opener with some of the best dad's I know and their sons....
Friday: Nice snow storm just before the start the season with forecasted bitter cold temps to follow. Glad I stashed the camper at hunting camp the weekend before. It was surrounded by a foot of snow by the time we pulled into camp. I was super encouraged by the snow for hunting purposes, but didn't know how well the kids would take to hiking in it. Certainly didn't think they'd want to be out in zero degree temps. Another dad beat us to camp, the third dad had to bail, and the 4th dad (father of 9 kids) found out that his wife's car starter broke. He needed to replace it before he felt ok leaving her at home with the 7 younger kids. With the unexpected snow, he also wanted to get his rear duallys swapped out.
Saturday, the opener: Dad #4 wasn't able to leave home until 12:30am. He definitely did NOT want to miss the opener. Driving through the heart of the blizzard, he rolled into town at 5:30am but still needed to get to camp. Not knowing where he was and no cell coverage to be had, the four of us in camp headed out bright and early. Of course it was too soon for the elk to start laying tracks, but we were hopeful. After a couple of hours up high looking for this guy (photo credit to my wife last weekend)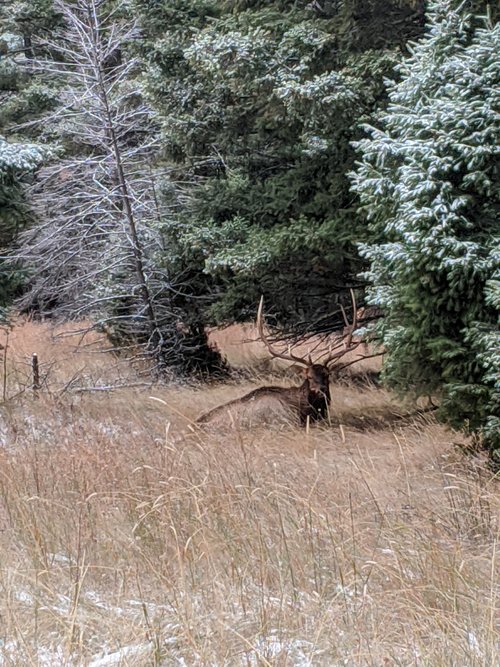 my stepson and I decided to check out the elk that we heard were down on private. On our way, we bumped into Dad #4 at about 10:30am. Pulling an enclosed dual axle trailer, complete with a snowmobile inside, he got stuck on an incline on the road to camp. My stepson and I hopped out and proceeded to help. Chains went on all 4 tires and the snowmobile was unloaded. With a couple of charges at the incline, he made it up to a flat spot in the road. I told him, if it were me I would turn around and camp closer to town. He decided to take the sled up the road to camp to determine if he could make it. The two youngest wanted to go for a ride on the sled so off they went. 45 minutes later he was back having left the two young buddies in my camper. His 16 year old hopped on the sled to drive it to camp while Dad #4 and I drove our trucks. After some adjustments to the chains, we were off, 10 minutes or so behind his 16 year old. About halfway up the road to camp, we see the 16 year old in the driveway of a ranch house talking to some people. Turns out the landowners saw him on the sled, waved him in, then asked if he'd be willing to help their neighbor retrieve a bull off an upper area of their section. With Dad #4 and I caught up on the happenings, Dad #4 said sure we can help. We followed the landowners in their side-by-side ATV back down the road to the same flat spot we had just been...albeit we left the truck and trailer up at the ranch house. With some instructions from the landowner on how to best navigate his land, Dad #4 and the 16 year old quickly headed up on the snowmobile to where the hunter and bull where reported to be. I invited the landowners to get warm in my truck. We enjoyed watching the process unfold while chatting about their history with the land they purchased back in 1972. They were super kind and had some incredible stories to tell. About 45 minutes later the sled appears from the timber with a bull tied to it. The hunter and 16 year old followed on foot. Here's the private land bull still attached to the sled.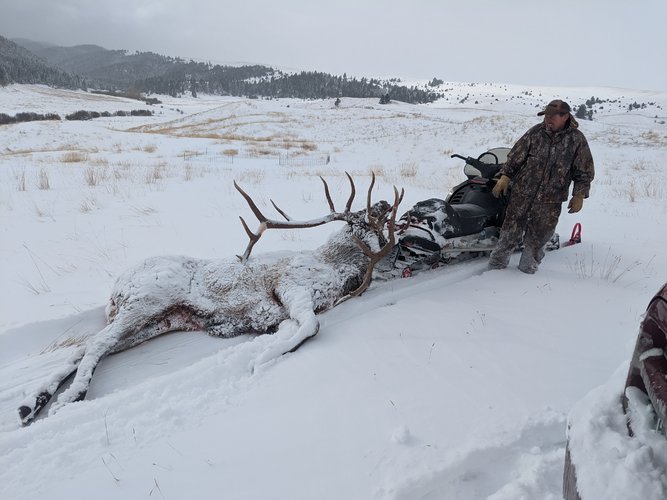 A beautiful, fully symmetrical, 7x7 bull....taken out whole. It has to be about 2:00 by now. Dad #4 hasn't slept in 30 some plus hours. The hunter offers him $100 for his help. Dad #4 won't take it. In fact to give you an idea of the kind of character he has, the reason he's pulling his enclosed trailer and not his camper/toy hauler.....he and his wife are allowing a homeless person to stay in their camper for awhile.
Last edited: