Joined

Apr 15, 2020
Messages

589
My 12 year old son was fortunate enough to draw a Colorado second season buck tag in the "kids" draw this summer. The tag was in the unit next door to the unit where my brother in law, my Dad and I had drawn 2nd season buck tags.
My Brother in law and I got there Thursday evening before the season, had a day to scout on Friday, then we would have 5 days to have 5 days to hunt before my son and Dad showed up the following Wednesday. Saw lots of deer the first few days, just nothing I was interested in.
My son and Dad showed up Wednesday night, just a little bit ahead of the big snowstorm. Visibility was poor all day Thursday but we still managed to turn up a few deer. The high country had a big dump of snow Thursday and the bigger bucks started showing up in the sage/aspens.
Saturday morning my son passed a couple of respectable 3x3's; I told him it was up to him, he wanted to hold out. We went to check an aspen covered hillside about noon and found a couple does and a nice 4 point buck.
The opposite slope from where the deer were was nothing but short sage, so we decided to try and sneak onto the opposite slope through a small fold in the hill. At 750 yards we ran out of cover, and the sage got real short. I set up the spotter one more time and saw there were deer all over the hill in the aspens, including what looked to be a very nice buck.
We dropped our packs and crawled 400 yards through the mud and snow to a boulder that could be used for cover. We took an hour to cover the open hill and we we muddy and tired but when we got to the boulder we would be within 400 yards of any deer on the hill.
After about 2 hours the deer began moving again, Tristan got set up prone and had a nice 4x4 at 400 yards. He was practicing dry firing on him when I spotted the big boy further down the hill. Tristan repositioned as a the buck began coming down the hill, the buck turned broadside at 323 yards and he let it fly. Buck went a few yards and stood there so he put another one in him, the deer went a few more yards and down he went.
There was no ground shrinkage when we got to him, later on the tape would show he was a little over 34" wide. He won't score that great, but to say Tristan is on cloud 9 would be an understatement.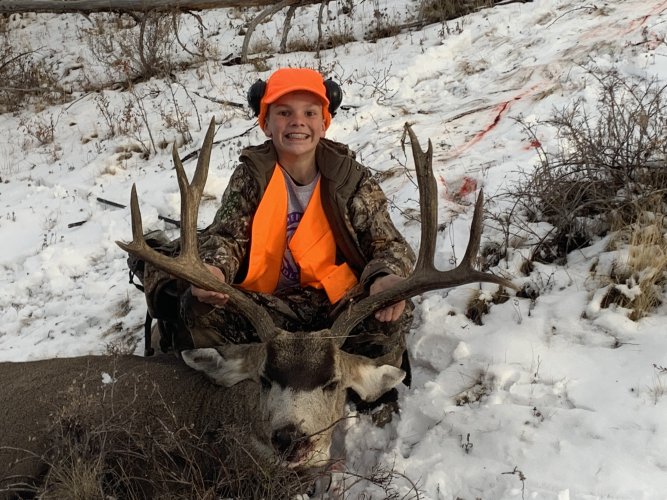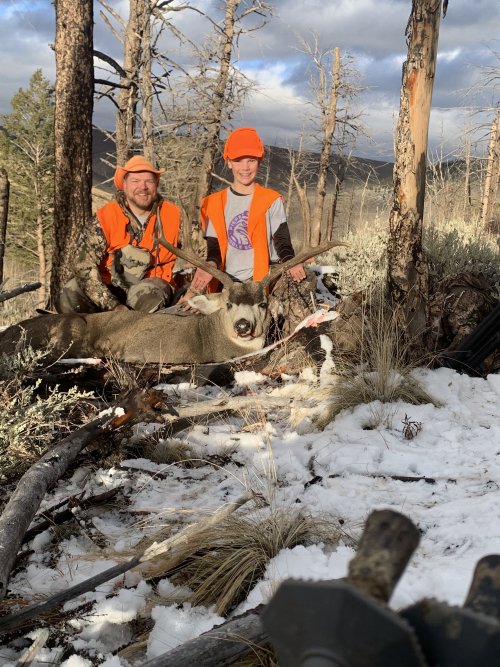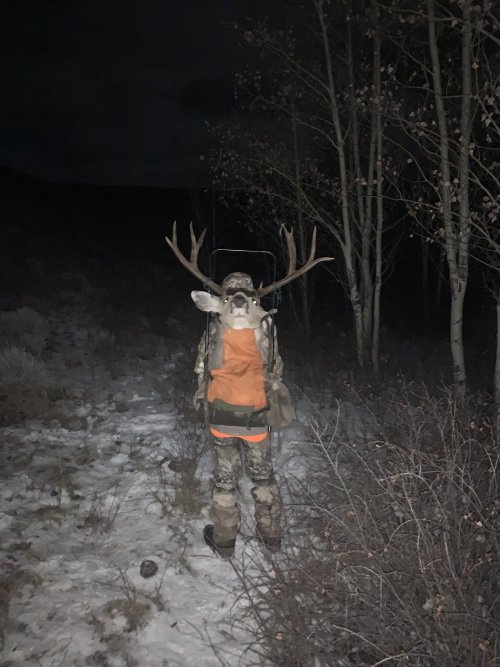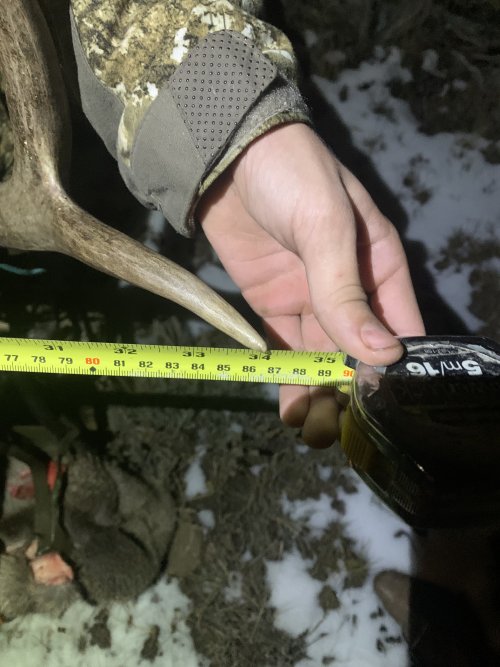 Both his shots were dead on, he shot quite a bit from prone over the summer getting ready for this hunt, it definitely paid off. Pic of the entrance wounds: