Joined

Dec 22, 2000
Messages

2,440
Location
Sometimes the stars align just right and things go exceptionally well. My oldest son brought his fiancé up here to Montana for the weekend. She had never been here before and wanted to see why we love it her so much. It didn't take too long for her to figure it out, and she wants to move here as soon as they graduate. Can't say I blame her.
Anyway, yesterday I took my son the Missouri River system and let him give those finicky rainbow trout a whirl. He got into fly fishing a year ago and has the fly fishing fever bad. He did really well and totally kicked my butt. For that matter he kicked just about everyone' butt on the MO yesterday. He had other fly fishermen coming up to him and asking: "What the heck are you using and what are you doing different?" For whatever reason he had the trout dialed in yesterday. Here he is with the largest fish of the day. Maybe not a MONSTER, but a darn solid rainbow trout in my opinion. I lost count of how many fish he caught, but I can tell you the smallest one was 17" long.
This morning we decided to fish closer to home. Yesterday my son's fiancé spent the day with my daughters while we fished the MO, but today she wanted to come along. I have a super top secret place I basically only take family or a very close friend. If word got out it would be destroyed in no time. The fishing isn't good in terms of numbers, but the odds of catching a really nice fish is pretty good. However, the fish are super spooking and it can be a real challenge to get anything to bite. We only landed two brown trout, but if you are going to only catch "two" I'd say these are the right two!
Here is my future daughter in law with her first Montana brown trout. It might take her a while to beat this one.
Here is the happy couple with her purty fishy.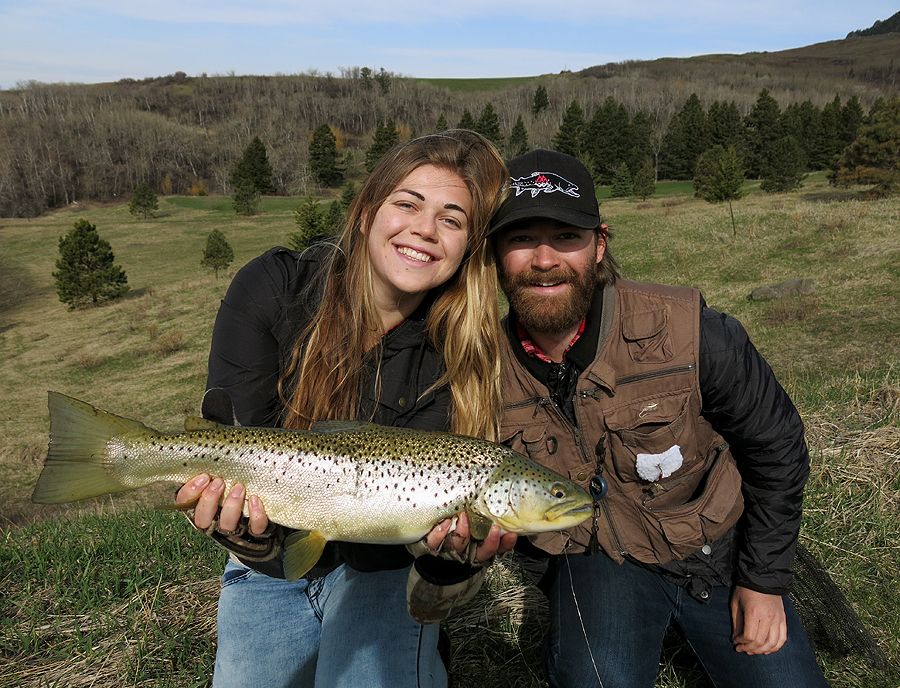 Not to be outdone, but son came right back just a few minutes later and landed this beautiful big brown. It's girth was 13.5" around. He made the comment: "Heck, the girth on that fish is the average size of the length of the fish I catch in Utah." That made us both smile. It has been a great weekend. We are now going to all kick back, relax, and fire up the BBQ for the evening. Family, fishing, and BBQ, for me anyway, life doesn't get much better!