Joined

Oct 23, 2012
Messages

76
Location
Unfortunately it is difficult to impossible to work from home when you are a chemist. Sure, you can read the literature and do some writing, but there is only so much you can do. So I am going to have to turn to cooking to get that lab work fix.
Today I made some of Hank Shaw's chili using diced antelope steak from a doe I shot last year. It turned out really well, and now I am sold on pureeing your own chile peppers instead of using chili powder. It was satisfying knowing that it was simmering in the oven when I was sitting in a Zoom meeting.
Yesterday I also made a sourdough melt using steak, bacon and mushrooms. The steak was from a tasty mule deer I got in 2018. Frying up the sandwiches in the applewood smoked bacon fat in the pan instead of butter was a really good audible.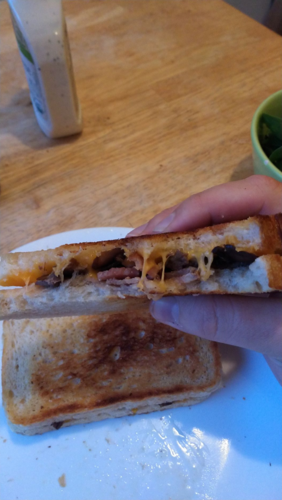 If you have some similar shelter-in-place cooking pics, throw them up there. If we are going to be kept home, might as well enjoy what we are eating.