Administrator
Staff member
Joined

Dec 27, 2000
Messages

14,169
Location
Here's the deal. Since the "Let's see them" pronghorn thread is one of the most viewed on this site, and most viewed by lurkers, I am thinking we should do the same with elk and show how many elk guys on this site take.
This thread will be a "sticky thread" and be at the top of the Elk Forum, from here on out. It doesn't matter when you shot it, how you shot it, or if you were just the person helping, this is the thread to post elk pictures. No need to post a long story, just a pic and a few notes about the hunt.
Be as specific or vague as you want, as far as location.
Here goes.
2005 - Missouri River Breaks rifle tag. My son's first elk. Most fun I ever had on an elk hunt. We were joined by my brother, Logdawg.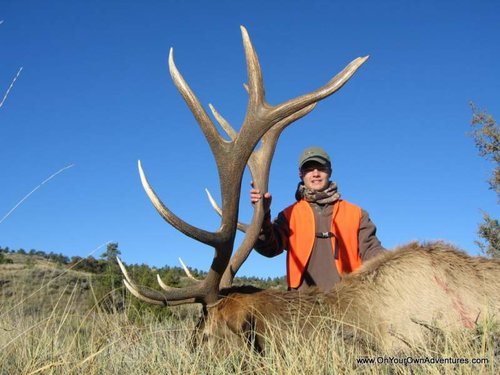 Thanks for doing this. I hope this thread becomes as popular as the pronghorn thread. I know you guys have shot a lot of elk, so post 'em up right here, even if they have previsouly been posted on another thread.