My daughter, Julia, was fortunate enough to draw a ND Youth mule deer tag in ND this year. We were both excited and planned for months leading up to the hunt. She has proven to be an outstanding shot taking here first deer (WT doe) last fall at 135 yards with one shot.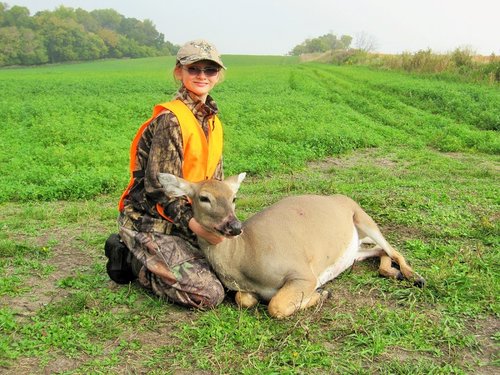 I picked her up the night before season started and drove out to the Badlands. Opening morning on Friday found us glassing and looking for a buck to bed down (ND's crazy seasons don't start until noon on opening day) and saw multiple bucks, including one really big buck. Friday evening I found the big buck again and had my daughter set up on shooting sticks at 225 yards broadside. Even though she had been shooting well out to 200 yards she said she didn't feel comfortable with the shot and passed. I am proud of her as this was a 175" deer and not everyone would walk away without trying a shot!
The next morning we were up early and located two more large bucks sniffing around doe groups. After looking at both through the spotting scope, Julia decided the closer buck looked good and away we went. The wind was in our favor and we set up between the deer on the prairie and the bedding cover they would be headed into. After waiting patiently, a doe topped the closest hill at 94 yards feeding toward us. I told Julia to get ready and "don't look at the antlers". The buck topped the hill and stopped quartering toward us. Julia said "he's really big dad...can I shoot? I told Julia to wait until he turned completely broadside. As soon as I told her the buck was broadside, she shot. The shot was perfect, the buck reared up on his back legs, he collapsed on the spot, and it was over!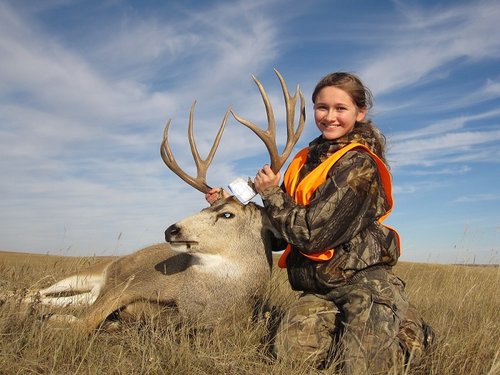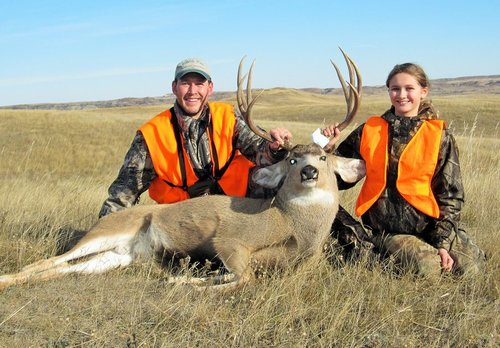 Crazy celebration ensued!! She couldn't believe she had gotten the buck with one shot. She also couldn't believe how big he was. We are getting her first buck mounted as a memory of a great day. Julia is a great young lady and I am a very proud father!
PS. Upper Deck and his father have put a couple of big WT's on the ground this week and Grizzly has a mulie rifle tag for the same area Julia hunted. I hope they both post pics soon.
Have a great season and holiday season. God bless!