Back by popular demand (?), the Rocky Mountain Bighorn Society 2020 Colorado statewide bighorn sheep, mountain goat, and pronghorn license raffles are now available. Winners of these raffle licenses can hunt any open unit in the state from the season and weapon-specific opening date until December 31, 2020. This means up to 5 months of sheep hunting for the lucky winner. In addition, the winner does not have to pay for the license, a savings of over $2,200 for a non-resident sheep or goat winner. Bag limits and wait periods also do not apply, so if you are lucky enough also draw a tag in the regular draw (it has happened before!) or have harvested in the last 5 years you are still eligible. Proceeds from these raffles go entirely to research, management, habitat development, and education for and about the specific species. In the past 10 years, the RMBS has directed over $3 million to such projects, which would not be possible without your support.
Colorado bighorn sheep licenses have increased from 246 in 2011 to 309 in 2019. Lucky raffle winners have taken some outstanding rams during that time.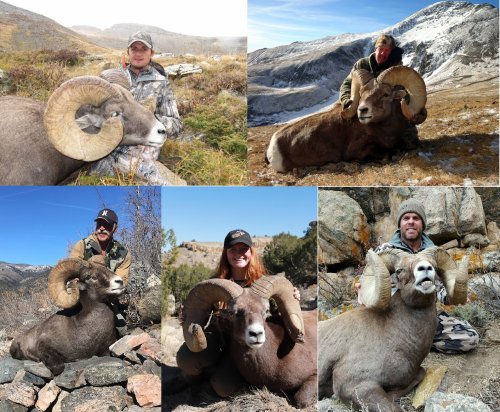 Other raffles available include Swarovski Optik 10x42 EL Range (or any Swarovski product of equal or lesser value), and two custom Weaver Rifles (.257 Wby Mag. and .300 Win. Mag.). Descriptions of the rifles are available at the link below, but I'm still lacking photos right now because the Swarovski scopes to be mounted on them have been back-ordered for a month. The winner of the .257 Wby has the option of choosing a $5,000 Weaver Rifles credit to be used on a new order, instead of the raffle rifle.
Learn more and purchase tickets at this link.