Joined

Aug 14, 2014
Messages

2,973
Location
Well, I was finally able to get a couple days off from work to do some deer hunting. The sole purpose of this hunt was to help my best friend get his first big game animal. He still has a lot to learn about the do's and don't's in the field. It just so happened to be after a couple day rainstorm here in Northeast Montana. To make this hunt better I was blessed with a heavy dose of fog completely blocking all vision except for the 100 yards around me. My plan was to hike in and get setup on a point overlooking where I watched deer come over the ridge line and bed down last year. Due to the heavy fog I sat in the pickup frustrated by the weather. I finally decided that we at least had a better chance of bumping into something if we were hiking into position rather than sitting in a mud covered pickup.
We were about a half mile from where I was hoping to set the spotting scope up when the fog quickly rose. It didn't take long to find a herd of deer walking the last couple hundred yards over the ridge. Unable to see the quality of the bucks my buddy assured me he was okay with a younger buck to start the rest of his hunting life. We moved into a spot to glass as the deer grazed down into the basin. Shortly after setting up we were able to find the group with three young bucks following along that would be perfect for a first time hunter. Then we noticed a lone deer following a ways behind. Rather than continuing to follow the herd the lone buck bedded down against a hill top with the wind to his back and his eyes ahead.
After some close studying I realized that he was the same buck that I had spotted last year on this chunk of BLM land. The buck showed potential in his height, and character. I was optimistic he would make it another year because of how secluded the area was from roads. We agreed that with my history with the buck and his size that I would try to make a stalk on him. I was able to get within 200 yards from where he was bedded and was struggling to find him. Within 30 seconds the deer stood up and panic struck me in thinking that I was busted but a quick view through the scope showed he had stood up to eat. With him still not noticing me I was able to get a shot on him and I couldn't have been happier after walking up to him.
The buck last year with a very poorly cell phone picture through a spotting scope due to the camera battery dying.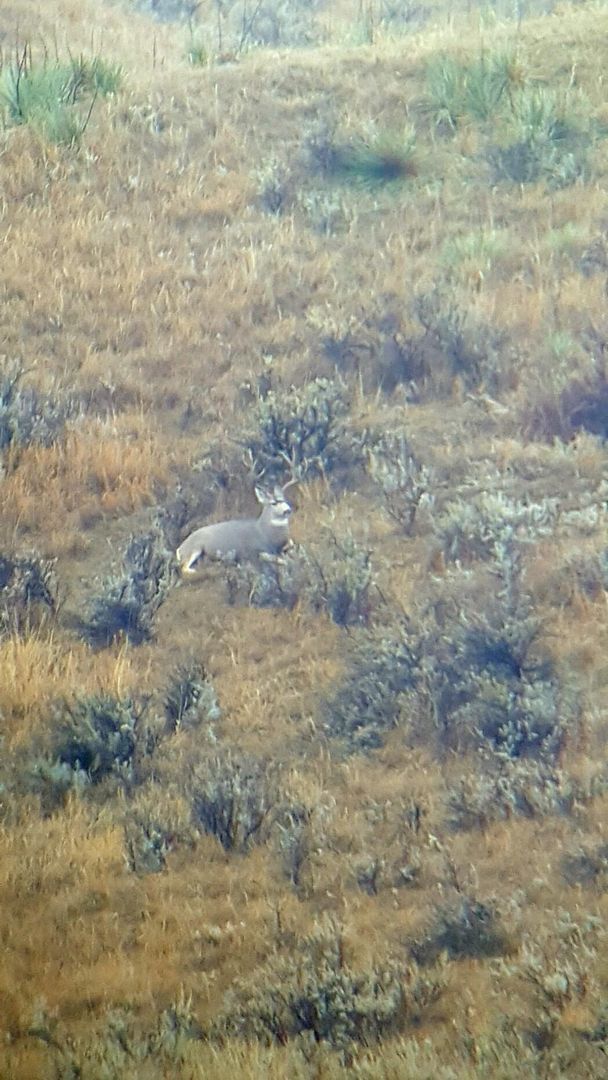 And now this year...