Joined

Jan 9, 2001
Messages

15,729
Location
Headed into elk camp a couple days before the opener and had some tricky roads to navigate getting into camp. Got in a bit late but had camp set up before dark.
Hunted the first 2 days in awesome conditions had many elk encounters but either passed on bulls or had something not quite right.
The third morning my buddy Jess and I were at a great spot right at daylight where I've taken several elk in the past. About an hour or so after daylight we hear a single bugle. Jess got on the cow call and we then started hearing some cows. The herd eventually filtered out in a tight window of aspens above us. I got all set and it was cow, cow, cow, cow, spike, cow, more cows and at that point figured the bugle must have been the spike. Jess then says, "Buzz, bull on the left." Bull was standing about 30 yards left in a small opening right on the ridge top. I already had my rifle rested across my pack, placed the leupold dot on his shoulder and pressed the trigger on my 7-08. Solid thump, bull just stands in place for a couple seconds, takes two steps and it was over. The 140 grain accubond at 247 yards took the arteries out from the top of his heart, leaving a nice quarter sized exit.
Gathered our stuff and found him right where he took his last couple steps.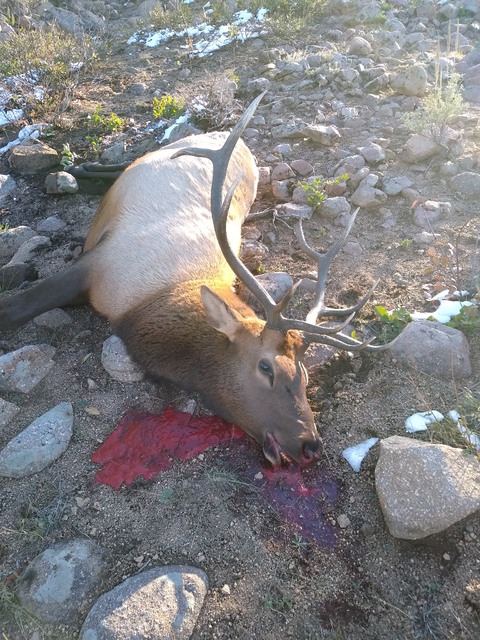 Couple more pics, about what I usually find in the general area I hunt here.
We continued to hunt finding a lot more bulls but again, either passing on smaller bulls or just not having a decent shot. Finally came together for Jess as he was walking back to the truck in an area I shot an elk last year. He was about 11 minutes from the truck and this bull along with a bunch of cows were out in an opening feeding. He shot it at about 80 yards with a 7 RM...done deal. Jess was a coworker for 3 years and has become a good friend, and I've hunted elk with him 5 times in Wyoming.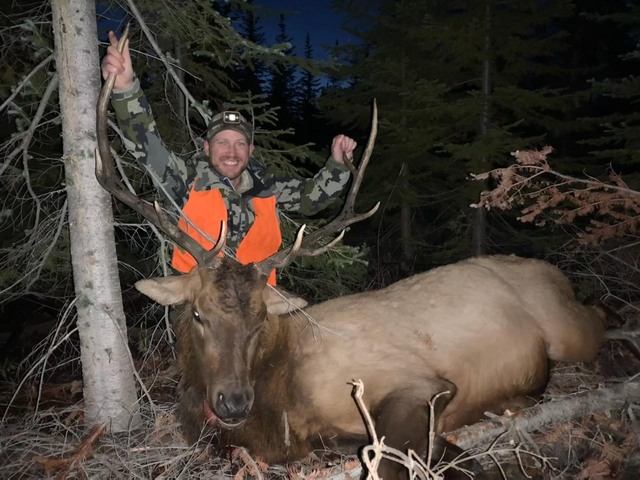 Great trip and we averaged seeing 7-8 bulls a day, best was 14 bulls and total was 47 for the days we hunted. Best bulls were 2 six points, in that 280-290 range. Just a great all around trip and we managed to find a couple bulls too.