I drew an elk tag for Wyoming with BOY and his father. Two days of driving to get there. Once there we set up camp to begin doing some scouting. Camp was pretty basic a bit more than a day as BOY's mother had a bit of a health scare which delayed his father getting there with the camp trailer.
First night of scouting we didn't find any elk but saw sage grouse, coyotes, pronghorns, a couple of good mule deer bucks and piles upon loads of feral horses. Next morning we were up and at it well before daybreak. Took a bit of looking and we located a couple herds of elk. Lots of bulls, but only one that really got my dander up. BOY not so much as he was way goofy on one side.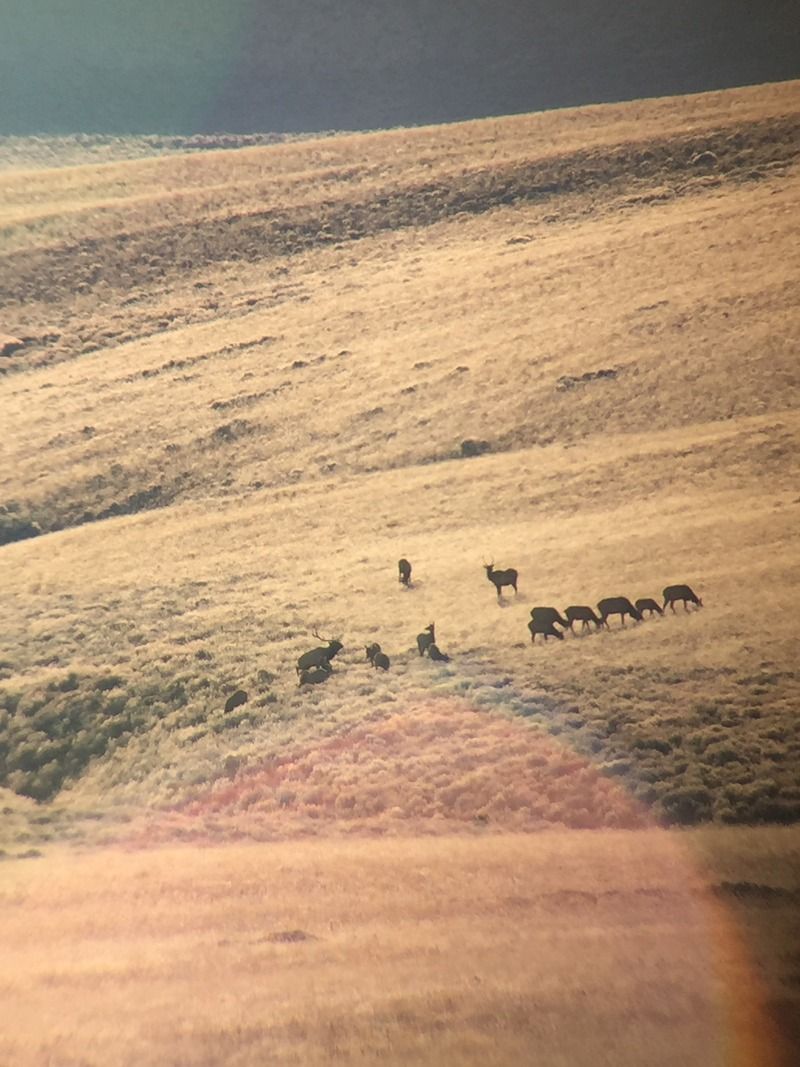 The next day we checked out an area a long way from camp and found more elk as well as ran into a deer hunter that told us of a spot where he'd seen a good bull that morning. The night before the opener we located the herds we found the day before and made plans for the next morning over a round of cocktails.
Opening morning I headed up to where we had seen the goofy horned bull twice previously. BOY and his father headed out to a different area about 20mi away as the crow flies. As it just started getting light I spotted a wide 7pt (he'd busted about 2' off his one side making him a 7X5) that we had seen. The previous times we'd seen him he was always near the goofy bull and his harem!! As light broke I bumped him and he headed over the hill. Just then I heard a bugle uphill and spotted a herd about 1/2 mile above me. I could tell there was a decent bull, but the lowlight and brush background kept me from getting a real good look at the bull. I decided to head their way.
About half way to the herd, I heard one then two shots from my north. This got the herd I was watching nervous and they headed down into a shallow draw out of sight, but directly above me. Not wanting to spook them I knelt down to let things just play out. A peak behind me where the 7pt was showed 4 bulls heading my way!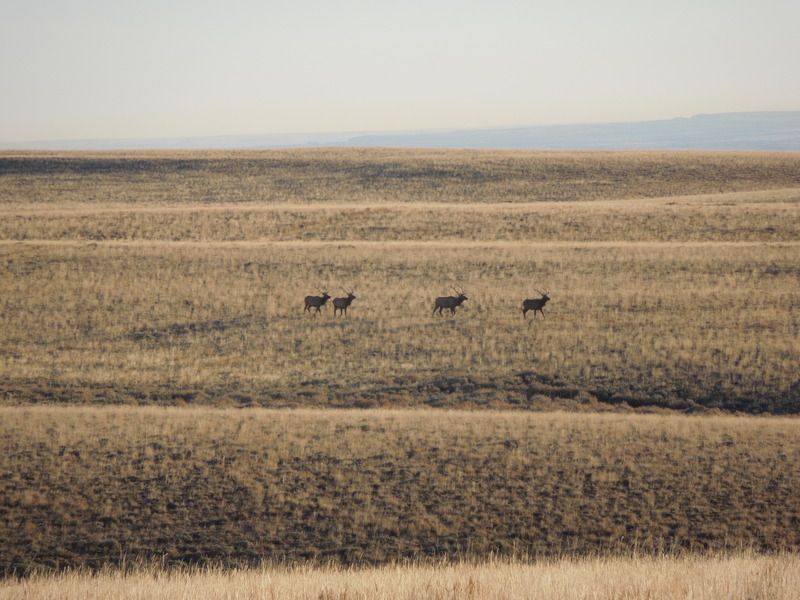 They closed the distance to just under 400yds, but I decided to pass. I couldn't believe I was doing it as I have ate way more elk tags than I've filled, but I did pass. After they moved off I turned back to the herd somewhere in front of me. I couldn't see anything for a few minutes, then 4 bulls trotted out from the drainage in front of me and headed to the left. I quick check with the binos revealed that I wasn't going to shoot any of these bulls, but I ranged them as I figured the herd would take the same route. They where 367yds away, just past the edge of my comfort zone. They milled around on the hill for a bit when a bugle ripped out over the hill in front of me. Three of the bulls took off left and the spike came trotting down the hill my way! Not much later I herd another bugle than a few cow calls. I knew they were very far, but I couldn't see them. Then...hoof beats! I could hear hoof beats coming my way! I got the rifle up on the sticks and tried to not get too excited. Then over the top of the hill about 60yds away came first the cows. As they fully topped the hill the locked up as I was caught out in the open. Just as I was getting the rifle up the bull trailing them bugled. He come up the hill, nudged a calf with his nose and ripped off another bugle as I had him in the scope. I saw what I thought were good fronts and long beams. Once the calf cleared I put the crosshairs on the front of his chest...BOOM! The heard takes off to my left. The bull follows for about 10 yards then starts to peel off to the right. I hurriedly tried a second shot that was a clean miss. My nerves and adrenaline were way up! The bull stumbled a few steps and stopped. I was able to compose myself and dropped him with a shot to the shoulder. My second bull ever was down!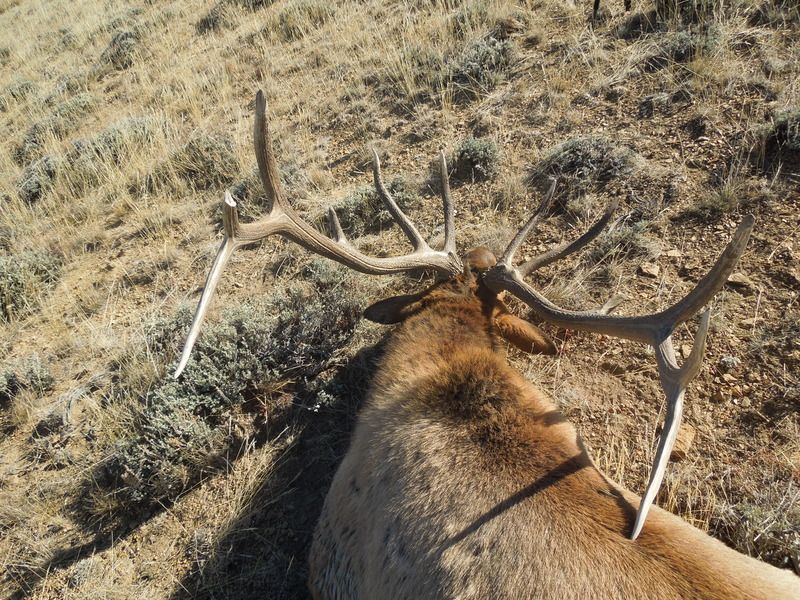 His rack was pretty busted up, with both 3rds broken and parts of his 4ths and 5ths. Either way I was tickled! Lots of folks that know this unit probably would have passed on this bull, but I couldn't even though he wasn't the bull I was going after.
After I got him caped and quartered we got him to the camp the decision was made to move camp a ways where we had seen other elk. The daytime temps where getting up into the low 70's, so I headed to town to get the meat to a processor not knowing if I'd be out another day or a week.
The second day I went out with BOY and his father to play the role of packer and spotter. We split up in the dark. Me to a high place to try to find the elk they had spotted the night before and them around the ridge to the northeast to try to intercept the elk. Later that afternoon I heard a few shots then about an hour later a few more. I had spotted elk, along with a lot of other game and a few hunters, but didn't know where the tag holders had headed off too. Then the radio crackled and I was asked to bring a 4 wheeler around to pick up BOY. Soon as we met up I noticed his hands were very red... Both him and his father had shot bulls! Good bulls!
His dad's ended up being a big 5pt, having only one brow on each side. Not busted off, just not there.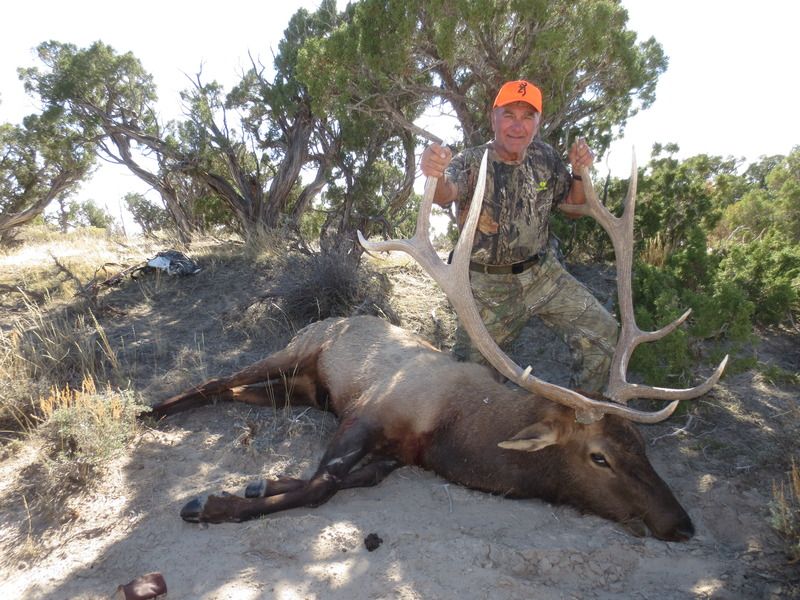 BOY's bull had tine length and quite a bit of it!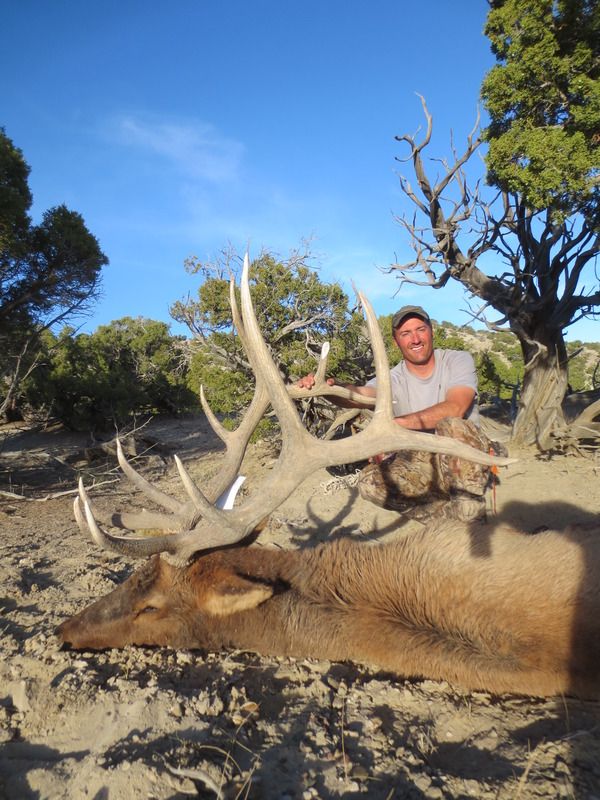 We got their bulls quartered and hung for the night and came back early the next day to pack them out. Three bulls in two days. It was time for some cocktails!
Two days of driving. Two days of scouting. Two days of hunting. One day of packing and loafing. Two days of driving to get home. Lots of miles but one heck of a hunt.