Administrator
Staff member
Joined

Dec 27, 2000
Messages

15,113
Location
Every year we run a promo with the great folks over at onXmaps. You have heard me write about how these map chips have changed the way I apply for hunts and the way I hunt in the field. At the top of my "Don't leave home without it" gear list.
This year, it is running from 8/15 to 9/15, with the prize drawing on 9/16. Here's the deal:
Buy a Premium or Regional Hunt Chip and get;
A Hunt APP card, and

A free download of Fresh Tracks from our download platform, and

Be entered in the Hunt Talk-only drawing for a Garmin GPS.
Use Promo Code "
hunttalk15
"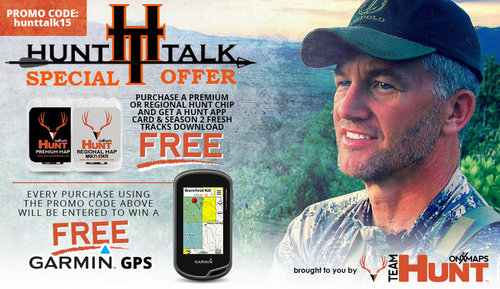 http://www.huntinggpsmaps.com?acc=45c48cce2e2d7fbdea1afc51c7c6ad26
Thanks for looking and thanks for buying this amazing product.