The opening weekend of the Nebraska rifle season was the best for us that I can ever remember. We saw multiple deer and each of us passed on many young bucks. We were hunting in western nebraska where the rugged breaks in hills meets a wonderful river bottom with some crops and hard woods. In other words...we were hunting where Muleys met Whitetails.
I had a tag for a WT only and these guys could shoot a Mule deer or a whitetail. Opening morning as the light filtered in I had a wonderful 3 year old 4x4 whitetail in front of me. I was hunting closer to the river bottom and the other two guys were higher up in the breaks. I watched him for awhile and decided to pass....and then have some fun with him. I grunted him to bow range and let him walk. I should have taken a pic....but it was dang cold! about an hour into the season I decided to hike up and meet up with one of the guys. On my way up my pocket vibrated. "Big buck down". He had shot a nice whitetail! I hiked a little faster now. By the time I had reached the spot he was in a second message came in. "Mule deer down!" These guys had both punched their tags in the first hour or so! I wasn't terrible serious about shooting a deer but this got me more and more excited. Time to see what these guys had shot.
My cousins whitetail. His biggest yet.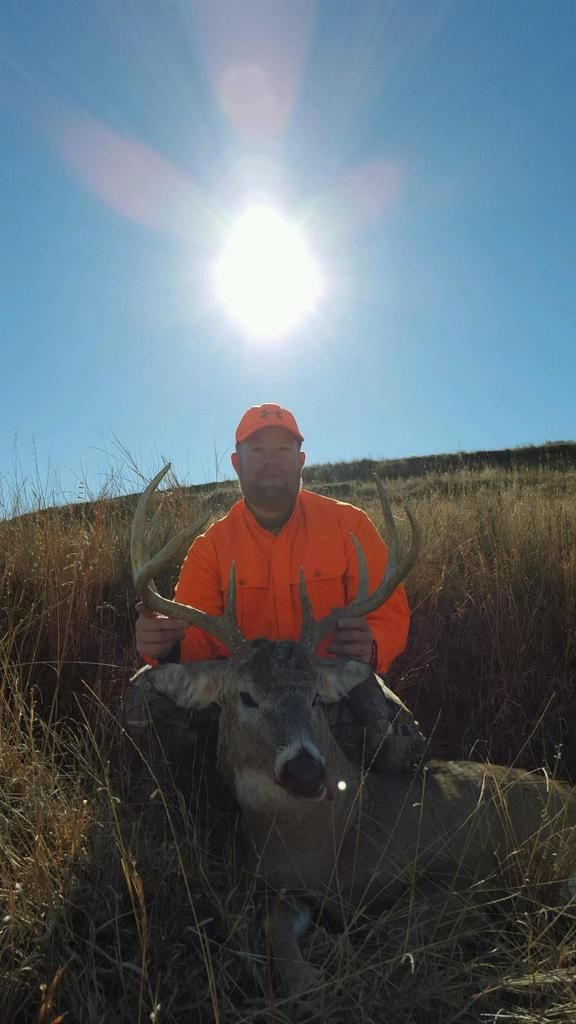 Buddies Muley. Also his biggest deer to date.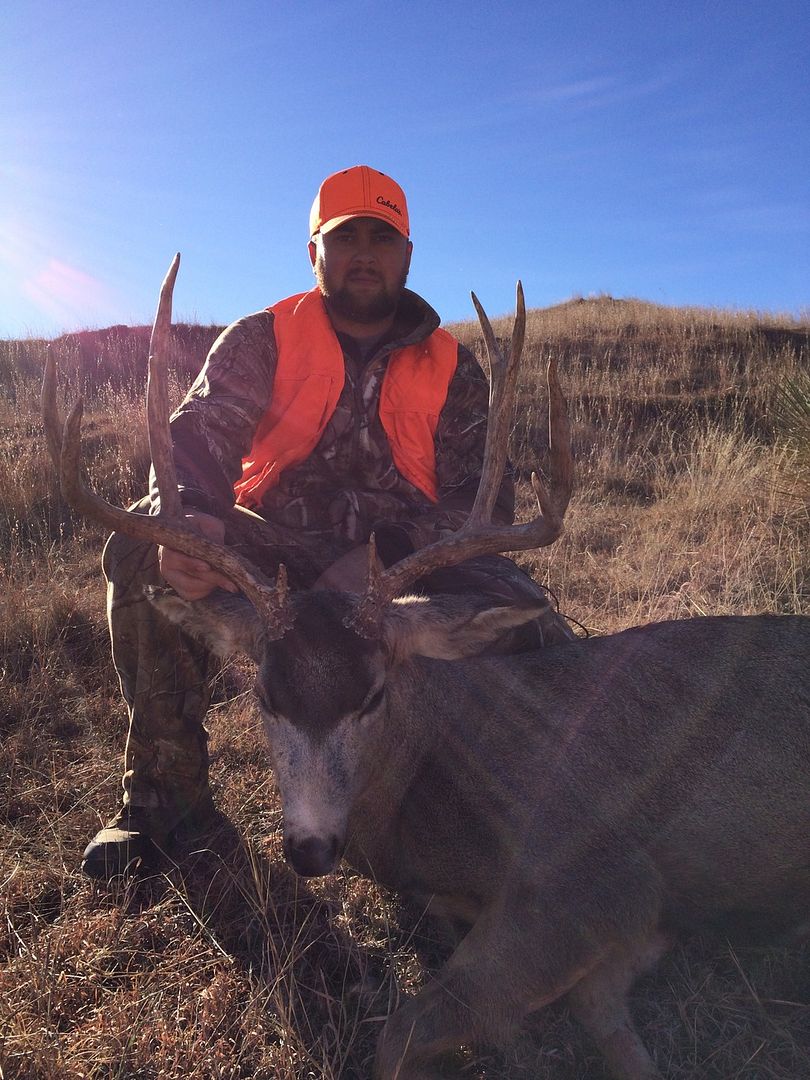 We got up to my cousins whitetail and the high-fives began. He had been watching him come all the way down a large draw and the closer he got...the bigger he looked! He was very happy with him. We loaded him up and drove over east to see about this Muley. Both guys were very happy with their deer and I was very happy for them. Last year I was the only one to get a buck so this year.... with these guys both shooting their biggest bucks 10 minutes apart...I didn't have a chance. Let the ribbing begin. Ha! I had told them about the buck I had passed on...and others I had seen....it didn't help. All in good fun....but I would have the last laugh. The rest of the day we saw some small muleys and a few decent whitetail but nothing I wanted. At last shooting light antlers crested the ridge 500 years in front of us on the skyline. When we looked in the binos we all got excited because it was a WT and not a muley. WOW! Too bad we were out of light. Driving out all we could think about was this deer...and then we saw another big whitetail chasing a doe on the skyline as we drove out. WOW. 2 shooters in 15 minutes. After the day we had had...and then this...I was looking forward to the next day and was now in Deer mode! As the sun came up on the second day we could see a very mature whitetail chasing a doe in the cornfield by the river. My heart sank as a dense fog set in. There would be no way to cover the distance and spot him again. Time to wait it out. The soupy fog pretty much ruined the morning hunt so we took a short break for lunch. As we got back into the field we had decided to check over a ridge that had a good look out. As my cousin began to see over the ridge he immediately hit the dirt and we did the same. On a ridge 900 yards in front of us was that big WT from the evening before. Wow he looked nice as he chased a couple does back and forth. Then....he bedded. We marked the spot and my cousin and I headed clear around to get the wind in our favor and stay our of his sight. At one point we had to belly crawl down a cow path thru an opening were he could have seen us. We made it and got to the next ridge. We got the "thumbs up" from our friend who was spotting for us on the previous ridge meaning the buck was still bedded and he hadn't seen us. We continued up the draw and as we started to head up to a high point where we could have got a shot...we bumped a bedded doe. My heart sank....but...she ran to our right and up the draw....away from the bedded deer. We nervously turned to our left and looked for the thumbs up. Whew. This doe hadn't ruined our stalk. I belly crawled over the rise to the top of the ridge and the buck was bedded 250 yards away among some Yucka plants. I got on my bipod and took solid aim. I touched off the first shot out of my Howa and heard a report....but when I looked back into my scope the buck was up! I put him down with a quick second shot! I later found both shots had hit but this thing was a beast! I immediately began to shake with adrenaline. I knew he was my biggest buck yet. He ended up being a 5 1/2 year old giant that scored 144 3/8. Wow. Just wow. What a weekend. We all three had our personal bests....and my teasing came to a quick end. I had lot of good help with shooting this deer and the weekend could not have been any more fun! Here he is: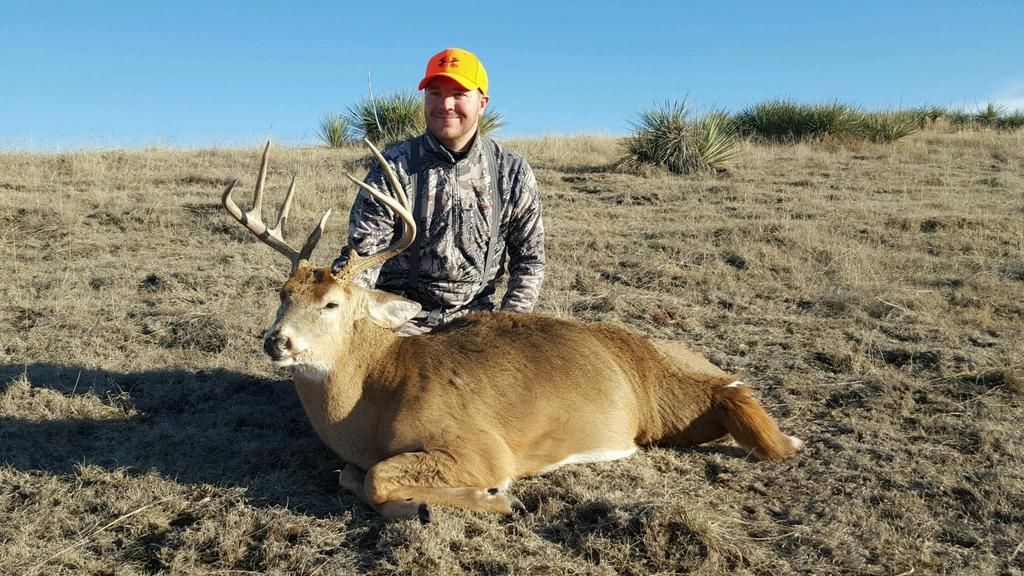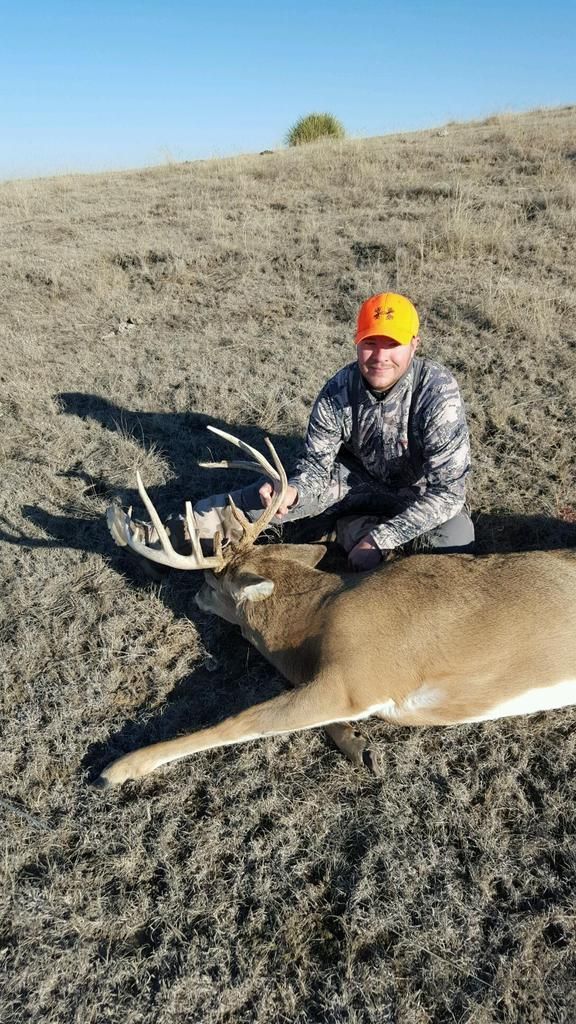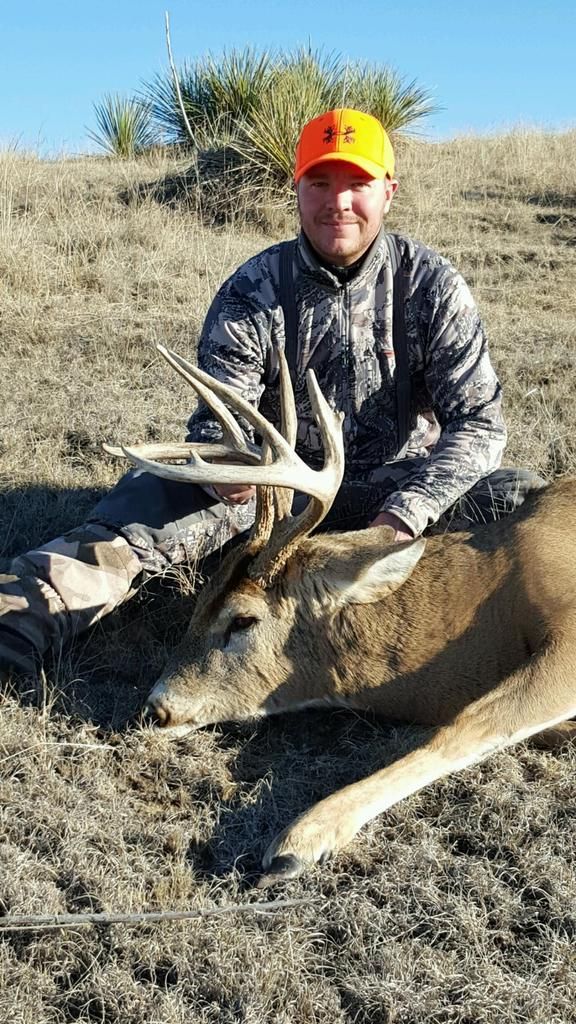 Great weekend with great friends....and some dang nice deer!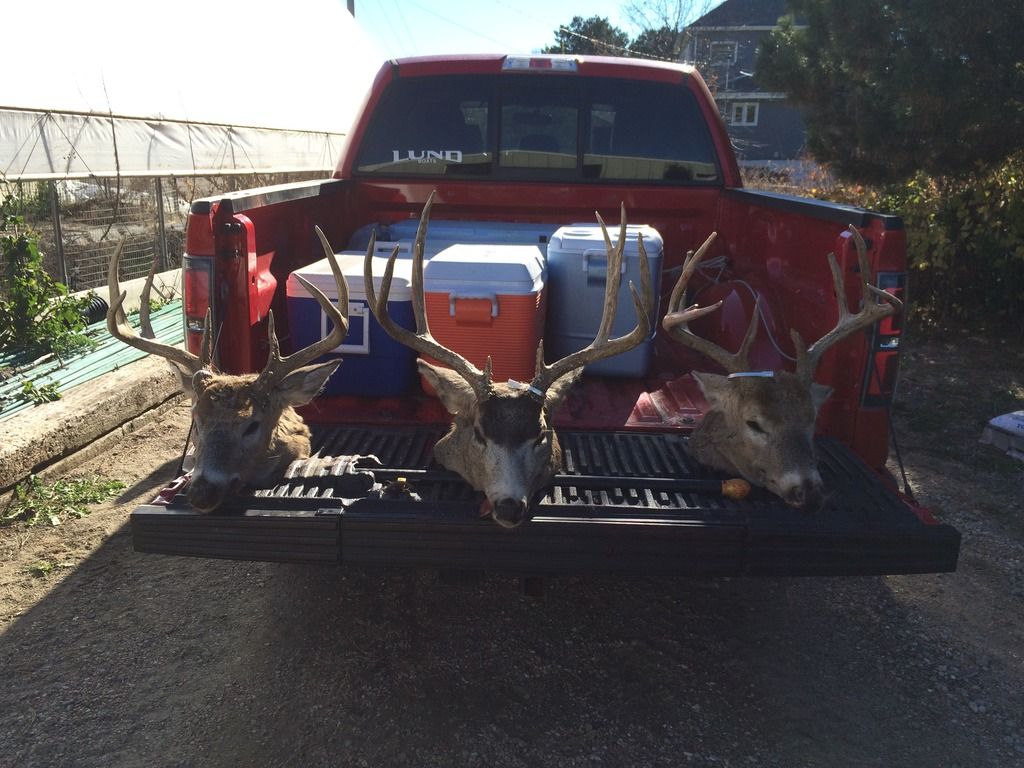 Last edited: