Joined

Feb 9, 2018
Messages

420
Location
Last winter while researching for hunts this fall I asked my wife if there were any animals she'd like to go hunt. She said "I'd shoot an elk". This was music to my ears! I put her name in the hat for a bull tag in NM and she drew. In 2020 Kaitlin went with me on my CO early season muley hunt. I got her a leftover tag but for the most part that was my hunt. This was her hunt. The unit she drew in NM definitely has some elk but it's super rugged and rough. It's definitely not an easy hunt if you're not road hunting. I arrived 7 days early to scout and I had 2 big bulls located when she arrived 5 days later.
I usually do write ups after my hunts so everyone can follow along but this time my wife did a write up in her own words. I thought it would be better if I just shared her POV.
- Kaitlin's Words -
My first elk hunt was nothing short of a remarkable experience! Stan ventured out days early to scout for bull elk in preparation for my season & my arrival. We got on this bull opening day… twice. The morning we had him at 350 yards but he spotted us in the sun and took off up the other side. That evening we got in position on him and I took a couple long shots at him barely missing over his back with the first and clipping part of one of his antlers with the next (we realized afterwards that there was a setting on the scope that was wrong or he would've gone down). He went over the ridge and didn't come back the next morning.
>
The next few days entailed other hunters coming in behind us and shooting a different bull we were trying to go after; seeing other bulls but unable to get on them; terrible wind, smoke from a fire and a day of no sign of elk movement.
>
We were frustrated and discouraged from how the season had played out. We went in to the last day of my season with a "we're not giving up attitude," but weren't feeling very confident. We hiked back into some country we knew no one had been to during the season. The trail only went so far until we had to create our own path. Stan found a point with rocks where we could glass for elk. He spotted one about 400 yards away. I had to set up awkwardly on some angled rocks not knowing how big he was — by this time I just wanted to fill my tag and supply meat for the freezer. I shot him twice and he fell. We hiked down through some thick thorn bushes, aspens and downed trees to find him.
>
Come to find out, this was the EXACT BULL we were on opening day! We had said how crazy of a thing it would be if I had another chance to knock him down. An unbelievable but true story.
>
These animals are huge! I've been told most people won't ever get a chance at a bull this nice so I suppose I got spoiled on my first one. He's a 6x7 bull due to some broken extra points we assume from fighting, so once a 7x8.
>
Stan called in reinforcements to help pack him out to the truck. It took 4 of us about 4 hours to pack 80% of him less than 2 miles
because of the rugged terrain we had to maneuver around — steep incline, scratches from thorns, downed trees & brush. My glutes have never experienced muscular burn like that before! The elevation didn't seem to bother me by the last day. Thursday Stan and I went back in to get the last bag of meat & the antlers.
>
After 2 days of driving, we are now home with glowing faces (literally sun and wind burnt), meat in the freezer, and an experience of a lifetime! 9 straight days of spending every hour with my man
thank you for working so hard to get me on this elk & for adventures with you I'll cherish forever!
—————
Words can't explain how proud I am of her. She didn't complain one time. She hunted hard and knocked down an awesome bull. This is one of my favorite all time hunts.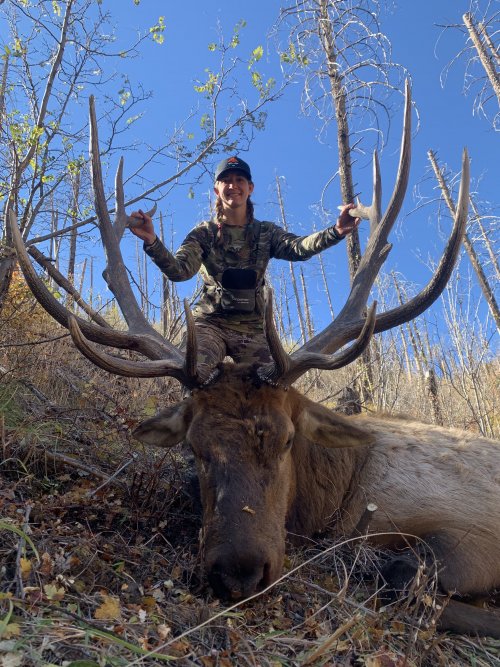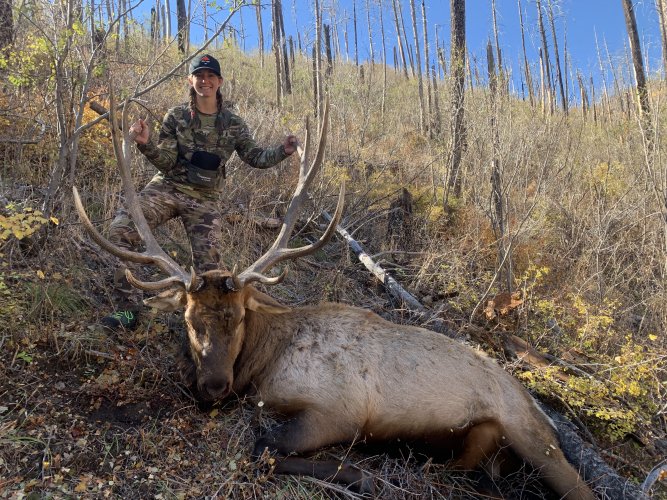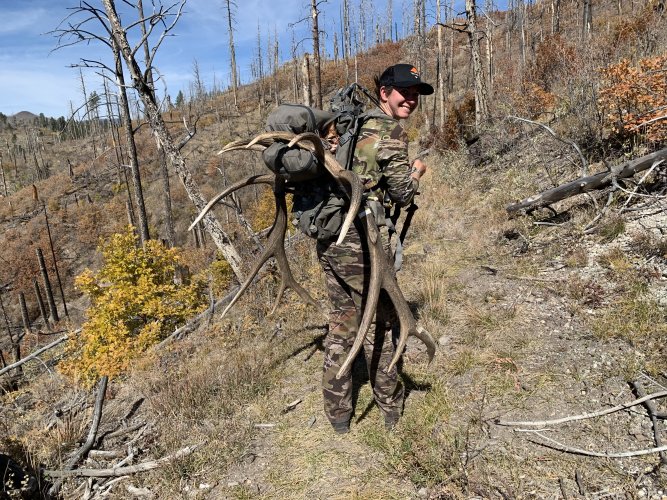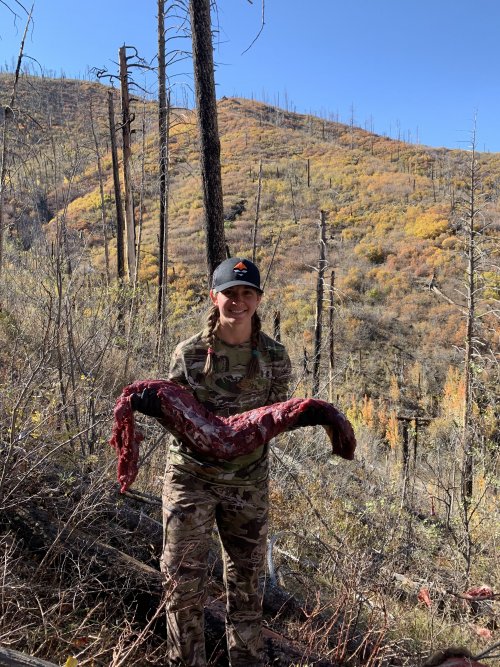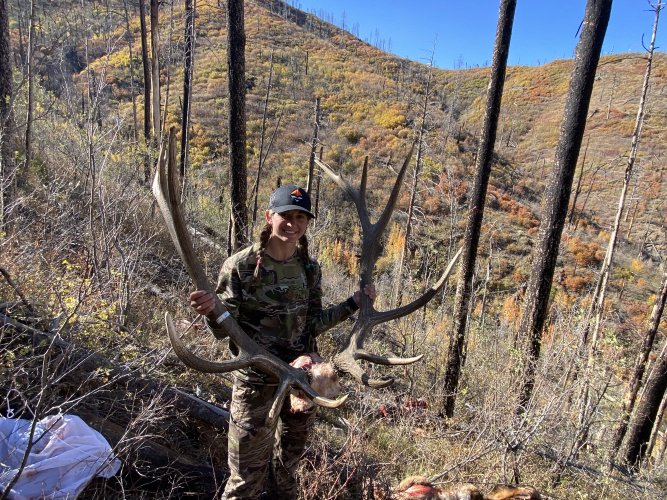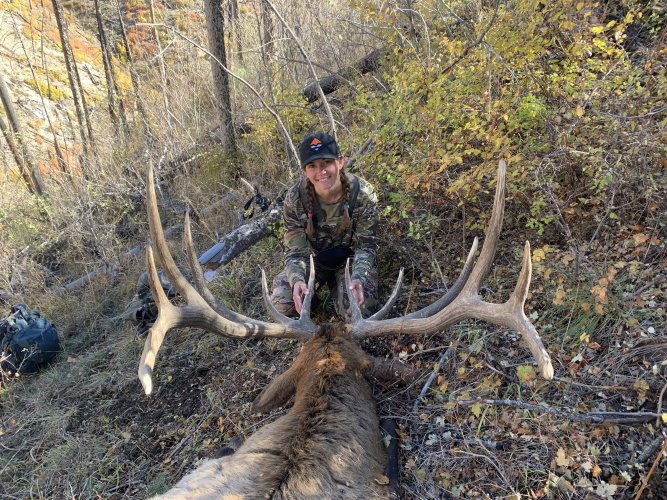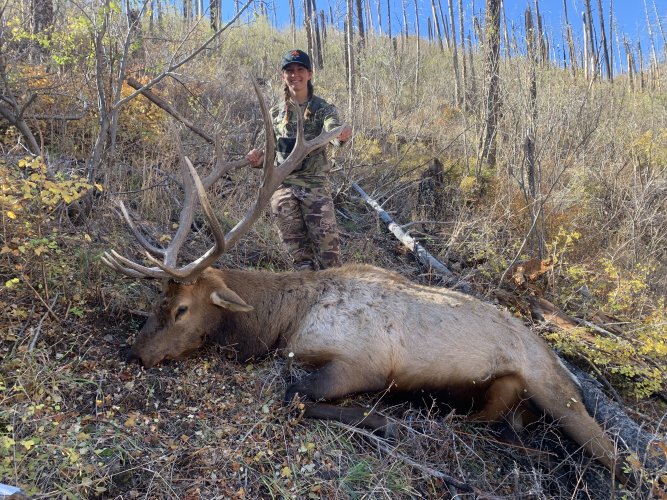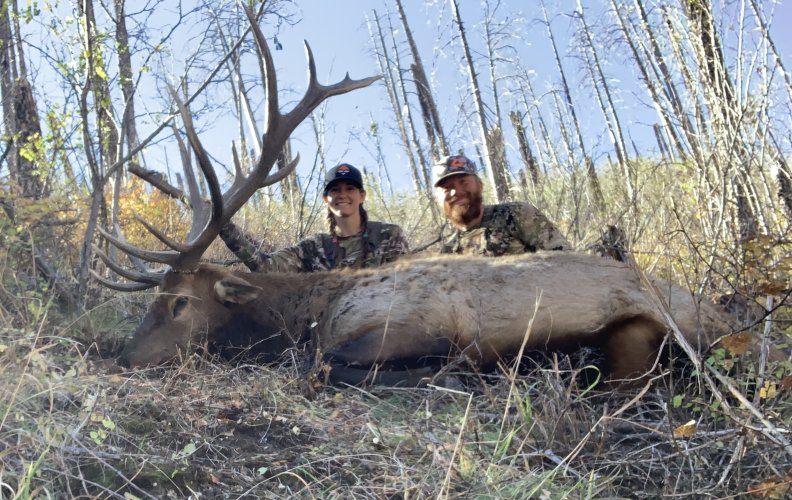 Last edited: