Joined

Jun 8, 2018
Messages

247
I live in North Florida and really like to fly when I'm hunting, for a variety of reasons. Overall, it's cheaper if you plan for enough out and it saves me 2-3 days of travel time that I can then allocate to hunting. However, getting meat home is a logistical challenge, for sure. I drove my first two Elk home after flying one way and decided I really wanted to dial in a good system for flying an Elk home, affordably.
I think I accomplished this for about as cheap as one could expect to, give or take around $60. This is how I did it:
1) Fly Southwest = 2 Free checked bags
2) On the flight to, I packed 50 lbs. of gear and food into a rolling Coleman 70qt. cooler as my first checked bag. The second checked bag is my bow. The rest of my hunting equipment was in my hunting pack (Sitka Mountain Hauler 6500), which I brought as my carry-on, and included a collapsible soft-sided cooler bag.
3) When I arrived at my destination, I purchased a 70 qt. cooler from Walmart for $50. Walmart is the best because if I don't use the cooler, I can return it.
4) Most important step. Shoot an Elk
5) After hanging meat and allowing to cool, debone all the quarters and place them into heavy-duty contractor bags, then completely pack in ice inside the cooler for as long as possible.
6) Pack a box with as much gear as you can fit inside and ship it home to yourself via USPS. My box weighed around 25 lbs. and cost me $60 dollars to ship home.
7) Just before boarding the plane, remove all the wet ice and dry the cooler with a towel.
8) This step is optional and not always possible. Add 5.5 lbs. of dry ice per cooler (the maximum amount allowed by TSA). Based on all the research I've done on this topic, I would have been 100% comfortable shipping the meat home without ice in the cooler for up to 18-24 hours. Dry ice was convenient and cheap insurance for me, though, flying from 100 degrees Phoenix to 100 degrees Florida.
9) One cooler is going to serve as the second checked bag and can only be a maximum of 50 lbs. I packed a rear quarter in this cooler, which weighed 44 lbs. + 5.5 lbs. of dry ice.
10) The other cooler is going to be an overweight item. Southwest charges a $75 fee for this up to 100 lbs. I was able to pack a rear quarter + a front shoulder and 5.5 lbs. of dry ice, which came out to approximately 83 lbs. I didn't have a scale but could have saved myself some headache with my carry-on if I could have added the max weight to this cooler.
11) Stuff a rear quarter and bag of tenderloins/backstrap/trim in your carry-on pack, 44 lbs. and 35 lbs. respectively. Southwest doesn't have a maximum weight limit on your carry-on bag and meat is totally acceptable through carry-on. However, know that you will more than likely get searched going through TSA (I'm even TSA pre-check) as meat and dry ice both look very suspicious on an X-Ray.
12) My personal item was soft-sided cooler, which I had packed with 4 shanks. We like ossobuco a lot, so I went the extra mile here. You could shave some weight off your carry-on pack to make this work.
Summary:
All in, I'm at $200 not including the hassle and stress of putting all of this together on a time crunch. This includes a new cooler, a box shipped home, and one overweight/extra bag. This was a full-grown Cow Elk, which produced the same amount of meat as raghorn I shot last year in Colorado. Obviously, a large Bull is going to require some additional weight/expense, along with the antlers.
I have checked antlers before on a plane and you'll have to plan on an additional $100 or so to accomplish this. The expense here is the overweight/oversize fee + bubble wrap/tape/cardboard to package it up.
I hope this helps some folks traveling across country to hunt the West.
KMG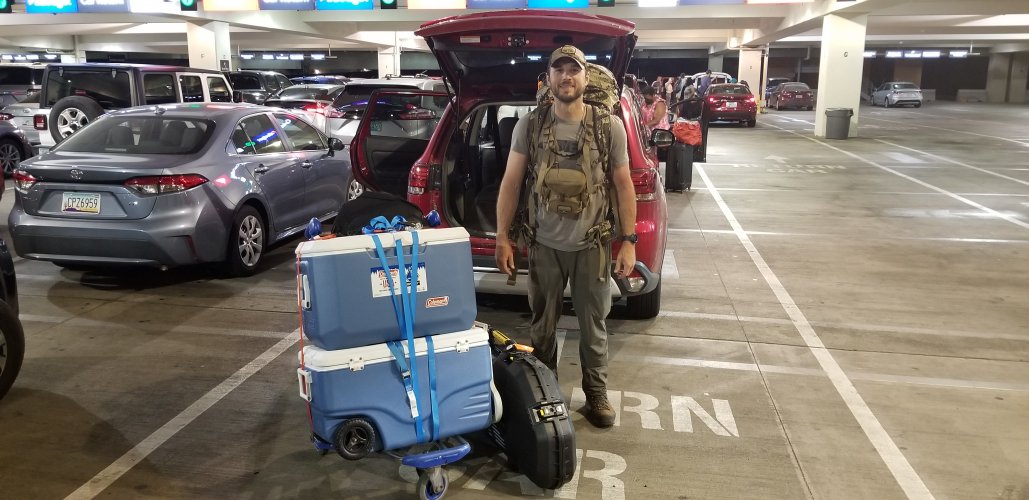 Last edited: