My Maine Bear taken 8-30-2012 with a lot of help from my friends.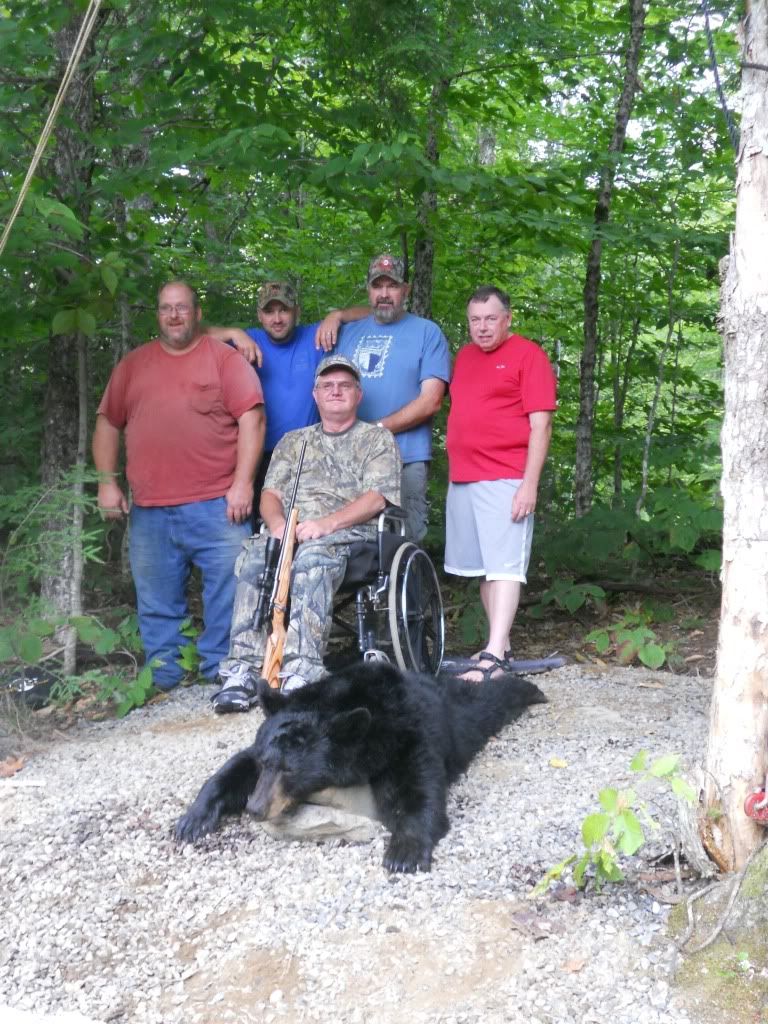 Here is the story! My friends and I left PA at 7:30pm Saturday for the long drive to Maine..we arrived at camp at 9:30 Sunday morning. The outfitter was all pumped up about the spot he had picked out for me,he had trail camera pictures of a BIG 3 legged bear pounding the bait I was going to hunt over,I was excited about this bear also..he was different than all of the others. After shooting the guns,excellent food we all hit the sack waiting for the Monday afternoon hunt.
Day 1 Jay the outfitter drove be to my blind around 3:00pm and he had things all set up for me,he stopped the truck,unloaded my push chair and after pushing the chair 5 feet I was in my blind!!!!! Talk about service. I hunted until dark and all I saw was a pine martin and a few birds.
Day 2,same thing nothing but birds.
Day 3,same as day 2... After I had no luck after day 1, Jay started a new bait site in a different area of his 12,000 acre lease. On the ride back to camp he told me about the new area I would be hunting Thursday.
Day 4,Jay told me to be ready 1 hour earlier so off we went with two of the guides following behind us in a different truck. After a 1 hour drive we stopped and all I saw were cut trees,small logs and brush all over the ground. Jay got my push chair out and loaded me and the 3 of them carried my chair with me in it about 50 yards into the woods and there was another blind! One more thing,I weigh 230lbs.!!!!! About 6:15 I saw a hemlock tree moving but there was no wind so the heart started to POUND,I thought here it comes then nothing. At 6:45 out steps this nice bear and and then the fun began. Jay didn't want any cubs shot or any sows still nursing,if that happened the cubs won't survive the winter. Then the bear stood up and stuck it's nose in the 5 gal. bucket that was 6 ft. off the ground and went back on all 4's. The bear was like a statute just standing about 70 yards from my blind, At 6:55 and no sign of any cubs,I put the cross hairs in the front shoulder and touched off the 7mm-08 and dropped it like a sack of potatoes! Then I called Jay and 20 min. later he and two guides arrived and pulled the 220lb. sow to the truck and then they picked my "FAT BUTT" up and took me to the truck...
I shot the bear with my Remington Model Seven, 140gr. Nosler Partitions, top off with my Zeiss Conquest 4.5-14-44mm.