Joined

Feb 14, 2017
Messages

60
Location
Just finished my first DIY western hunt the Monday before Thanksgiving. Myself and three close friends left Indiana Monday afternoon and headed west to Montana each with an elk and a deer tag in our pockets. 18 hours later we found ourselves in SE Montana at the beginning of a week long adventure. Our first day in Montana consisted of deer hunting the eastern part of the state. While we saw many deer, we did not punch any tags.
We pressed on that night and arrived to our final destination in central Montana late on Tuesday evening. We were all very tired, but excitement got us up early the next morning and 11 miles of hiking for each of us ultimately resulted in two filled mule deer tags for a couple of guys (not me), heavy packs, and another extremely late night!
I will not go into extensive details, but each of the next few days was like the last, leaving early, getting back late, and putting lots of miles on the boots. Despite efforts, I personally did not fill a tag or even have a legal animal in front of me....until Saturday. Despite substantial snow, high winds, and 8 degrees on the thermometer, Saturday morning started much like the other days, but things got a lot better around 9AM. After clearing a quarter mile of awful deadfall and deep drifts, I found myself free from other boot tracks and on fresh elk tracks. Needless to say, I slowed down and made sure I worked the timber slowly. It wasn't long before I saw legs moving 100 yards ahead of me, with the wind in my face, I got myself ready and waited to see what was coming. I had never been on a DIY western hunt, and had never killed a mule deer, so my goals were simple and modest - harvest any legal elk and tag a 3x3 mulie. As the body worked closer to me, I was able to see that it was not only a deer, but a 4x4 mulie that exceeded my hopes! A shot quickly broke the silence and just seconds later I was standing next to my first mule deer!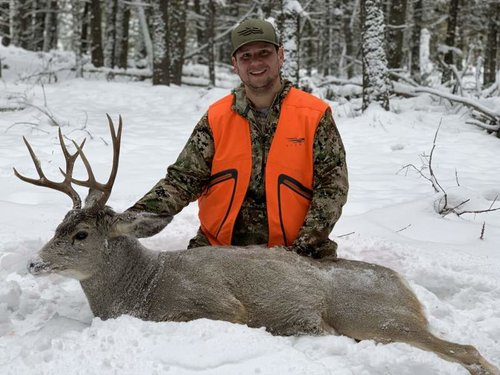 Needless to say I had work for the rest of the day and by the time I got back to our cabin I decided I didn't have time to do much other than enjoy a Rainier and be thankful for my deer. However, I was early to bed that night and was right back at it early the next morning. Remembering the fresh elk sign I had seen right before running into my mule deer, the absence of boot tracks, and the near perfect wind, I decided to head back to the same place, but planned to work a little deeper. Sunday morning started a lot like the previous days, except that morning I was feeling a little lighter with the deer tag out of my pack. I had scouted out a nice series of parks and logged areas that looked like a nice place to find an elk, so under the cover of darkness, I started working my way in. I got to the first opening as the sun was breaking the mountains and I took a moment to appreciate some of Montana's trophy country. After a quick moment of appreciation and reflection, I started working my way to the next opening on my OnX. However, I only got halfway there before I spotted legs moving in the timber. Again with the wind in my face, and confidence in my cover, I knelt down and got a steady rest and tried to see if any of the legs were carrying antlers. The lead cow broke through the timber into a great opening and shooting lane at 85 yards and there were at least half a dozen more bodies behind her. I let her quietly pass hoping that a bull might be trailing towards the back. However, I am a big game eater as much as I am a big game hunter, so I had no desire to let a DIY cow slip through my fingers. Fortunately, I was able to see the last elk in the parade and there were no antlers in the group so I readied myself knowing that the last cow was heading right were the first cow had passed. A few heartbeats later, my second Montana tag was punched and I had to take time to thank the Lord for a wonderful Sunday in his creation. I walked up on her at 8:30AM, three trips later with a very heavy pack she was safely in the truck around 2PM and I was soon able to let my wife know that we had another year of not buying meat in front of us.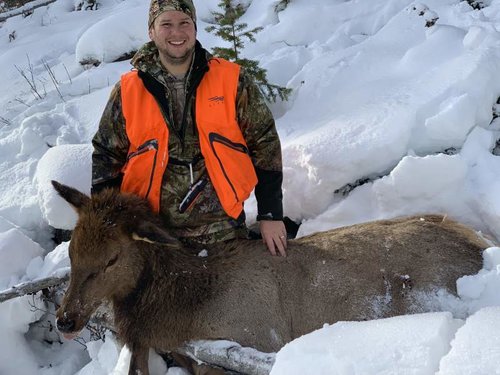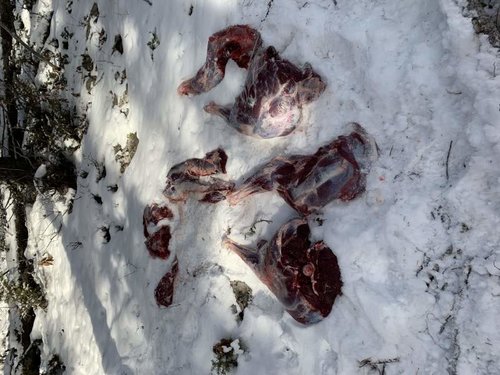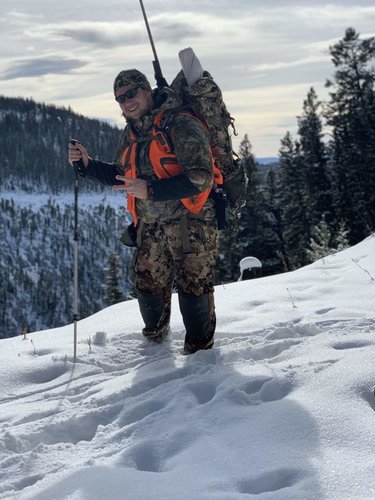 I really wanted to take time and share this story with the OYOA community. Before this trip I spent hours and hours on this forum reading and researching the great advice that all of you take time to share. So sincerely, thank you to those of you that contribute. I sent a few PMs so again a sincere thank you to those of you who took time to respond. I also wanted to thank Randy for all of his content and scouting information. I am not exaggerating when I say that I have watched everything he has ever put online!
I also want to add that my shortest day was still over 6 miles and I did not have a mule deer buck of any size within rifle range until my 5th day and 38th mile of hunting and hiking. The first elk I saw was the group that I harvested my cow out of and I did not run into them until my 6th day and my 41st mile of hiking. However, the knowledge that I gained from this forum and Randy's content, along with the support of my hunting partners, inspired me to hike a little further and hunt a little harder and in the end that paid off!