Joined

Sep 22, 2004
Messages

536
Location
The Elk section has been a little slow lately so I figured I throw up some pics of my trip back to Central MT. I went back the second week of September with Archery tags in my pocket good for an Elk, Deer, and an Antelope. I went back for 6 days, so I had my work cut out for me.
Number 1 priority was gettin' an Elk. But being that the weather was so warm during the days it was only reasonable to hunt for Elk in the mornings and evenings. The days I spent glassing and blowing stalks on Mule Deer and Antelope. :BLEEP:
The Elk were not quite ruttin' yet....I would hear a few bugles in the morning that helped me locate Elk, but by the time I could close the distance they would shut up. Had some close encounters a couple mornings when I was able to catch up the some Elk as they moved towards their bedding areas. Just couldn't get within bow range.
This is pretty much what it looked like 360 degrees. Pretty "Elky" area.
They seemed to like to head towards deep canyon cover like this little spot here.
Evenings I would bugle to locate, but they just weren't very talkative. So I spent much of the evenings hunting around some of the water sources in the area. Here's one that was in a pretty sweet little spot. Great cover for them in and out.
So it came down to the last day. I was able to sneek in on and kill a decent Whitetail in full velvet on day three, pretty much given up on the stalkin' Antelope thing. :BLEEP: I had one last chance of gettin' an Elk. Morning went pretty much the way it did the previous 5 days. I decided to go to a little water hole that I had not been to in a couple days. Even though nothing fresh had been through there, I figured what do I got to loose.
As I got close I heard a deep bugle. I thought....sh.t, he's already there! Sure enough as I got close to the little pond I could hear water splashin' and see legs of Elk. After contemplating my next move I look to my left and there's a little calf eyeballin' me. SH.T! As it turns and runs towards the 5 or 6 Elk around the water they freak and turn to go. I let out a quick little Cow call and got em' all to stop. That was my first look at what was in there. 5 Cows and a beautiful 320-330 class 6x6. I was 80yds. away and nothing I could do but watch em' all finally turn and head back into the timber. Needless to say I was sick. I think I was even pouting a little.
Anyway I had an hour of day light left and my hunt would be over. I was either gonna leave that night late, or early the next morning. Had to be home by a certain time and had 14hrs. to get there. So I figured I'd "hang" around the area and see if there was something else around.
As I kinda creep around the area, poutin', I hear the distinct klanking of hooves coming right towards me. Oh sh.t, knock an arrow and take a deep breath. When I hear limbs breaking off trees I knew it was a Bull so I made myself not look. As I sat and waited for this dude to come closer I tried to convince myself this was happening. When I could finally see the bottoms of his legs while I was still staring at the ground, to hide my face, I finally looked up. Right there at 35yds. was this guy. As I came to full draw he looked right at me and by then I had released, and drilled him perfect. He went maybe 50yds. and was Dead! Laying right in front of me.
I looked around like what the Hell just happened? I couldn't freakin' believe it. With less then an hour of day light to go on my last day I was able to get my first Archery Bull.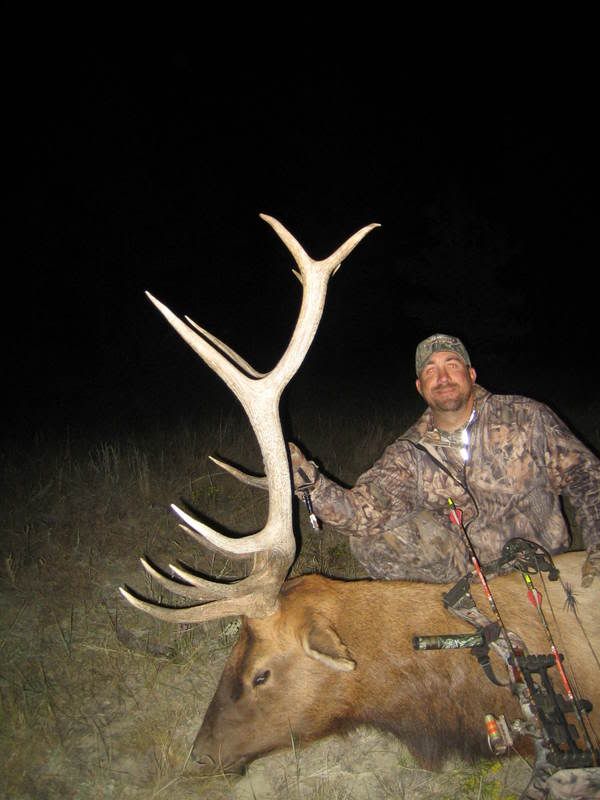 Sucks trying to take pictures at night. Can't see what your filmin' tell the flash goes of. Would've loved to have had pictures during the day with some of the backgound around that area. Least of my worries though. I was happy enough.
Notice the quiver?? FYI...when your hunting for big game....specifically Elk, don't waste your good arrows on Porcipines. |oo You may need those arrows later. Luckily for me I only needed one. But kind of a bad feeling hunting with only two arrows.
Got it back to camp around 1 am....woke up early the next morning loaded the rig and headed home. Pretty fortunate to come home with two of the three animals I set out for in 6 days bowhunting.