Administrator
Staff member
Joined

Dec 27, 2000
Messages

15,113
Location
I posted this on my Facebook page, so figured I may as well tell the story here. Since many here know me a bit more than the FB crowd, it will give a little insight as to my upbringing.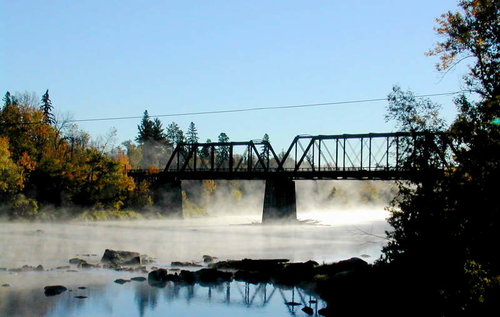 Seeing this photo sent my mind back in time, so here is a Throwback Thursday story of a childhood event that in today's world would have parents, grandparents, and siblings in jail for what we did. You can blame Paul Newman and Robert Redford for the mischief four young, bored, and ingenious kids tried to pull off. Even if you watched the train bridge blow up on Butch Cassidy and the Sundance Kid, your mind probably did not travel this path.
Butch and Sundance, the movie, was a big hit in 1969 and 1970. That movie hit its zenith in our little northwoods berg around summer of 1972, when I was the ripe age of 7. My Mom's two youngest brothers, Boog and Jimmer, were 10 and 8, with my oldest cousin Robin being 9 and filling out the age gap.
We grew up in a small little town, rather boring, yet as idyllic as any young boy could ask for. Those familiar with Big Falls, MN know the train bridge is a rather prominent figure, full of intrigue to the devious minds of rural kids. It is the bridge in this picture, a place I spent a lot of time swimming, diving, and dreaming.
When we saw Butch and Sundance blow up that train bridge in that movie, we dreamed about doing the same thing. Anyone who says young minds are not influenced by what they see on TV is a fool. Proof positive.
Grandpa Bob was on the North Slope working as a mechanic that summer and left his cases of shotgun ammo in the warehouse attached to Grandma Harriet's café. What a better source of gun powder than his cache of goose loads?
We meticulously cut each shotgun shell in half, dumping out the BBs, then pulling the wad that separated the gunpowder. Powder from each shell was poured into a quart-sized Hardware Hank paint can with a screw-on lid. With a wick made of power saw starter rope soaked in OFF bug dope and threaded through a hole punched in the paint can lid, we had our device that would bring the train bridge to rest at the bottom of the Big Fork River. To make sure it would ignite, we loaded a half dozen Black Cat firecrackers inside the can lid, theorizing they would surely ignite from the fuse and in turn, detonate our pyrotechnics.
We fought over who would get to light the fuse, all anxious to use the new Zippo lighters my older uncles had brought us as souvenirs from their service in Vietnam. Robin won the fight. Early the next Sunday morning, before church, we would take our treasure to the bridge, right where the concrete abutment met the railroad grade.
Robin lit the 30" fuse. Out little legs carried us for cover, diving into the lilacs growing thick on the opposite side of the grade. We laid flat, covering our heads and ears. BOOOOOM!
A shower of rocks landed around us. We waited a few seconds, half afraid to look and waiting for the loud splash a collapsed bridge would surely cause. Finally, Boog stood and walked up on the grade to inspect. He used a few choice words only the oldest of us dared speak.
What? Nothing more than a little scour hole between the railroad ties. We were as confused as we were depressed. Best get home and prepare for church, or Grandma Clara would box our ears (she would).
Deputy Hank Cody (who a few years later would become my Uncle) lived across the river. As we scurried home, Hank stopped to ask if we'd heard a big noise. "Nope. No noise here. We'll be moving along now."
This story stayed a secret among the four of us until we were in our twenties. I can't imagine today if your kids got caught carrying a pound of gun powder, tamped down into a paint can, with a long wick, intending to replicate an impressive TV stunt. Surely the parents would be incarcerated. The kids would be off to foster homes. The house would inspected by the FBI and ATF. And Wolf Blitzer would be doing a live report from the front lawn.
In Big Falls, Minnesota, it was all in a summer's fun. No harm, no foul.
Moral of the story, don't let your kids watch too much TV.