Administrator
Staff member
Joined

Dec 27, 2000
Messages

14,568
Location
This is a really good article from goHUNT.com about the future of outdoor TV. I expect some feedback from folks at the network when this gets more play. Thanks to the goHUNT crew for having Kristen work on this.
This winter I was doing a podcast with Lorenzo, Brady, and Chris from goHUNT. Afterwards we got into this deep discussion of our digital traffic and engagement. I shared my analytics from Amazon, YouTube, and Hunt Talk Radio. They asked the question, "How is traditional media going to survive now that you and a few others have convinced sponsors that digital media is worth more than TV and print?"
I answered with my opinions. They said they would like to do an article about the trend. I offered to help in any way I could. They got after it.
The article is about our platforms, Steven Rinella/Meateater, HUSH, and Born and Raised Outdoors. It talks about the huge audience increases and ability to connect and interact in manners not available on TV. And how the data we are collecting is making sponsors not only comfortable, but excited, to fund digital outdoor content.
Traditional TV always operated on the premise that sponsorship money would never be comfortable with anything other than TV. Good luck with that theory; not the kind of logic upon which I would base my business model.
Link here -
https://www.gohunt.com/read/life/is-outdoor-hunting-tv-dead#gs.=DBh9r4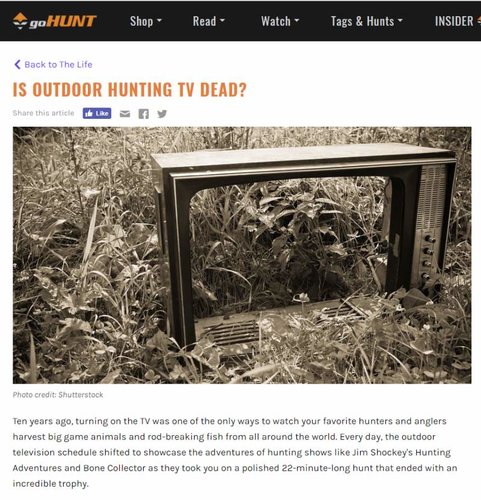 Hope you like it.