Outdoor Mentors (
https://www.outdoormentors.org/
) is an organization formed to help get kids (and the disabled) into the outdoors. I have been mentoring with them for many years, and always look forward to getting my text from them announcing the next opportunity to help out with a hunt. These hunts always make my annual top 5 days out and about in the search of outdoors adventure.
Kansas has a firearms whitetail antlerless weekend in early October, and fortunately there are generous land owners that allow these young hunters to come out to their properties. Outdoor Mentors opens up on-line registration for young hunters that have completed a hunters safety course (minimum age 11 in Kansas) and then assigns these young hunters to a location to hunt. Turkey, dove, upland birds (commercial hunting) deer, predator, and waterfowl hunts have already been done this year in Kansas and Iowa. OM also works closely with trap shooters in high schools getting those shooters opportunities to turn there clay shooting skills into hunting trips.
Once again I was asked to mentor at a location that is managed as a demonstration farm by the Kansas Fire Service in Butler county.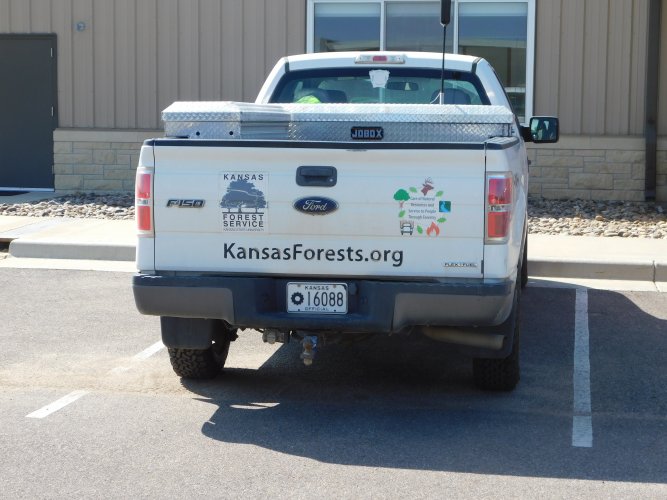 Located at the base of the Flint Hills, the topography of the area is rolling grasslands, bottomland ag fields and riparian corridors that hold large herds of deer and flocks of turkeys. This year the tenant farmer had most of the ag land planted in milo, which seemed to be doing well in most places, even in the face of the heat and drought that has plagued Kansas.
Dennis Carlson is the man in charge of the farm and our hunting group, and this year he had us meet at the El Dorado firearms range to make certain that the rifles that would be used were shooting accurately. For this hunt each of the hunters had their own weapon, with Xavier (my hunter) shooting a .270. This was the first time that I have been to this facility and I liked what I saw.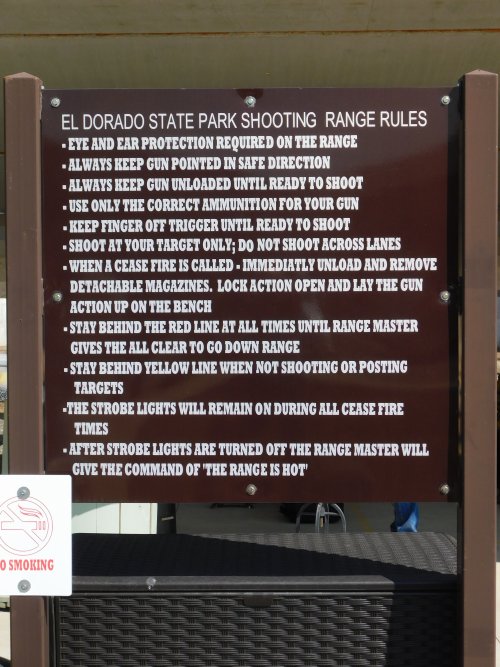 Searching through the mound of hunting gear that I keep in the back of my little SUV, I found that I didn't have my active ear protection. Trust, but verify kansasdad! So foam inserts and a borrowed pair of passive muffs sufficed for the range time.
Xavier and his buddy Liam (shown below) were already on the bench when I had completed my check in with the safety officer and proved themselves to be quite the sharpshooters. Liam's mom signs up both young men for a variety of Outdoor Mentors sponsored hunts, with both of them not being rookie deer hunters. Xavier told me that he had killed his buck last year with a 300 yard shot. I told him that I've never shot anything that far off.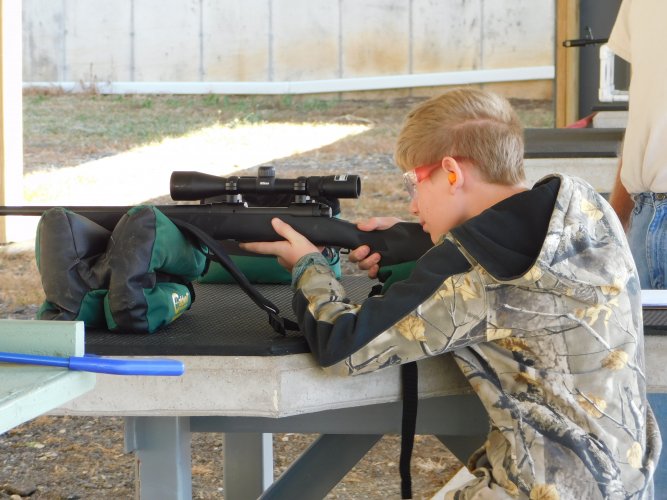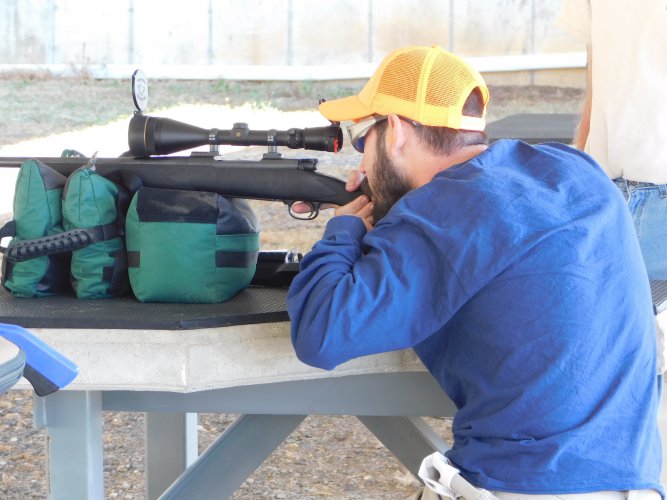 After all four hunters showed themselves ready, we loaded up and made it to the farm to await the arrival of the blood tracking dogs. Driving down nearly 100 miles to join us, James Regaldo with True Grit Deer Tracking (Facebook page) gave a presentation to us all about his tracking dogs. United Blood Tracking certified, his bloodhounds have helped stymied hunters in Kansas and neighboring states recover deer that otherwise may have never been found. He emphasized properly recording the events of the shot, such as where the deer was standing at impact, the direction of travel, how they reacted to the shot, and how to attempt to evaluate where impact occurred with the shot. He suggested that taking a photo of the area and zooming in to where the deer was last visualized could be invaluable.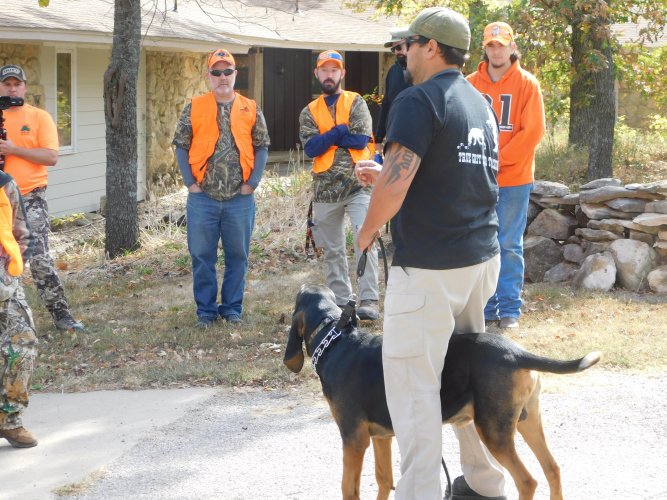 He emphasized that if it comes time to attempt a grid search in hopes of finding a deer, that it is time to get a dog tracker involved. Doing a grid will spread the hunter's scent, and if that hunter has been walking on the wounded deer's trail, some of the blood and interdigital scent (origin on the top of the "foot" of the deer that is heavily releasing when wounded or stressed) will be spread out in the grid, to perhaps confuse the dog. James said that the best way to follow a trail is just off of the exact trail so as to avoid this scent trail cross contamination.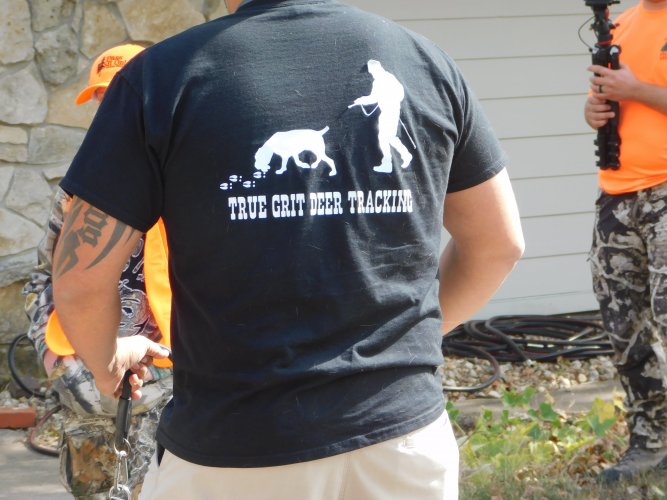 James asked us to let his dogs work the trail, even if we knew where the deer had fallen. He wanted to let his dogs have some early season success. With some good Q&A it became apparent that James was really into his dogs having a good time and doing what they were bred to do. He told us that his furthest successful find was nearly two miles from the shot, and that often there is no visible blood for a human to follow, but the sensitive nose of his hounds have led them hundreds of yards down the track, to find a few more drops of blood, and then hundreds of yards of nothing, to once again find blood or the deer.
The group of hunters and their mentors assembled for a blind drawing, then a group photo was made, and then it was time to load up for the blinds.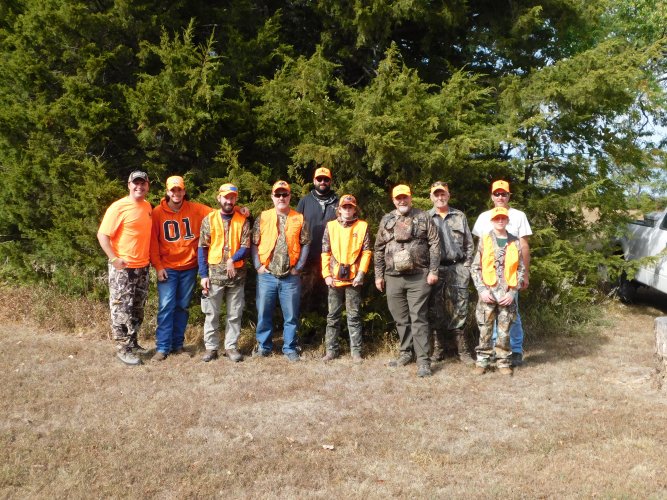 Last edited: