Sexy, sexy stuff here, folks! That's why you clicked!
The Gunnison BLM Field Office has (finally!) released a draft EIS to public comment for the renewal of 9 domestic sheep allotments, three of which are smack in the middle of the Tier 1 RBS-21 (S21/S33) bighorn sheep herd. I wrote my first scoping comments on this analysis over 7 years ago when an EA was being proposed. Then they went to an EIS process in the spring of 2015 and 4 years later we have a draft to review.
You can read the draft EIS by clicking the "Documents" tab at this link.
After all of that, the proposed action is to continue grazing all nine allotments and to use terms and conditions in individual permits (listed in the EIS) to reduce the risk of contact with bighorn sheep. The EIS notes that:
Terms and conditions added to grazing permits

are assumed to be most effective for allotments in open, gentle habitat where domestic sheep can be easily controlled and monitored, with a large buffer between the two species

(Wild Sheep Working Group 2012).

A majority of the allotments are located in close proximity or overlap bighorn sheep summer range [alternatively referred to as core herd home range (CHHR) throughout this document], contain suitable connectivity habitat between allotments, and contain remote, rugged terrain where control of domestic sheep, locating strays, and monitoring Rocky Mountain bighorn sheep is difficult.
The EIS also says:
The S-21 herd is one of the few remaining indigenous bighorn herds in Colorado (Diamond and Banulis 2012); S-33 bighorns are also indigenous but have received augmentation. Recent years have seen a decline from an estimated 400 bighorn in RBS-21 in 2013 to a 2015 estimate of 305 bighorn. There may have been an outbreak of disease in RBS-21, as blood samples from bighorn captured for a telemetry study showed high levels of M. ovipneumoniae in the winter of 2012–2013, and then lamb recruitment dropped to 13 per 100 ewes in the following season's survey (CPW, unpublished data). The RBS-21 plan assumes an expected population of 400 to 500 animals and assumes densities that do not exceed 2.0 bighorn/km2 of modeled winter range.
Here's a map I put together of overall and summer range of bighorn sheep as mapped by CPW, overlaid with the nine allotments. Click for larger version. Hopefully it doesn't get reduced too small to read.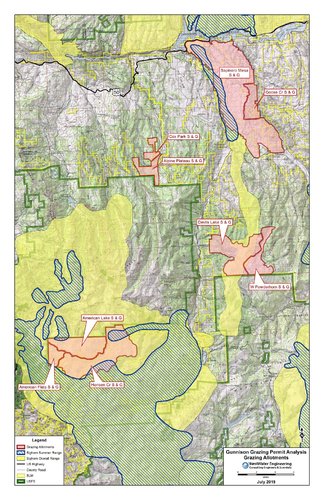 There are two public meetings this week if you're local and don't have something more important to do like clean the cat litter box. I'll probably be at both, so if you show up, say hi!
July 17, in Montrose from 5 p.m. to 7 p.m., at the Uncompahgre Field Office, 2465 S. Townsend Ave
July 18, in Lake City from 5 p.m. to 7 p.m., Coursey Annex (BOCC meeting room), 311 N. Henson St.