Joined

Feb 9, 2018
Messages

563
Location
I'm currently on top of a mountain in Montana and I figured it was as good a time as ever to write this up.
Back in the spring I learned I'd drawn a rifle bull tag in NM. I love hunting New Mexico and I was looking forward to heading out to the Land of Enchantment to try to kill a bull. One of the cool things about this tag is it was in the same unit I hunted with my wife last year. Because of the experience I had I felt like I had a good chance of success, but I still did all my scouting and didn't take anything for granted.
I have a good friend in that lives in the area and we text regularly about hunting. In the spring and summer he kept me informed on the moisture they were getting and he kept telling me it was going to be a great year for antler growth because they were getting a lot of rain. About a week before my arrival he texted me to tell me he'd seen a couple big bulls while out on the mountain. He wasn't sure how big they were, but it was good to know the bigger bulls were breaking away from the cows and starting to pile into the rough country. The cool thing was the area he'd seen the bulls was right on top of a pin that I'd sent him that I wanted to scout. This was also only about a mile from where my wife killed her big bull last year.
I arrived in New Mexico on a Monday at about 10pm. I was driving up from far West Texas where I did a diy aoudad hunt (I'll try to write that hunt up soon). I was pretty tired when I got there so I climbed in my little mini camper and went to sleep. I was up with the sun on Tuesday and made a short hike onto a ridge to glass. I saw a 5x5 but, but nothing else. Still it was good to see a bull. Tuesday evening I headed to a different glassing area to look over a massive drainage in some really rough country. Not long after I started to glass I found 4 bulls in the same general areas as my friend said he had seen the bulls. 2 bulls were small, one average 5x5 and a nice looking 6x7 that was probably 300". This was more what I was hoping to find. I continued to glass and about an hour later I glassed up 2 more bulls way down the drainage over 2.5 miles away. As soon as I saw them I knew they were both big bulls. I got out my spotter and I could tell one of them was real real big. He main beams were incredibly long stretching way back and all his tines had great length. I don't really usually get super excited when I see a big animal. I can usually keep it together pretty well. It's definitely fun to see something huge, but seeing and killing are 2 different things and the real excitement for me comes when I knock them down. Well, this bull was an outlier. I got excited. Like starting to shake excited. I got the best pics and video I could to share with close friends and headed back to the truck at dark. My friends were excited too.
Wednesday morning I hiked in to a point that was .6 miles closer so now I was only 2 miles away and I found the bulls again. They were tough to see because of the sun, but they were there. That night I went back and found them a 3rd time. I could see them a lot better this time. Bull #1 was definitely big. Bull #2 was a giant. I got better pics and video and headed back to the truck.
Thursday morning I glassed a different area because the area the giant was living was tough to glass in the morning and I didn't want all my eggs in one basket in case those bulls disappeared. That happened last year while scouting for my wife. I was on a big bull and he disappeared 2 days before the season opened. The new area didn't produce any bulls. Wednesday night I went back to my point to find the 2 big boys and I couldn't find them …. Oh no! I felt like they probably were still there, but I didn't know for sure.
Friday morning I headed to a glassing point where I saw multiple good bulls last year and I first saw the big bull my wife killed. I saw 3 bulls that morning and one of them was a dandy. He was probably a 320" 6x6. He was wide and his body looked old. Plus, he was in a spot I knew I could kill him. This made things a bit complicated. I had a decision to make. Kill the the big old bull in an area I knew or hike in deep and hope the giant was still there. I talked to multiple friends and they all said you have to go find that giant and kill him. I decided I would glass from up high one last time that afternoon and based on what I saw I would make my decision for the Saturday opener.
When I got to the location I park my truck to hike to the point to glass on Friday afternoon a truck was parking with 3 or 4 people piling out of the truck. I figured they were going to that point. When I saw that truck park something clicked in my head. I thought to myself what if they see the 2 big ones. My mind was made up. I drove down to the "trailhead" loaded up my pack and started hiking. My plan was to hike in and find the giant and kill him. If I hadn't killed him in 3 days I'd come out and go try to punch my tag in a different area, but I had to try. When would I get a chance at a bull like this again? Maybe never. I had to try.
The trail was a trail for about 3/4 of a mile then it became a choose your own adventure for the next 2 1/4 miles. I followed the creek down through the canyon. Some areas weren't bad. Some absolutely sucked. I crossed the creek back and forth about 30 times. Just after dark I reached my location. No one else was down in this hell hole. I found an area where I wouldn't get crushed if a dead tree fell and kicked out a flat area because it was a side hill. I put up my tent and laid down. My plan for the next morning was to climb about 500' up a ridge that was adjacent to the last place I saw the bulls. If they weren't there I'd climb down and move to the next ridge and so on until I found them.
The next morning came and I was up at 4:30. I ate breakfast and began climbing. The wind was whipping all over that morning. I decided I didn't want crest the ridge to glass until right at first light in case the bulls were close and the wind switched. That way I could hopefully get a shot even if they were moving. I came over the ridge at legal shooting light and began to glass. 5 minutes after beginning to glass I spotted a bedded bull on the adjacent ridge. I could tell he was big, but I didn't know if it was the giant because of the trees from my angle. I back tracked and dropped down about 100 yards to the next point. I found the bull again. It was him. I'd been looking at pictures and videos of the his bull for 4 days. It was him 100% without a doubt. I ranged him and it was 293yds. I said to myself "This bull is dead". I waited for 30 minutes for the bull to stand up. I kept myself calm and remembered all the shooting steps I take before shooting. Finally he stood up. I hit him hard right behind the shoulder. After the first shot he was still standing, but his shoulder was now behind the tree, but his neck wasn't. The 2nd shot into his neck dropped him. I stayed on him and he began moving his head and right rear leg a little. I wasn't taking any chances. Shot #3 rang out. He didn't move again.
It took 3 days to get him out of that area. I had a friend help one evening and I made another friend that helped a few days later. Their help was appreciated. I would have gotten him out on my own, but it would've taken a while.
Everyone kept asking me how big he was. I was nervous to guess at a score because I don't want to be a guy that says a bull is 350 and he's 320 or something like that. I finally scored him on Tuesday evening. As I started to add up the numbers I couldn't believe what I was seeing. I did the math again and remeasured. The finally number is 374.75".
I'm fortunate enough to get to hunt a lot. I kill some nice animals but a 370" bull wasn't something I was expecting to have happen atleast not until I draw a "dream tag", lol. I'm not taking it for granted. This one will be hard to top.
The giant bull from 2.6 miles away.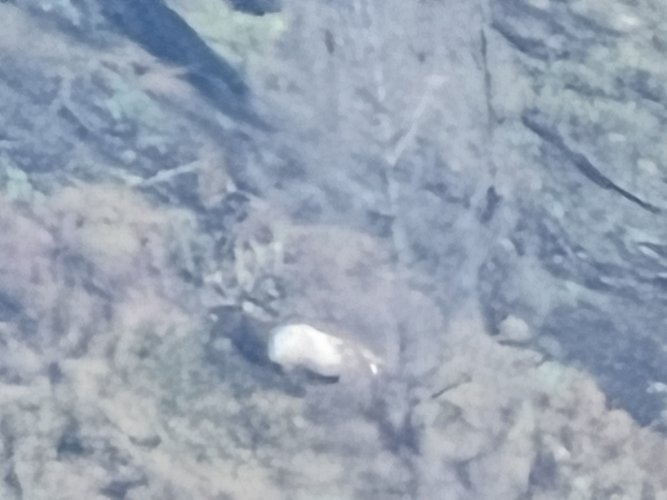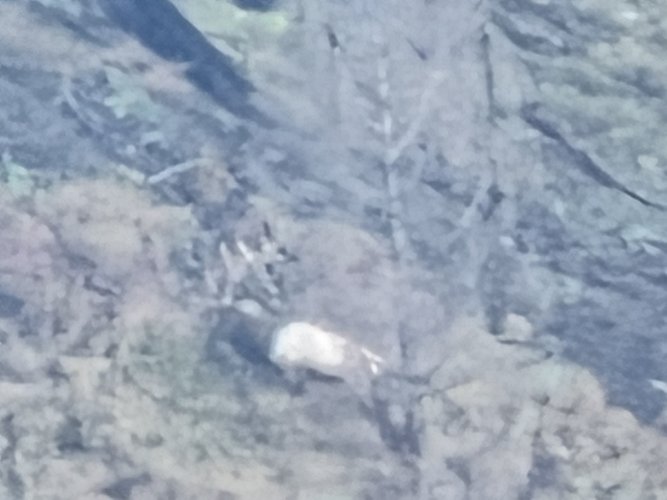 When I found him bedded opening morning.