Joined

Dec 7, 2015
Messages

631
Location
Well, me and my buddy were planning on elk hunting this year, well struck out in WY 1st & 2nd drawing, I got greedy in the 2nd round and picked a low odds tag. NM we blanked, CO we blanked, so that left us with left overs or OTC, I decided to find a leftover archery tag. Main reason was it would be my buddies first elk hunt and he had never heard an elk bugle. Knowing this would be a lower opportunity hunt, I decided to not grab a tag so I could focus on applying all the limited experience to help my buddy get a elk, I did pick up a bear tag though. I told my buddy if we found elk in our unit we could hunt, he heard a bugle and I made a stalk on a bear, we would count that as success.
We left IN on a Fri afternoon and arrived in CO the following afternoon. I have never had a problem with altitude sickness, but I am getting older and have been on trips that it has affected others. So first day in a half was planned to take it easy and hit it hard day after muzzeloader season. Well found a heard on some private not far from public that had a great bull in it, our plan was to go up in that area and see if we couldn't find them on public.
Hunting Day 1
Head up the mountain to a piece of public between private, put 11.75 miles on our boots, found elk sign but not a lot, tons of mountain bike trails and riders.
Hunting Day 2
Go to a new area, original planned starting point, loaded all our gear on our backs and started up the mountain, we had about a 4.75 mile hike to just get over the mountain into the hunt area. During this we would have to climb about 2,800 feet of elevation to just get into where we could hunt. Well the heavy pack, lack of air and 2 miles in we started second guessing our decision, especially when you talk about a possible 6-7+ mile pack out, and the lack of water we had seen in streams we had crossed. So tucked tail and back down to the truck to go to next spot. We found a spot to set up camp, with limited time left in the day, he went up above camp, I went lower to see if we could hear anything. We didn't hear anything, but were optimistic.
My cheap walmart tent that has done surprisingly well for $20 on clearance. its overly heavy though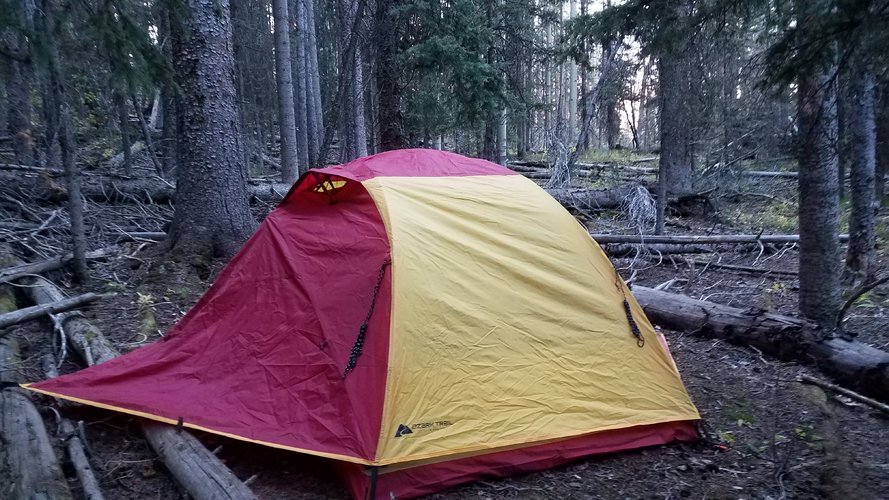 Hunting Day 3
Drive to the trail head where I wanted to go into a drainage. Were first one there, eat breakfast, get our gear on, truck pulls in guy jumps out quick, grabbing gear quickly as we are walking to the trail. He hurries to beat us onto the trail, I said morning, he didn't respond, was hoping he would ask where we were planning on going or say where he was so we weren't on top of each other. We followed him down the trail for about a mile staying about 10 yards behind him, trail took a turn and he kept following it so we dumped of into the mountain. 3 miles in we were in the area I wanted to be in and there was elk sign all over, some really fresh. There wasn't a lot of areas to glass, so we picked a spot I though would be a good location to watch and listen. Couple hours of waiting we had a bear working across an opening in our direction. I was able to put a stalk and get within about 20 yards, but there was a huge blow down between us, wind swirled and that was the end of that, he was one step away from me getting a shot. Ohh well that was fun, back to the hide out spot. We hear a bugle across the drainage, then one above us, then another to the right. I could tell the one to the right was a real bull, bugle above us sounded more like a hunter. We called and all three answered, I could tell the one to the right was moving to quick to be a hunter, so I moved up the mountain a little to try and call the elk in. I see a really nice 5x5 come out into the opening with several cows, I thought perfect, they will come across below me for a short shot for my buddy. Well they dropped a 100 yards below him, the bull stopped turned up at us and let out a bugle, then turned and started our way. I thought this is going to happen, but my rookie buddy decided to try and call. He failed miserably, and they were gone. He still doesn't know why he decided to call knowing it was coming in and looking in his direction. Seen a couple more cows that day but didn't hear another elk bugle, heard a hunter but that was it.
Hunting day 4
My buddy wanted to go to same area, there were 2 new vehicles at the trail head that weren't there the day before, so we head in to there, but don't see or hear anything. We call , no response, so we decide to do some more looking around and head up into the mountain. We find great sign and trails but never seen or heard anything. The day was a blank on elk sightings, We covered 9,000-11,000 feet. We got into a mature aspen patch that was really open, probably covering 2-300 feet of elevation. I wanted to climb up and watch below as there were several trails crossing it and some fresher sign. The top was very steep, I was unsinging my hands to help climb up, well on the way back down the soft ground/grass decided to let lose and I slid down the mountain only about 30 feet on my butt/pack before stopping. That was a ride I would prefer to not do again.
Hunting day 5
3 new vehicles at the trail head. Went into a new drainage, my buddy was pretty bummed, I think he realized he messed up what would probably be the best chance he would have. We covered some decent ground watching and listening, glassing opening and looking for sign. This drainage didn't have much elk sign, a lot of deer sign though. I did sneak up on a porcupine, took a picture and left him be, mid day we decided to call it a day and end the trip.
I didn't get as much pre trip exercise in as I would have liked, no fault but my own. But still think I was in above average shape for the trip, besides what we deemed failure mountain.
I ate 3,000-3,200 cals a day, never felt like I didn't have enough energy. I did take electrolyte sups as I have a bad hobbit of not drinking enough fluids.
In 4.5 days of hunting we put a little over 38 miles on the boots.
Weather was great, only got drizzled on a little one day.
I would go back to the same unit and probably the same area, maybe a little earlier in the season though.
Time to upgrade to some lighter gear though.
Just some more random pictures of the trip