Joined

Apr 4, 2016
Messages

847
Location
I thought I would post this one up. I'm not too big on story telling, but this is a pretty neat tag in a well known but difficult to access unit. Enjoy.
This journey began in May, when my credit card was hit from the state of Utah. There was no hiding the grin on my face over a charge alert from Chase. A brief period of suspense and uncertainty followed, as several tags cost the same so there was no way to know what I had drawn. 2 days later and I had my answer:
SUCCESSFUL: Bison
Hunt: Book Cliffs, Little Creek Roadless (cow only)
Weapon: Any Legal Weapon
There are 2 nonresident tags for this hunt, I drew the random. Unreal. This was a new hunt on the unit, and applicants were advised in the unit description to be prepared for back county travel and the need to access very remote areas. The Little Creek Roadless unit is a small sub-unit in the Book Cliffs of Utah. It is approximately 15 miles long by 10 miles wide, nestled at the top of the Book Cliffs due west of Grand Junction, Colorado. As the name implies, the area is roadless. It is bounded on the west by Ute Tribal lands and on the other three sides by the cliffs and canyons of the Book Cliffs. There are only two points of access into the unit, both of which take you up dirt roads from the floor of the desert north of Moab to the top of the Book Cliffs escarpment, climbing about 3000 feet along the way. Most of the land in the unit is State land, with a token section of BLM here and there. The area was purchased by TNC and turned over to the State of Utah some time in the 1990s. It has been managed as a roadless area ever since.
Even though this unit is within a few hours of home, I had never been there and access is notoriously difficult. Miles of backpacking or riding stock are needed to access the area. Luckily, we own a few horses and mules. My wife and daughter both participate in the 4H ranch riding program and ride frequently. I, however, do not. I might get on an animal and walk it around the farm once in a while. But, I'm not a horseman nor do I have any idea how to properly pack. This was going to be a crash course in basic horsemanship and packing, in addition to a once in a lifetime hunt. I've always wanted to learn how to ride and pack, but making it a priority in life never happened due to work, farm chores, dad duties, etc. I help with 4H here locally, and the motto we have the kids follow is "Learn By Doing". Time to learn.
Trail rides and a few lessons began in earnest almost immediately. Lots of weeknight trips to some close-by public lands to practice riding with my daughter was a great way to learn and spend time together without arguing about chores or some other nonsense.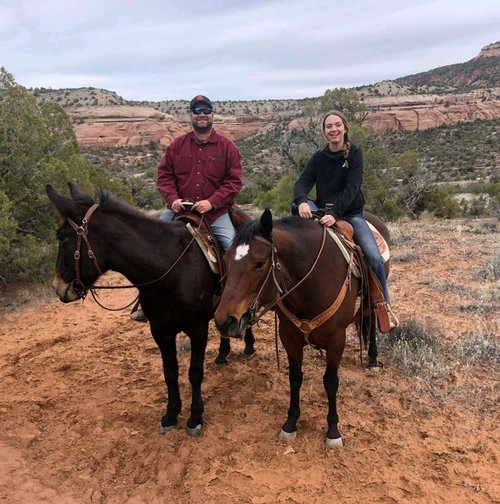 My wife belongs to numerous horse and mule discussion boards. She got word of a 3 day packing clinic over on the front range being taught by a professional packer out of Montana. She didn't quite encourage me to go, more like insisted. I guess there was a little concern for the health and well being of our animals on this hunt... something about "you're not taking my mules hunting unless you go to this clinic"...
Time for a road trip.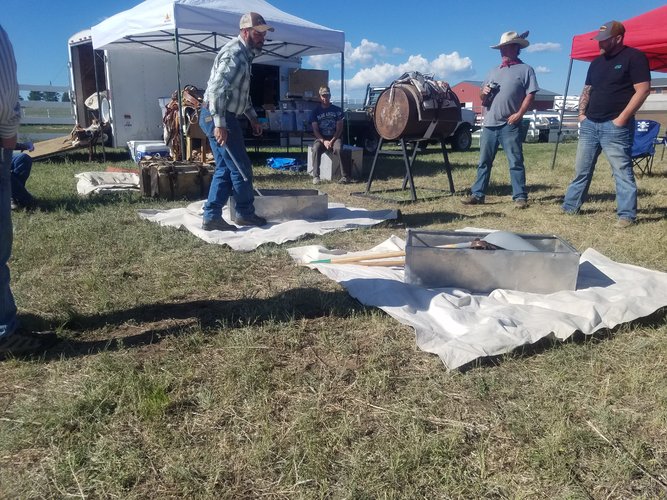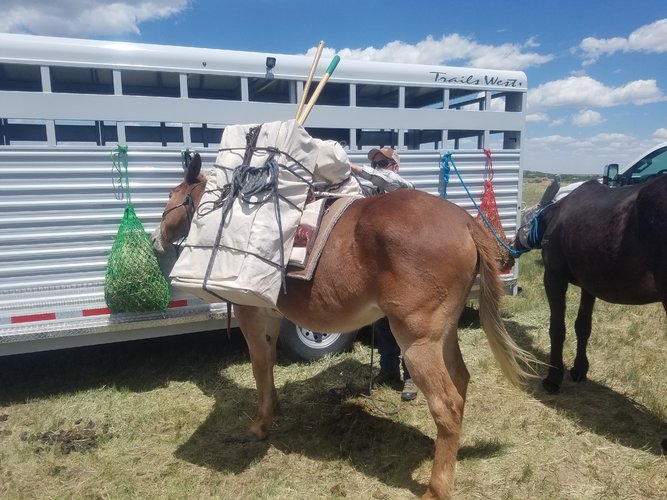 A long weekend well spent, I now have an idea of just how much I really don't know about horses, mules, and packing. Deckers and sawbucks, panniers and manties. How the hell do you tie a diamond hitch and why not just use a bungee cord?
Let the practice continue...There's only one way to figure this out.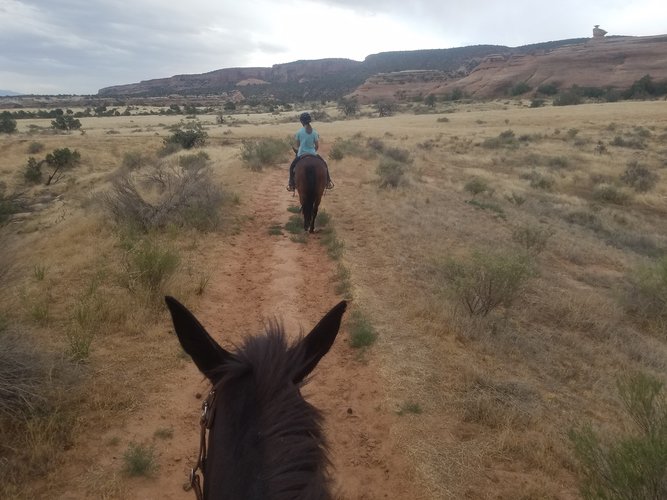 After a bit more riding locally, my wife and I penciled in a trip to the roadless area to ride and scout while we had company in town to juggle kids. The truck and trailer would make a good base camp while we explored the area and got more saddle time on some decent trails, and hopefully located some bison. This is a special area. As you rise out of the barren Eastern Utah desert, the vegetation changes from rabbit brush and grease wood to oak brush and sage. After a 10 or so mile drive, past one ghost town on a road which is cut into a creek bed and then rises high above the canyon bottoms, you arrive in woods of pine, spruce, and aspen. The air is cool and crisp, and it actually rains a little bit up here, something we've not seen much of in Grand Junction this year. The ridges are mostly wooded and the valley bottoms are grass and sage. With spring fed creeks running cool all summer, native Colorado River Cutthroat Trout thrive.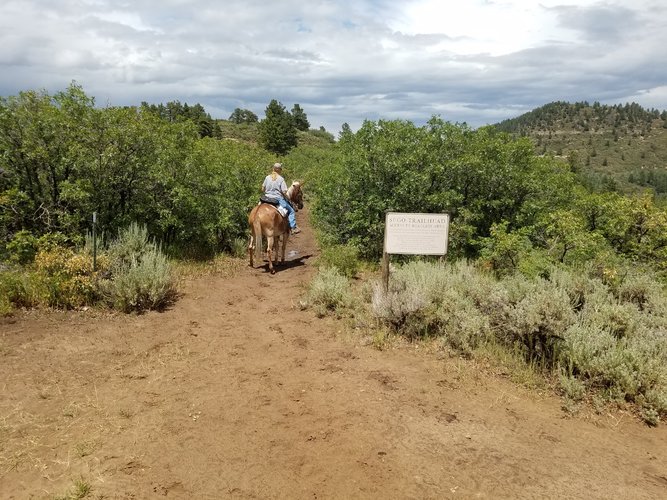 Our first ride in was about 6 miles on an old abandoned road, cut into the side of a prominent ridge on the west side of the unit. Luck be upon us, our first ride in and there they were about a mile out across the valley. We were there in the middle of the bison rut, and the roars could be heard from the other side of the valley. The mules were not too keen on the roaring, ears pegged and senses alert. We watched the bison run around and do bison things from the distance. No need to push our way in there today.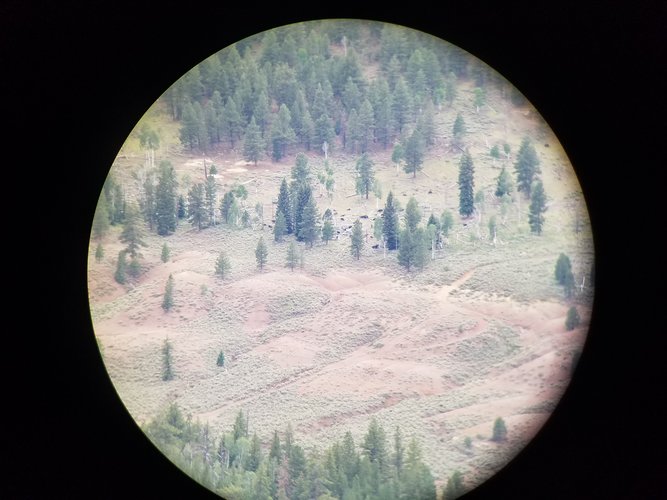 We rode lots of miles and explored many trails. No more bison were located but I had a good orientation on this part of the unit which is invaluable for an area so remote. On X and Google Earth map scouting waypoints were checked, springs located, and trails tracked. It was a good weekend and we learned a lot while having a great time in the back country. We ran into several folks out riding mules and enjoying the area. Most had helpful hints and info about the bison.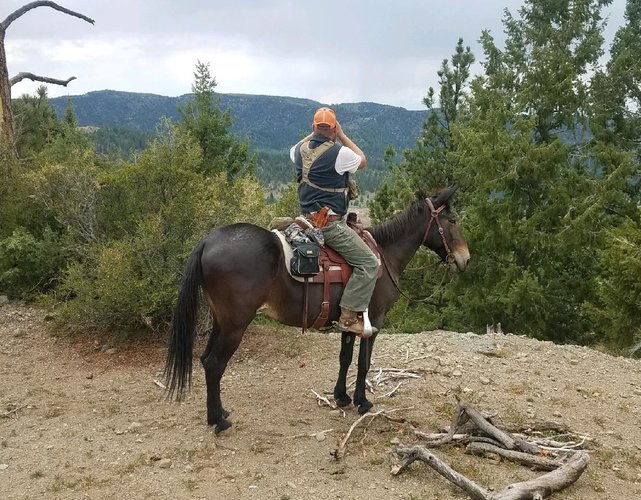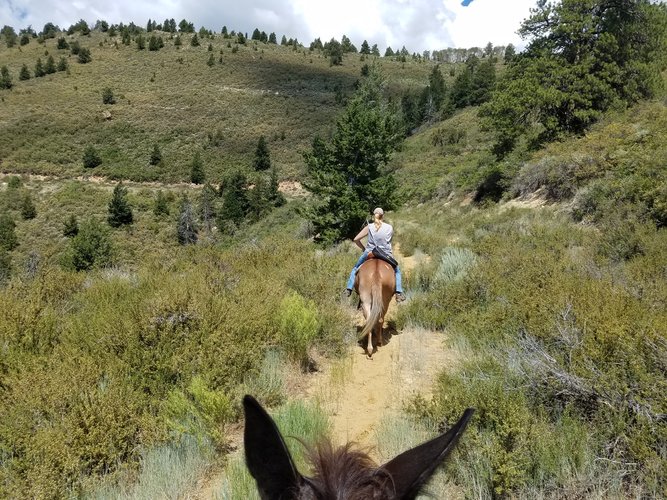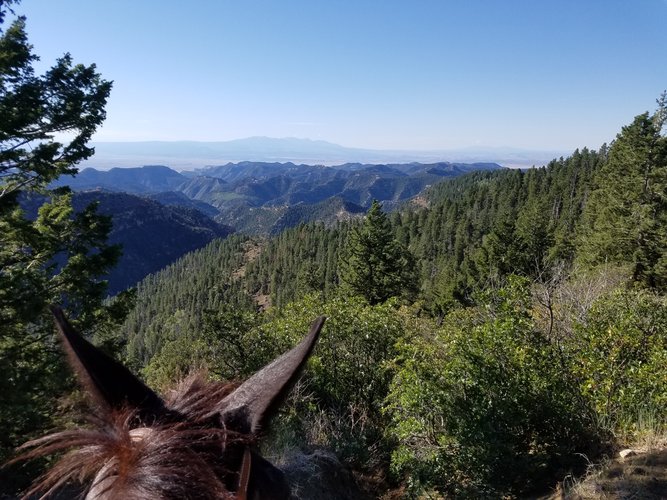 There were a few sore knees and chapped rear ends, but everyone arrived home safely, although the mules were tired. We logged about 25 miles in 2 days on the mules, they earned a break. It was a great trip to figure out what tack worked, what didn't, what gear I needed to get, and what I could leave at home.