Joined

Dec 10, 2002
Messages

7,487
Location
Recently the Alaska Board of Game passed a proposal to ban the use of aircraft for spotting sheep with the intent to hunt them. This has caused quite a stir amongst the hunting populous, and rightfully so... its quite controversial. Nearly impossible to enforce, let alone get a conviction. Here's the wording...
a person who has been airborne may not take or assist in taking a big game animal until after 3:00 a.m. following the day in which the flying occurred; and from August 10 through September 20 aircraft may not be used by or for any person to locate Dall sheep for hunting or direct hunters to Dall sheep during the open sheep hunting season, however, aircraft other than helicopters may be used by and for sheep hunters to place and remove hunters and camps, maintain existing camps, and salvage harvested sheep. Restrictions in this paragraph do[DOES] not apply to
. . .
(C) a person flying on a regularly scheduled commercial airline, including a commuter airline;
The Board is having a hearing today to review the proposal and possibly rescind it, reverting back to the previous rule of no hunting until 3 AM the day following a flight, with no mention of spotting game.
I believe every state has some sort of rule concerning flying and hunting the next day. Alaska is a bit different in that some areas don't get dark, so the 3AM rule is basically a 3 hour window to hike in to kill the animal you spotted previously. Spotting game from the air and targeting a specific animal is prohibited by the ethics rules established by the Big Game Commercial Service Board, however the enforcement is lax, and the penalty is less than a slap on the wrist.
If you were to fly over a band of rams and noted that half of them were B&C rams, bulls, etc, would this be considered an ethics violation if you were to kill one of those rams? Apparently not in the eyes of B&C, you were just doing a "game survey." You didn't target a specific animal, yet you kill one of the animals you specifically spotted.
Residents with airplanes use them a lot to scout animals (can't blame them really), and they're squealing the loudest about this proposal, as well as quite a few guides. I think the wording needs a bit of help... otherwise if you look out the window on the way to the landing strip and spot a sheep... you better hope its not in the direction you intend to hunt.
Now to the topic that B&C affidavit contradiction. I was reading the public comments submitted to the Board, and noticed that B&C had submitted a comment. First lets preface their affidavit of "fair chase" as they call it.
For the purpose of entry into the Boone and Crockett Club's® records, North American big game harvested by the use of the following methods or under the following conditions are ineligible:

I. Spotting or herding game from the air, followed by landing in its vicinity for the purpose of pursuit and shooting;
II. Herding or chasing with the aid of any motorized equipment;
III. Use of electronic communication devices to guide hunters to game, artificial lighting, electronic light intensifying devices (night vision optics), sights with built-in electronic range-finding capabilities, thermal imaging equipment, electronic game calls or cameras/timers/motion tracking devices that transmit images and other information to the hunter;
IV. Confined by artificial barriers, including escape‑proof fenced enclosures;
V. Transplanted for the purpose of commercial shooting;
VI. By the use of traps or pharmaceuticals;
VII. While swimming, helpless in deep snow, or helpless in any other natural or artificial medium;
VIII. On another hunter's license;
IX. Not in full compliance with the game laws or regulations of the federal government or of any state, province, territory, or tribal council on reservations or tribal lands;
Here is their position on the matter...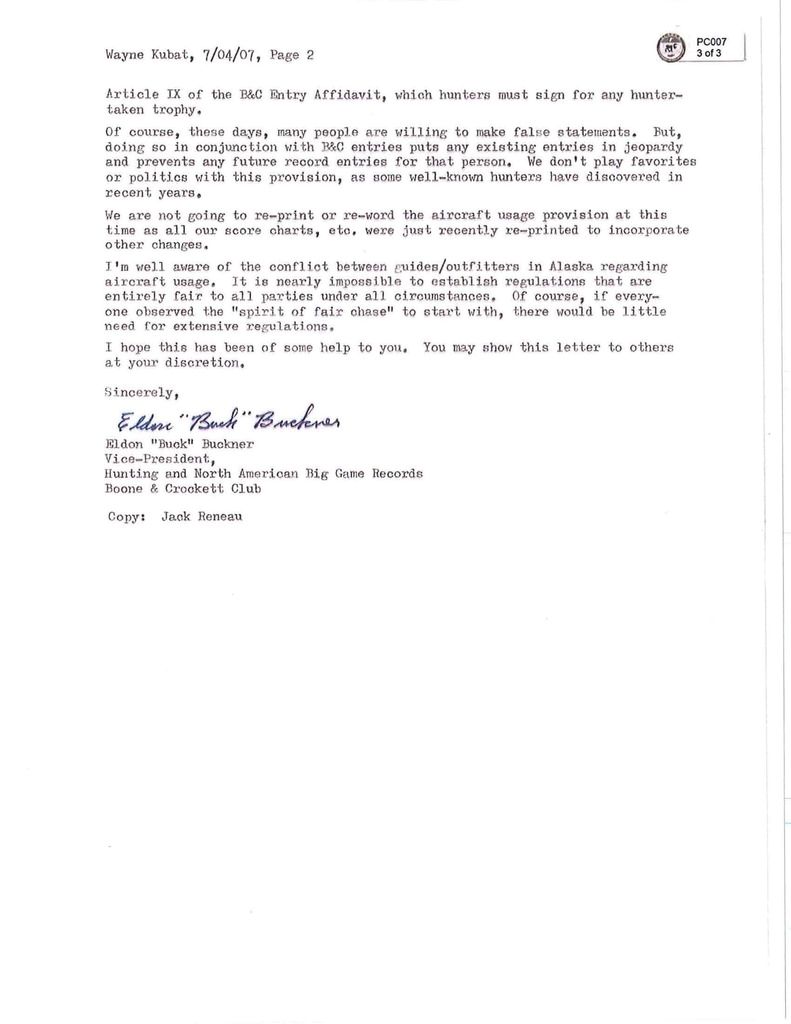 Can someone help me understand their stance, and clarify what they mean in these letters? Seem to me that spotting game with the intent of killing is against their "fair chase statement", unless you follow the rules established by the state for aerial spotting/hunting. Apparently aerial spotting is in fact considered fair chase?
Consider this... you're hunting in the Brooks Range opening week (August 10-17) its daylight pretty much 23 hours a day. You spend all day flying looking for "the one", and keep tabs on him until 11-12pm... you land near by, hike for 2-3 hours, wait until 3am and boom.. .dead animal, your name in lights. Apparently this is A OK with B&C, no law was broken, and that was as fair chase of a hunt as you can get. Keep in mind that this wasn't a guided hunt, no "ethics" rules were broken.
So if this is their stance, wouldn't it also apply to all states who also have a time limit between flying/spotting/and hunting? If so why even both with such a "fair chase" statement, since it would be an illegal harvest anyway? Their stance seems a bit wishy washy to me.
I won't go into the use of drones and their animosity towards them... seems funny that using a drone to spot animals with the intent to kill them is wrong, yet spotting them with a "manned" drone is no big deal.