Joined

Sep 10, 2019
Messages

55
My brother and I have been able to hunt quite a bit in Wyoming, Colorado, and Nebraska. So, we wanted to try something different after looking around we decided to try an Aoudad hunt in western Texas. We talked with a few friends that had done a similar hunt and after many calls and thinking it over we decided to try a DIY hunt with West Texas Hunt Organization. We had to book 2 yrs in advance since both of us are teachers and wanted to go during our Christmas break. Mike from WTHO sent us some cooridnates of where to camp which had electricity and non-portable water, borders of the property, and a few landmarks to help find our way around.
We are given 5 days to hunt and 1 day to set-up camp and look around, so the day before our scheduled day to scout and set up camp we start heading south from Wyoming to Van Horn, Texas. After staying the night in Van Horn we head out to the ranch and started setting up our wall tent and just getting ready for the week of hunting. Once camp was set up we decide to go glass one part of the ranch that was suggested to us by Mike. We start glassing and after 3 1/2 hours we hadn't seen an Aoudad, well to be honest we don't see anything a live at all. It is now getting close to dark so we start heading back to our truck, but decide to walk back a different way to see if we can see anything. We didn't see an Aoudad that night and didn't get much sleep thinking if we were going to see any the next day hunting.
First day of Hunting:
After talking with Mike about what had happened the night before we all decided that going to a different part of the ranch was smart. We leave the truck at day light and start covering the eastern part of the ranch. By 10:30 all we have seen is 2 mule deer, 3 wild horses, 1 jack rabbit, and 1 coyote still no Aoudad. At this time we both pretty frustrated, but we knew it was a DIY hunt and we hadn't looked at the far south east side of the ranch. At about 11:30 we are set up glassing the last part of the ranch when I spot an Aoudad walking along the skyline at about 3/4 mile from us.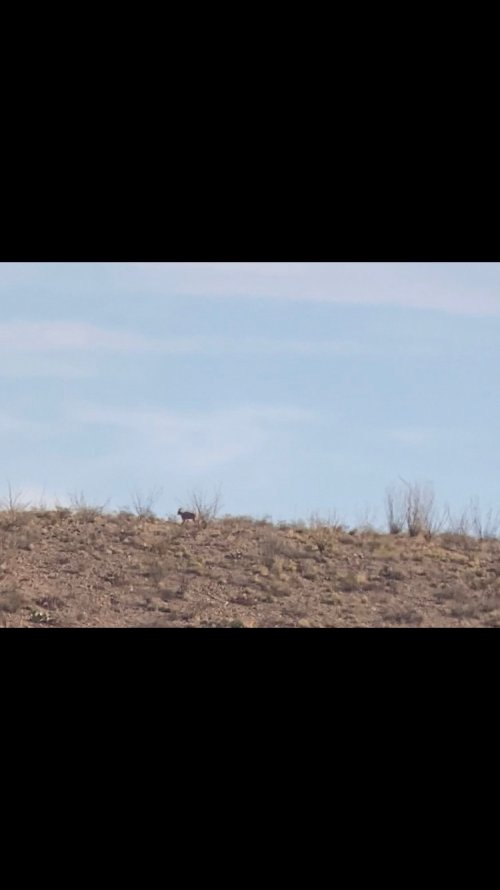 Man O Man were we excited to finally see one. After watching it for a while we both decided it was a ewe, but there must be more over the hill so off we go. Knowing they have great eye site we decide to walk up a drainage that is a couple away from where we last saw the Aoudad hoping to get out of site of them and get the wind right. It takes us a couple of hours to make our way over to them. As we top the hill and make our way over to them we bump 2 mule deer bucks that run in their direction hoping they didn't bump the Aoudad we make our way over to the draw and find nothing. Well shoot onto the next draw. As we peak into the next draw there they are, 25 or so, so we both pick one out to shoot and all of a sudden they start running through the draw and up the other side. My brother says he is going to shoot the first one, which was the one I was following, so quickly I pick out one I think is big and we shoot at almost the same time. We both made great shots on running Aoudad and just like that our hunt was over on the 1st day. His sheep is 29 1/2" long and mine is 29 3/4" long. After taking care of both sheep we check our OnX and we are 7 1/2 miles from the truck. We made it back well after dark to our camp and the next day we loaded up everything and drove back to Wyoming. Learned a few things on the hunt 1. Dang everything pokes you there I was picking cactus out for weeks 2. Aoudad don't need water they can get it from the cactus they eat 3. Walking on those rock is like walking on a river bed all the rocks move and are round. Here are a few pictures of our Aoudad. Mine is the Blonde colored one while my brother's is the darker red color. I also included a picture of mine mounted.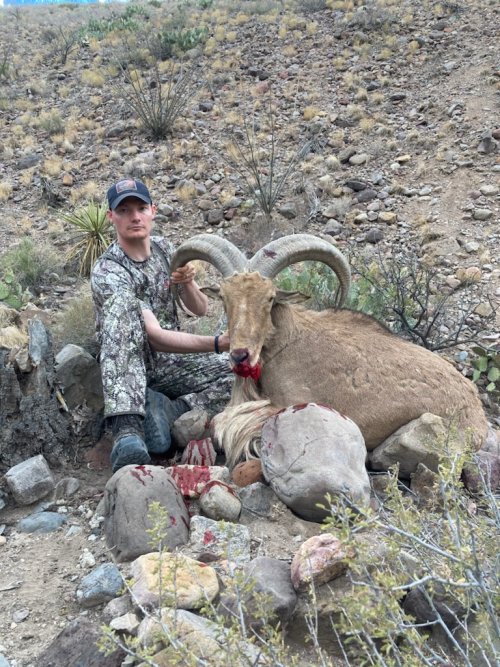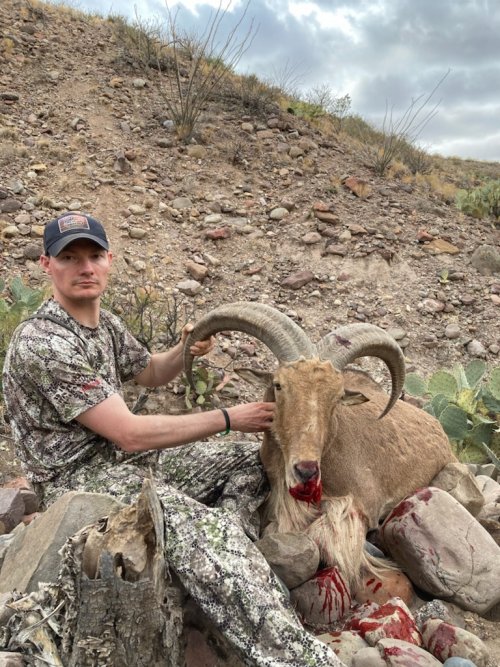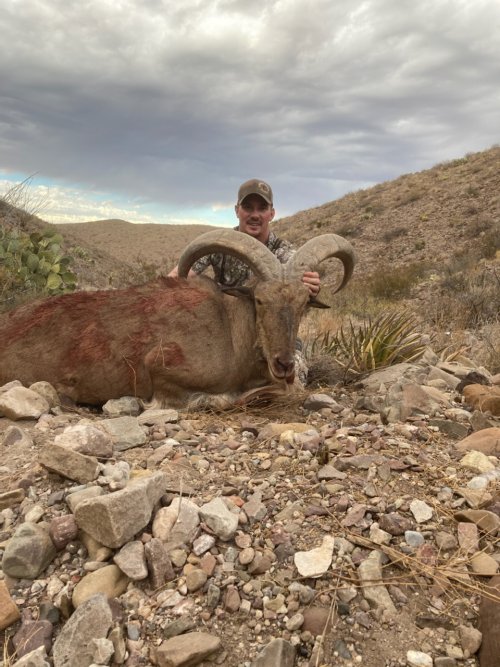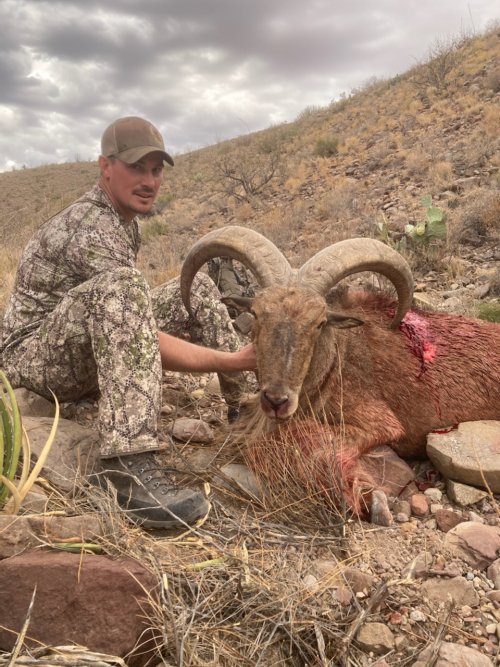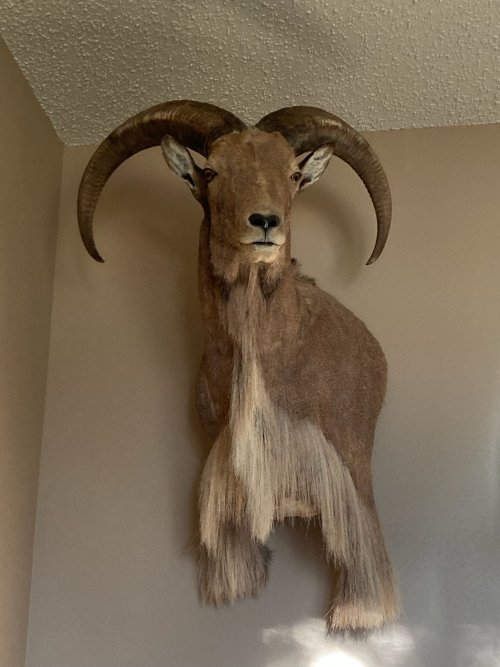 Last edited: