Joined

Dec 21, 2000
Messages

2,695
Location
Well, my bull has finally been officially dried and scored.... I knew he was big...I had scored him myself and come up with 374 2/8 net. The B&C measurer says different, he came in with a Final Net Score of 375 0/8. He is the smallest bull that Boone and Crockett will allow in their All Time Records Book! The smallest bull... that is sort of funny... but I guess there has to be a line somewhere.
Anyhow, after I killed him I wrote up the story for another website I frequent and recently I adapted it more into an article type story. I have not decided to send the story anywhere, just sort of had fun writing it... I'll post it here for you guys to critique... I'll throw a few more pics in too....
This Pic has been my screen saver for the last 4 months.....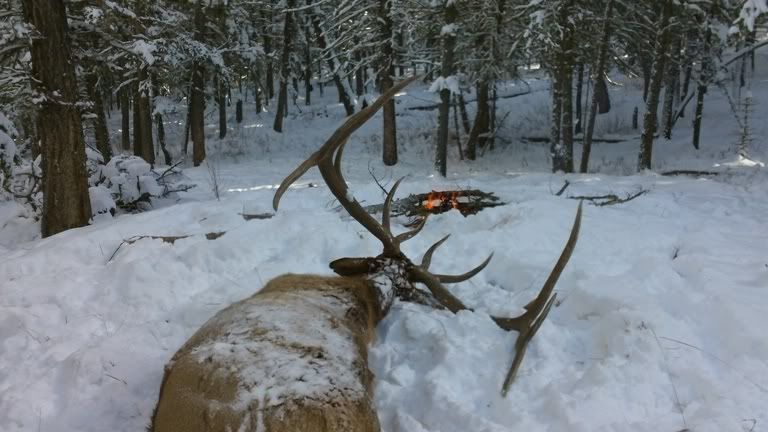 Before 1991, a buck was a buck and a bull was a bull. I hunted to hunt and was blissfully unaware that it mattered how big a critters rack was! Spike and forked horn blacktail were my primary bounty and I couldn't have been happier! Then, one day in the fall of 91, a good friend from college rolled into my driveway and pulled out a 33 inch wide, massive, black-horned mule deer rack that he had bowkilled in the backcountry of north-central Washington a few days earlier! This single event changed my outlook on antlers and hunting forever. I was awestruck over this beast. I had seen plenty of big critters mounted on the walls of sporting goods stores and in Outdoor Life and Sports Afield, but it had honestly never occurred to me that myself or someone I knew might actually find one of these old "mosshorns" walking around in the woods!
From then on I paid much closer attention to the antlers my quarry packed around. I never became a true trophy hunter and disagree with the motivation of a lot of trophy hunters, but I DID put more effort into my hunts and tried for all I was worth to pit my abilities against the older, mature bucks and bulls. I figured if I would just put out the effort, hike that extra mile, stay out that extra hour, I too would be repaid with a buck or bull sporting extra-ordinary headgear. Well, there is more to it than just being tough and putting the time in, I am a testament to that fact. From 1991 to 2009, I have spent many hundreds of days afield with the majority of them on foot, 3-10 miles from the truck, across rocky ridges and through deadfall jungles. And you should see the stacks of trophy class racks I have to show for it. It would take an aircraft hangar to display them all. Oh wait, that was the way it was supposed to be. The reality: in all those years, I did not take one buck or bull that I considered "big" or "mature". Now don't get me wrong, I killed a few critters and am very proud of them and thankful for the opportunity to hunt them and fill my freezer with CHOICE grade A, Organic meat AND put some nice looking racks on the wall. But alas, they were not the old monarchs of the mountains, they were his sons and grandsons. 3-4 year old animals that were on the verge of becoming old and wise and maybe a little mosshorned, but not the seasoned veterans I dreamed of packing out of those canyons. Nineteen years. I watched friends take a couple fantastic specimens. I watched magazines like Trophy Hunter, Eastmans Journal, Big Buck, Hunting Fool and Muley Crazy grow into a stand alone industry, publicizing the killing of these antlered giants. I watched as the all mighty dollar made its mark, by making these animals available to anyone that could afford it. Bucks and Bulls were bringing $10,000 to $25,000 and you barely had to leave the truck to shoot one. I watched as "Bubba" sat in his tree stand over an electric feeder and shot 180 inch bucks, and hugged and fist pumped with his buddies after his "hardcore hunt". I watched as Polaris and Arctic Cat became a hunter's tool, every bit as much as the 30-06 used to be a hunter's tool.
Well, none of that phased me. I enjoyed the feeling of my legs burning from climbing 1500 feet to the top of a ridge so I could see into the next basin. I loved reinforcing my tarp with branches and logs before the blizzard hit and blew 12 inches of snow into our September archery hunt. I lived for leaving the truck at 3 am to make it the 10 miles to No-Tellum Ridge by first light, opening morning. Killing a big bull or buck off a food plot or on some private place where the elk feed behind the ranch house all night, well, it would fill my freezer and the horns would be impressive and all, but it sure wouldn't make much of a memory. One more time, don't get me wrong, I have taken a few animals right from the road. As a true hunter, one who is out to find something to the fill the freezer, you learn that passing up opportunities early on can come back to haunt you later. That is one reason I likely didn't put that giant rack on the wall in all those years. When Mr. 5 Point bull walked by or that 3 year old buck came out of the timber, I didn't wait very long to see if anything bigger was following! Especially with elk, I didn't let many "little guys" get much older.
A 245" bull that I will never let walk on a general tag!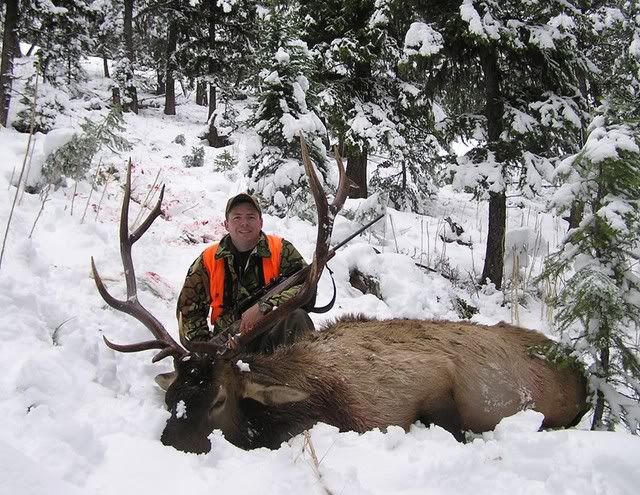 This all leads to my 2010 season, which stands apart from all the rest. For those that dont know, in Montana we are lucky enough to be able to hunt deer and elk for about 10 weeks! This year I was fortunate enough to spend six great days bowhunting SW Montana with some good friends and another 4 days hunting a little north of there with another good friend. These trips had quite a few very close calls with big and little bulls, but I could not connect. But oh the country I saw and the fresh air. It was ALWAYS worth it.
After bow season, I got to spend another 10 days rifle hunting in Central Montana. This time was spent pounding some "not so backcountry" but we always pushed it into the darkest and most remote ridges we could. My eleven year old daughter tracked a bull with me through a blowing snowstorm for about 3 hours. Oh to have killed that bull with her along! Matter fact, there were several close calls this season that would have all made fantastic memories, but the old saying about things happening for a reason, well, it sure seemed to be true this year. None of those close calls turned bloody; so that I could leave my house at 2:30 AM, the day after Thanksgiving and drive through a ground blizzard to a trailhead with 12 inches of snow in the parking lot.