Joined

Jan 9, 2019
Messages

172
First and foremost I want to thank Randman Newberg and the other forum members that helped me. You know who you are, I will not mention you by name because I do not want to tarnish you're reputations by associating you with this fiasco. I'm afraid mrsmuley or twsnow18 might light my ass up for this one. I might deserve it. I feel a bit like "river bottom bull" should've felt. But, I know I sweated, bled, cried and worked my ass off to get that meat out. I do not consider the trip a complete success, anyone who hears the story hears of the lost meat.
Also, I'd like to apologize to any forum members wives who may have had their Holliday weekend with their husbands messed up because I was blowing up their phone and using them as a coach/therapist. Seriously, thanks dude.
I'd also like to thank and mention "Bill from Wisconsin". Bill from Wisconsin is a 50 year old, smooth operator, Bad Motherfu***r that could give Randy, Corey, Cameron, Steve and Wllm13 a run for their money. He was solo but had his own wall tent equipped w/ a deep freezer/generator. He hauled a 6x6 bull, spike camp and tree stand out from 3.5mi in. He saved my ass! I'm forever indebted to him!
I'd also like to thank "Colorado Craig" and "Mountain Montey" for giving me rides/confidence and saving me tons of walking.
I typed up/poured my guts out in a 10 page novel, deleted it and came up with this.
Long story short
Last week I drove 1000mi to Colorado for my 1st ever solo backpacking/elk hunting trip. Historically, I'm not a real outdoorsy guy.
Shit went sideways. I was in over my head. I lost meat. I cried a lot. I learned a lot.
Here's a short list
Practice as much butchering as you can. I extremely underestimated the physical/mental aspects of doing this. If it's 87 degrees, he's laying on a open hillside and you're getting swarmed by flys and stung by bees it gets hot and nasty. While I felt like I was somewhat prepared for the hiking/hauling, cutting that thing up took time and BEAT MY ASS.
DO NOT PANIC: I've only been elk hunting for about 11-12hrs so don't take me at my word for this, but I think that meat will last surprisingly long in the heat. Even if he's bloated up like roadkill, smells like hell and you spill stomach contents everywhere while field dressing. STAY CALM, take your time and for the love of god, if you don't know what you're doing and you're not caping him out, make your 1st cut down the spine and get every gram of beautiful back straps out and HUNG & TIED off.
Always hang and TIE OFF your meat!!! The predators know elk are delicious too!!!!
Ration your water. It might be a long way to the creek and it might be 87 degrees.
Next time, if you guys will let me come back and I'm hunting early archery I'm bringing tons of citric acid and black pepper.
EAT FOOD EVERYDAY.
- 10. STAY CALM. IGNORE THE HEAT/SMELL. PRACTICE BUTCHERING!!!!!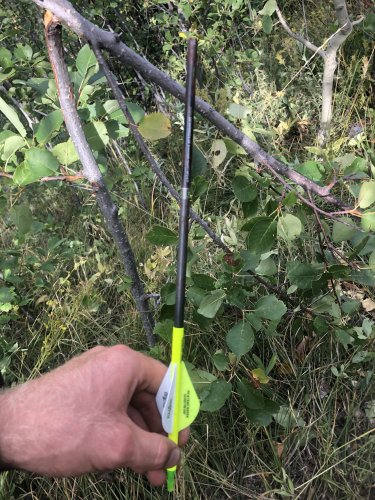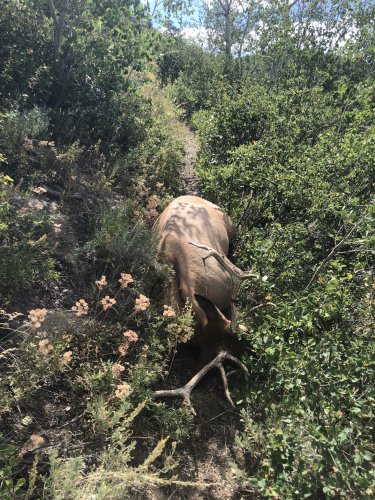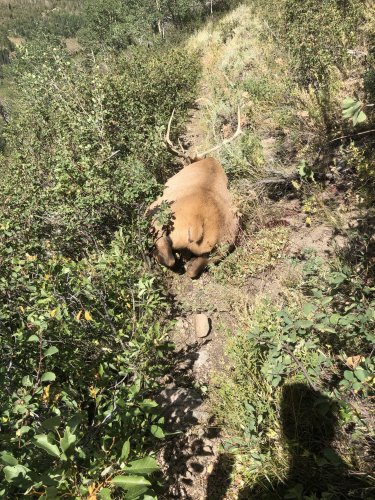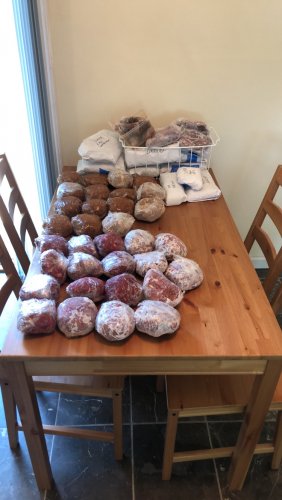 Last edited: