Joined

Aug 5, 2019
Messages

449
Location
The weekend was uneventful, I saw a spike Saturday morning. He was fun to watch as he fed 20 feet from the ground blind I was in. He is the only deer I've seen since last Saturday when I lost the doe.
Saturday evening as I was watching empty woods my dad text me "I just shot Hank". Hank is a buck named after the former landowner of a small block of property he just bought last year. It is adjoining his property and he was hunting about 500 yards from his front door. He was worried about the shot, it was hard quartering away, but his arrow buried completely past the fletching so we knew he got at least 28.5" of penetration. We waited 2.5 hours, ate supper and hung out at the house a little bit before we went looking. Blood was sparse but my brother immediately found the broadhead and about a foot of arrow covered in good blood so we knew he had an exit. It took about 30 minutes to parse out the trail with so little blood but we found him 125 yards away. The arrow had passed from well behind his ribs and out the front of the offside shoulder hitting everything in between.
As we walked up to him, I could see the exit in the shoulder and gut material all over his belly on the same side, an entry and exit on the same side of a deer is a difficult task to pull off! Then we realized hind quarter was almost buried in pine straw. A bobcat had beat us to the carcass and claimed the kill as his own. We probably ran him off the carcass as we walked up. Had we waited a few more hours he likely would've buried the whole thing. This was dads best bow kill and one of his best whitetails overall. Dad and my brother have a history with this deer, tons of trail camera pics over the last several years. My brother had been hunting him on another adjacent property pretty hard this year. Hank was a 5.5 year old buck, weighing in at 200 lbs. Congratulations Dad!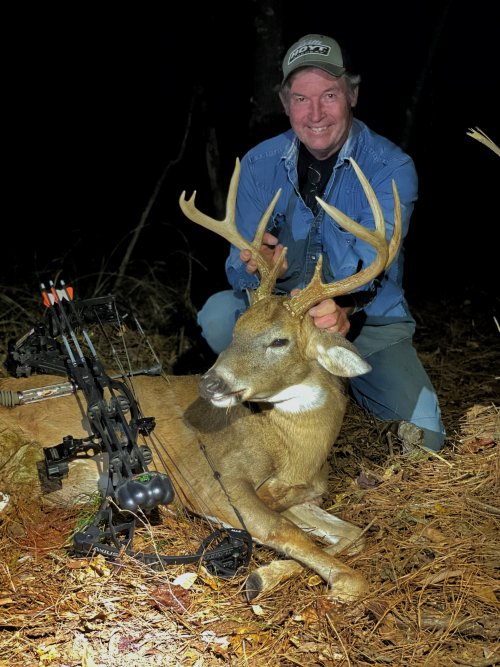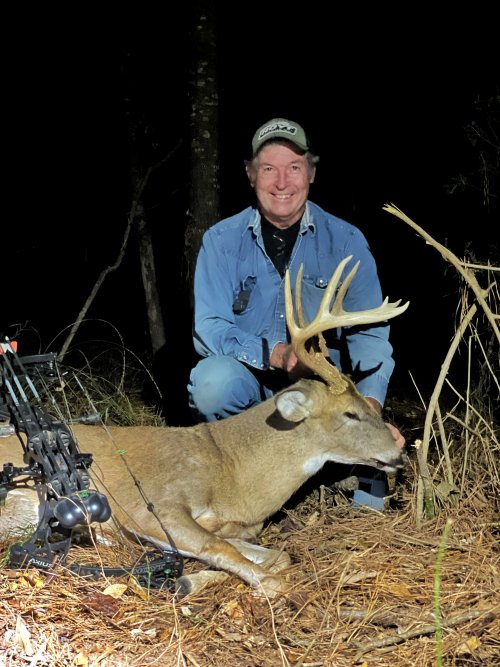 Here you can see the start of the bobcats work, with the guts torn open and the burying started.