Joined

Dec 10, 2010
Messages

5,061
Location
I first took my son Sam hunting when he was nine. He didn't have a license, but he tagged along and watched as my wife bagged a doe. He then took great excitement in following the blood trail and finding the downed animal. Each season since then he begged me to let him shoot a deer. I kept telling him he was too young for a license. He was bummed. One day he came to me all excited with a new idea: "How about if I shoot it and you tag it?" He was disappointed to learn that his great idea was illegal.
This year Sam turned twelve which made him old enough to hunt in MT. He drew an antelope tag. At this point I have to digress a bit. Sam lives in the shadow of his older sister. He knows everything he does was done by Katie two years prior, and she excels. She gets straight A's. Sam struggles with grades. Sam tends to give up so he doesn't have to deal with the possibility of trying hard and still not being as good as Katie. Two years ago Katie shot a deer the first time she ever hunted. It was a buck...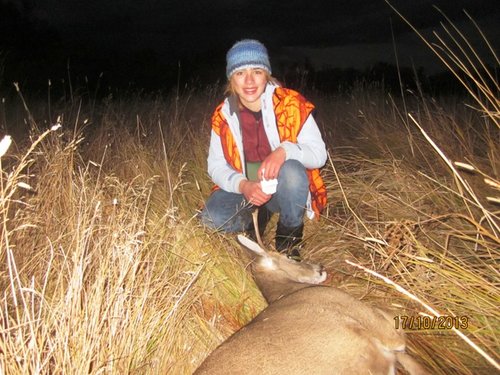 I never thought much about Katie's buck until Sam started asking nervous indirect questions about it a week ago. His excitement for hunting was starting to be overshadowed by the realization that if he didn't get anything he'd have to face Katie who got a buck deer on her very first try.
We were both nervous as we stepped out of my camper at 6:30am on opening day of antelope season. I actually hadn't hunted antelope very much and Sam's range was only 150 yards. He also hates hiking. I knew we had a good chance of coming back empty handed and I now knew this would embarrass Sam.
We spotted some antelope about a mile away and made our way to them using a stream bottom for cover. It was fun dashing to head them off when they moved out of sight. We'd crawl on our hands and knees and peer over the hill tops, but we couldn't get in front of them.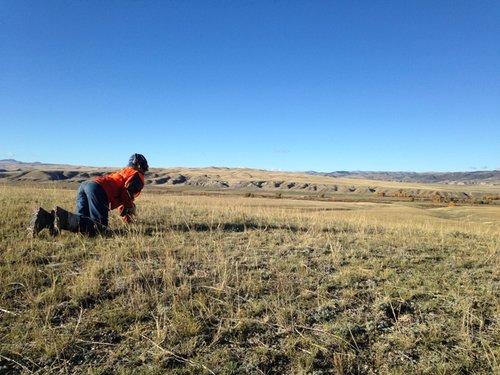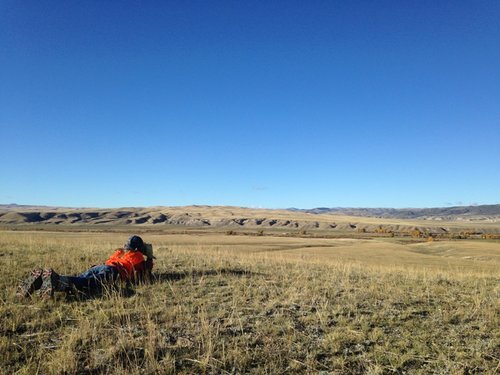 After our third sprint Sam asked if we could stop so he could eat a candy bar before we looked over the hilltop. What!? We are finally getting in front of them and you want to take a break? But he insisted he needed the energy after all our jogging. "OK, stay here and eat and I'll go look," I said, trying to remember this was about him having fun.
I walked off to look over the hill but I was thinking about candy bars. When I looked up I found myself eye to eye with two does 20 yards away. I ducked but my heart sunk because after two hours stalking I knew I blew it for Sam by walking to the crest instead of crawling on hands and knees. Sam was angry and blamed himself for having a candy bar. The noise probably attracted the does, but I told him it was me who got careless which was also true. Plus these catastrophes make for a better story to tell later.
We covered several more miles and chased a few more 'lopes without success. Sam was getting frustrated. The words "forced march" were part of an angry string of words spoken to me. More indirect questions about Katie's first hunt also came up. I explained to him she just sat on a bluff for two hours and shot a clueless spike buck that walked by; what we were doing was much harder. That helped a little but he knew end results are what other people see.
We decided to take a break and go back to the car and do some road hunting. He suggested that he drive the gravel road, his third time ever. "That way you can concentrate on spotting antelope," he reasoned. I laughed at his reaching logic. "OK, just don't wind up on three wheels and in the ditch," I replied. He didn't mind being reminded of Katie's spectacular driving disaster the second time she tried it.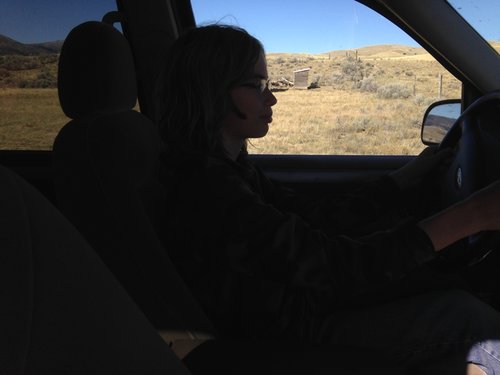 We spotted a herd with bucks in it. Small hills, crested wheatgrass, and sparse sagebrush were our only cover but we crawled toward them on our hands and knees when we weren't on our elbows and thighs. The 'lopes were still 300 yards away and it seemed hopeless until some bucks and does broke from the group and walked by about 100 yards in front of us. Sam was ready and had clear shots at the does, but he wanted a buck for reasons he kept internal. The bucks managed to stay behind sagebrush for an agonizing 15 minutes before walking straight away from us. They bedding down 300 yards away and across the stream bed. This put us in plain sight so we couldn't move closer.
We laid on our bellies for 30 minutes watching them. We hoped they'd move toward us. It was not to be. The bigger buck stood up and looked downhill at a threat. I heard a shot. The buck hunched up. I put the binos on him and saw a cloud of dust poof behind him followed by the crack of another shot. Blood appeared on his shoulder. He tried a step but fell to the ground. Damn! Someone crept in from below and shot him from under us! I forced a laugh because that is what I insisted Sam do when the situation sucks. He chose to laugh it off and we walked over and congratulated the successful hunter, who had no clue we were there.
I convinced Sam that these things just make for a better story. It is now a highlight of his re-telling so he must agree.
Here's the buck he didn't get.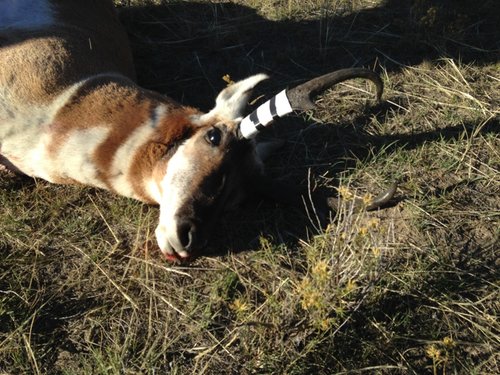 We called it a day. I let him drive. I asked him if he had a good time even though he didn't get one the first day. "Good time? It was awesome!" What? Was this the same kid griping about a forced march earlier? It warmed my heart.
On Sunday after blowing a couple opportunities we spotted 2 bucks and a fawn in the same area that the buck was shot from under us. I asked Sam's advice and he suggested sneaking up the same stream bed used by the guy who shot the buck from underneath us. Good idea. What I didn't expect was a herd of cows. (Generic photo of cows.)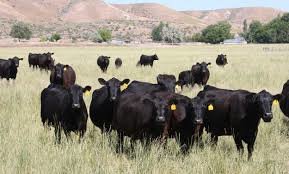 Cows are a stalker's nightmare. They all stop their grazing, look at you, and moo. When you get closer they bolt away 20 yards, always in the direction you want to go, stop, turn around, look at you, and moo. Just as you think you're past them they bolt forward another 20 yards, stop, turn around, look at you, and moo. Soon we were surrounded mooing cows pointing at us like compass needles as we tried to move through them.
I knew we were screwed, and as I looked to our 9 o'clock I saw the proof: the 3 antelope came over to see what all the commotion was about and were staring right at us from 40 yards away. Busted again.
Then I remembered something I read in Outdoor Life when I was a kid: Antelope may be able to see a mile, but don't count very well. I whispered to Sam "Stay here and hide. I'll keep walking and maybe they'll watch me and you can get a shot." He nodded that he understood.
After about 10 seconds of walking I glanced back. I'll be damned; they were watching me and not Sam. I walked another 10 seconds expecting Sam to shoot. Silence. After 30 seconds I looked back to see that Sam was creeping closer. For crying out loud they are only 40 yards away! After all his work I was sick at the thought of him not being confident enough to pull the trigger on the best opportunity we'll get.
I walked another 15 seconds and the rifle cracked. I looked back in time to see the buck spin around and run away with the failing off-kilter leaps of a hit animal. Yes! He did it! The buck only ran twenty yards because Sam's 80 gr .243 bullet split its heart in half. It turned out that Sam had to wait because the fawn was behind the buck preventing a clean shot.
Sam ran up the bank and stopped short of the motionless animal. He reflected a bit about taking a life and then said "I feel a little sad, excited, and proud all at the same time."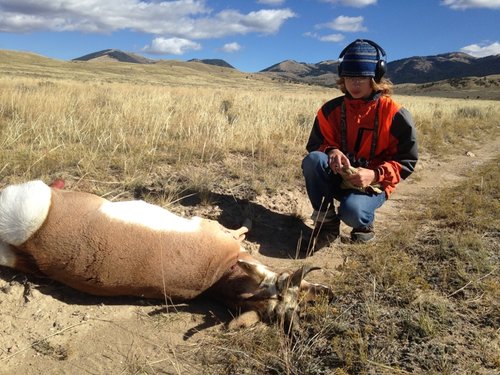 He knew the picture pose he wanted. I'd like to think he'd been dreaming of this moment and planned in advance. I don't think he meant the cows to be in the background, but they deserved credit too. The next time I see an antelope out of range I'm going to start mooing to call it in.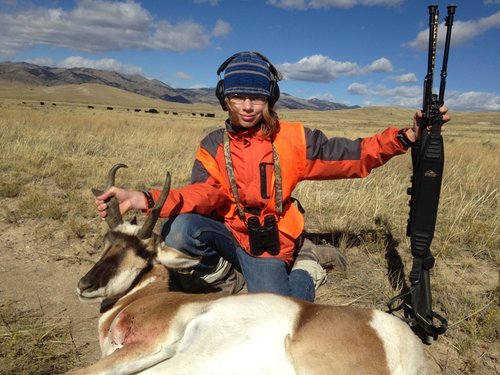 I went to the car to get the sled. Sam insisted on hauling the animal out by himself. He kept way in front of me to be alone. I wonder what he was thinking.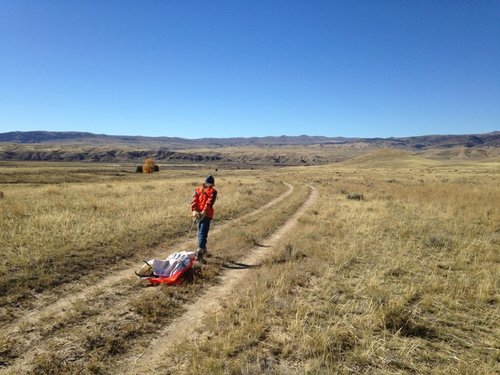 After we loaded the buck on the roof of our car I let him drive and then told him a secret, "You know, you are the first one in our family to shoot an antelope buck. I've tried but never been able to pull it off." He beamed at his accomplishment of not only beating Katie at something, but beating the whole family.
Last edited: