Our dogs get the snake bite vaccine/booster every spring. Supposed to slow the effect of the venom and give you more time to get them to the vet after they've been bitten.

I get rattled at 3-4 times per year, but haven't had one strike at me yet. Don't carry any kind of kit. I know one person who lost a dog to snake bite, but don't think I know a person who has been bitten.
Our vet does not recommend the snakebite vaccine for dogs. We live on southern NV and there are a fair number of rattlers around.
We ran into this guy while archery hunting near Mesquite NV a few years ago, it was not happy to see us at all.
June 28, 2017 (San Diego's East County) – The canine rattlesnake vaccine has been administered to over 100,000 dogs since it came on the market in the early 2000s. While only about 1 percent of dogs had side effects, the bad news is
"there remains little fact-based data to support the efficacy of the vaccine to date,"
according to Valerie Wiebe, Pharm.D with the University of California, Davis. In other words, it's not clear if the vaccine actually works.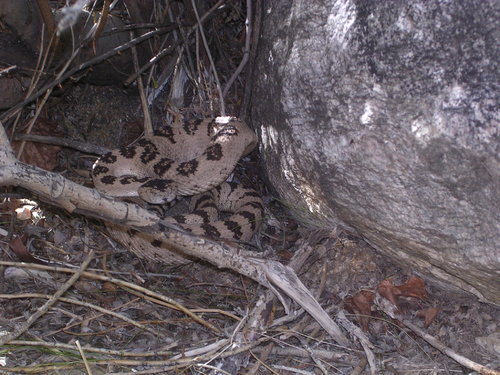 Last edited: