Joined

Jan 9, 2019
Messages

33
Location
This past weekend was the opener of the Pronghorn rifle season here in Colorado. My wife was fortunate enough to draw a doe pronghorn tag down in a chunk of the southern units of the state and we made our way down to an RV campground on Friday night with the family in tow (6 year old, 4 year old, and our family dog). My wife drew a tag last year but we were unable to locate any pronghorn on public land, so she has still yet to experience a stalk or a shot. Once we made it to our campground, the family enjoyed some time playing and watching a movie before heading to bed.
Saturday - Oct 2, 2021
We wake up at 6 am and get the boys dressed and out into the truck. We eat breakfast on the road as we pick our way through the back country roads on our way to various tracts of public land. We saw more hunters than pronghorn that morning as we made our way north through the valley floor. Around 10am, we got out of the truck and walked up the hill of a state trust land to see if we could find any pronghorn lurking back there. Empty. As we were making our way to the truck, we spotted a doe on the opposite side of the road. A truck stopped quickly in the road and the passenger got out and entered that same side. He was making his way along the back of a hillside as she was trotting back and forth on the front. She eventually picked a direction and started trotting towards the direction of the hunter. By the time the hunter realized where she was, the pronghorn was 100+ yards past him and opening the distance. We saw the hunter pick up his rifle and start shooting. 5 quick shots later, we thought that he got the doe (in a rather disgusting display of marksmanship). A minute or two later, 5 more quick shots rang out. Followed by another short pause. Then finally another 2 shots. In total - it took this "hunter" 12 shots to get the job done. Disgusting.
The family and I made it back to the truck and kept scoping out other tracts of public land until lunch. On one particular tract, we spotted a doe walking slowly away from another hunter and towards a boundary between BLM and private. My wife hopped out of the truck and using OnX, she crept along the property line for a while. While that was happening, a truck pulled up and the man that jumped out started asking questions. He was the landowner and said that OnX was 250 ft off in this particular boundary and that my wife was on his land. I apologized and called my wife immediately and told her to come out. No questions. The other hunter that I mentioned was blatantly on his land and the landowner drove in to chew him out. He also called CPW, who showed up a short time later, and I'm sure he got written up for trespassing. On the way back, the landowner picked up my wife and gave her a ride back. He was super happy with our immediate response and was apologetic, even though it was his land - not ours. We were just trying to do what was right and since OnX was off, he was very understanding.
After that, we decided to stop, have a picnic on the tailgate and enjoy the nice autumn day. After lunch, we went back to the campsite and played for a while. The town we were staying in had an Oktoberfest happening so we went and scoped it out, had some shaved ice, and sold some Cubscout popcorn. (I mean, might as well try since there are a ton of people in a small space, right?!)
That evening, the campground host put on a movie on an outdoor screen and we had the kids go and watch the movie while my wife and I were trying to help another RV'er. They were an older couple and had managed to lock themselves out of their trailer. We spied the gentleman trying to tear apart the bed from the inside of his pass-through storage space and decided to try and lend a hand. After a moment of speaking to him, I was able to reach up to the window in the trailers kitchen and slide it open. Same goes for the interior screen. Once we retrieved a small step stool, I was able to shimmy my upper body through the window and open the door for them on the inside. Upon completing our good deed for the day, we went back to the movie, and finished it while sitting around a propane fire and eating popcorn. The kids slept well that night.
Sunday - Oct 3, 2021.
6 am and we are at it again. This time, instead of zig zagging through all these properties on the south side of the hunting area, we decide to head north and go all the way up to where my wife tried to stalk one the day before. We arrived around 7:15 and grabbed our breakfast and started eating it (feeding the kids) in the truck while glassing the property. We sae a hunter on the far side and spotted a single pronghorn doe - walking away from him onto the private land mentioned before. At 7:17 am, a CPW truck arrived and started giving us a small lecture about the property boundary to the north and said that he had a report that morning about a husband and wife sitting on the private land that morning. We told him that we just arrived literally two minutes before and that he was probably after the other truck that left the area when we were pulling up. He apologized and said there has been a lot of trespassing there recently. We told him, no harm no foul and we all started glassing that lone doe. The CPW gentleman asked who had the tag and I told him it was my wife and that I was just there for moral support. He told us that not 5 minutes ago, he had spotted a doe 100 yards off the road up at another chunk of land near by and that we should check it out. We said thanks and made our way up to that chunk of land.
At 7:30 am, we were up at the piece of land that was mentioned by the CPW officer. No pronghorn. Also, there were 3 trucks in the parking lot so we were feeling confident that nothing was going to be available there. We turned around and headed back to where we came. As we we approaching the parking lot where the CPW truck was still sitting, my wife spotted a doe on the public chunk and it was walking towards the parking lot! I pulled the truck in right beside the CPW truck and the officer looked at me, gave me a thumbs up, and told my wife to get after her.
A short fire drill later, my wife is booted up and ready to go. The CPW officer asked if we had shooting sticks and we said no. He gave my wife a crash course on how to use his and sent her into the field. In the mean time, the private land owner from yesterday showed up with his son and told us that we were good to go. We lost where the doe was in the meantime, she had walked down into a little depression in the topography but hadn't re-emerged yet. We sent my wife into the property with her rifle and the CPW officer's shooting sticks.
My wife made it 100 yards in when all of us back at the trucks spotted the pronghorn. She was maybe 200 yards in front of my wife and still calmly walking slightly towards her. The CPW officer decided to walk out to her and the two of them started their stalk. The officer was a calming presence for my wife and he walked her through everything. Meanwhile, the private land owner and his two sons (one came with him, the other was riding with the CPW officer) were watching through our bino's. I will say, at this point, I probably had more anxiety than my wife did!
The CPW officer and my wife made their way to a good spot and was probably 150 yards away from the doe. They set up the shooting sticks and got comfortable. The doe finally stopped walking and just looked at my wife. She fired.
Through the bino's, I could see the hit. The other gentlemen next to me all said "hit". The pronghorn turned and slowly trotted away for about 4 seconds and then tipped over! The entire crowd cheered, the CPW officer looked back and raised his hands in glory, and my wife stared in disbelief.
I got my two boys ready to go out on the field and we (and the private landowner) made our way out to where my wife and the CPW officer were. They checked to ensure the pronghorn was dead while we were making our way out. Once everyone arrived, there were high fives, hugs, and prayers said. It was a very special moment for my wife. Her first harvested animal and it was with her family in tow!
We gutted the animal and I showed my wife what was left of the lungs that she hit. Perfect double lung shot with not a single ounce of meat wasted. Perfect clean kill.
My wife spent the rest of the day with a smile on her face and we talked about the hunt and how perfect of an experience it was for the entire drive back to Denver (approx 3 hours). She was nervous but handled it like a seasoned vet! Super proud of her!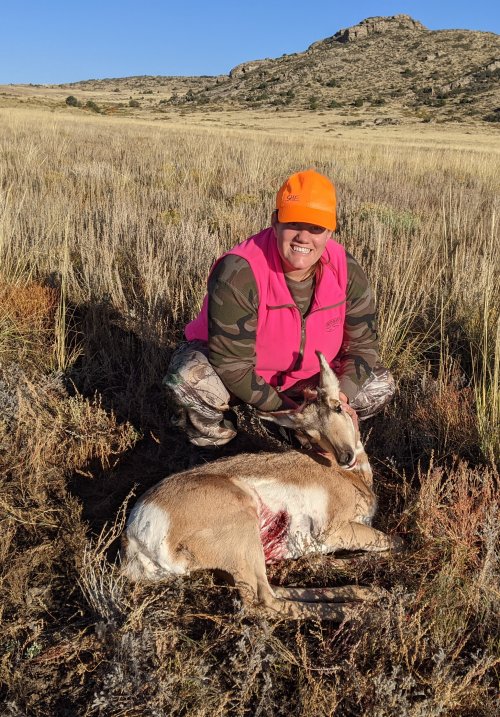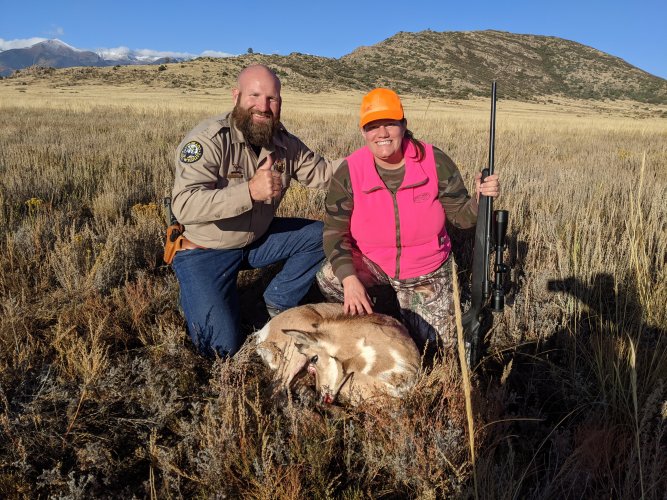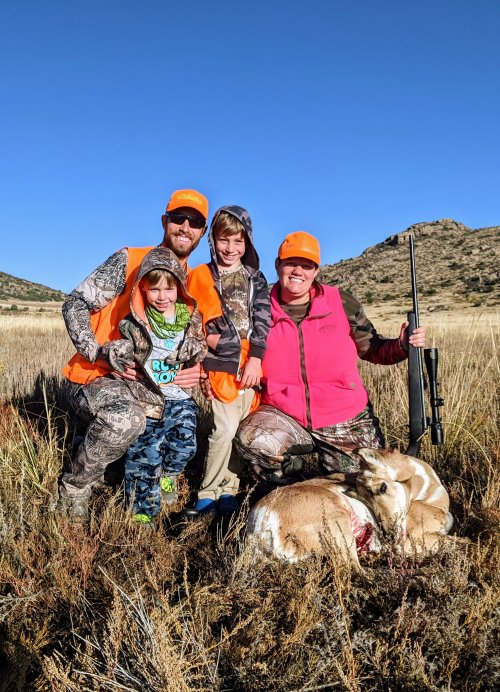 Last edited: