Joined

Jun 6, 2013
Messages

2,795
Location
There are over 5 million acres of state trust land in Montana, but did you know you cannot rifle hunt on roughly 167,000 acres of that? A coworker was recently working on a project that made me aware of this rule, so this weekend I explored that fact and a hypothetical and I think the results may surprise folks.
"Administrative Rules of the Montana Department of Natural Resources and Conservation prohibit the discharge of firearms on state lands within one-quarter mile of an inhabited dwelling or outbuilding without permission of the inhabitant (DNRC 2012)."
You cannot shoot a firearm on state land within a quarter-mile of an occupied building, without the permission of the occupants. This may be a premise folks dispute, but I think a requirement that an activity require the permission of another individual, is a functional prohibition of that activity. I will concede that I don't think this rule is enforced that often, but it could be.
The administrative rule that no shooting is allowed within ¼ mile of an inhabited structure may sound reasonable on its face, but I think it is unnecessary, problematic, and has unexplored implications.
In my life in Jefferson County, I have seen subdivisions develop adjacent to public lands, and I have witnessed the conflicts that can arise. Personally, I feel little sympathy for someone who lives next to Our Public Land, whether in a McMansion or shack, and then belly aches about activities that are historically inherent to the existence of those places. Here's an article in the Independent Record from 2005 highlighting one of those instances. The hunter was responsible, safe, and fully within his rights.
https://helenair.com/…/article_aa707c99-4fd5-5517-ba92-3580…
Additionally, this is an interesting document from FWP on the conflicts between subdivisions and public lands.
http://fwp.mt.gov/fwpDoc.html?id=55372
So, using publicly available datasets, I did some analysis.
I identified all potential "inhabited dwellings" using the statewide structures datasets, querying out structures that wouldn't typically be inhabited like mine sites, communication tower sites, etc. I buffered them by ¼ mile. Where those ¼ mile buffers overlap State Trust Lands, no rifle hunting is allowed. When calculated out, the circle around one occupied structure with a radius of one-quarter mile is 125 acres. So, if you owned a cabin lease on public land, you could have a fair bit of de facto private hunting land, being you or someone you gave permission to alone would be the only ones who could hunt with a gun within that circle around your cabin.
Now, going to a hypothetical, I explored what this would look like if FWP were to make that rule apply across all public lands. In Arizona, state law prohibits "The discharge of a firearm while taking wildlife within one-fourth mile of an occupied farmhouse or other residence, cabin, lodge, or building without permission of the owner or resident." What would it mean for rifle hunters in Montana if that rule were to be made? How much land would rifle hunting be prohibited on?
Roughly, if such a rule were implemented across public lands as well, rifle hunting would not be allowed on 55,000 acres of those lands. I was surprised that public lands were less-affected than state trust lands, but it makes sense when you think about how they are laid across the landscape. All told if this were a rule across the entire state, rifle hunting would be prohibited on 220,000 acres of Montana, or 340 sq miles. And that number would only increase with the cancerous growth of subdivisions on the fringes of Our Public Land.
Some images:
-A statewide gander at public lands and all of Montana's structures buffered by 1/4 mile
-A zoomed in view of the Stillwater Lake area. Where red and blue overlap is purple. Where purple, hunting with a firearm is prohibited
-A Higher level view of firearm-prohibited chunks, just to give an idea of how this occurs or would occur across the landscape
All this analysis was quick and dirty, so figures and stats are admittedly rough.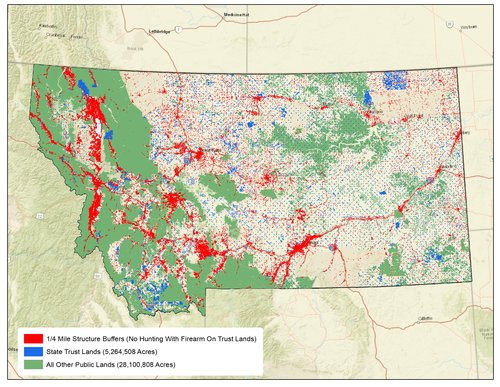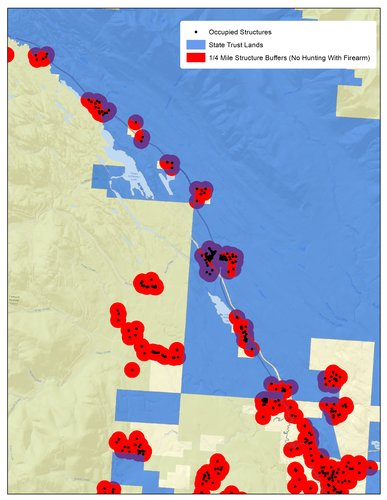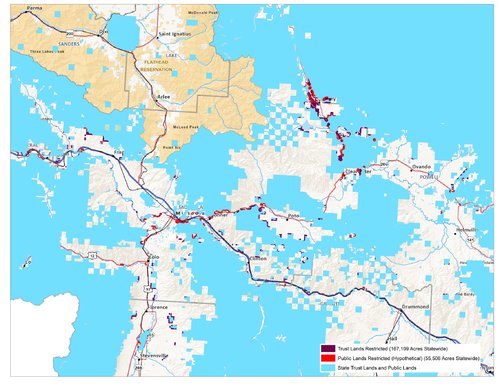 I'm interested what folks here think of the rule, or if they've ever had a run-in with it.