Joined

Jan 10, 2019
Messages

80
Well, I had a great year with the kids this hunting season, I Figured I would post a few pictures and tell a couple stories, maybe someone would like to read through them or look at the pictures on a December afternoon.
The year started out Crazy finding out we are adding a baby to the mix. My daughter is 15 and son is 14 so, I was a little surprised that a new one was coming along. Coaching Baseball and Football, helping my pregnant wife as much as possible really cut down on the early season plans of fishing and messing around with my bow. Our new little addition was born Late September and that was just a couple weeks before the youth hunting season started here in Montana. I was running late this year with all the baby stuff going on and couldn't find ammo for either of my kids guns ( I know My fault). Finally found some and it was off to sight in before the youth season. Next year I will spend more time with the kids shooting but that is a story for a little later.
My Daughter is usually done the first day of youth season, she likes to shoot her deer, and go into High School basketball, knowing she helped provide meat for the family. My son is the opposite he wants to shoot big bucks. He is a bit of a trophy hunter and she is a meat hunter and I respect both of their decisions for why they like to hunt.
Opening morning did not go quite as planned. We were busted by a doe getting into the spot 5 minutes before shooting light. Fantastic, had the entire creek bottom in a whirlwind deer running everywhere. We got up to our fence post we like to sit overlooking the drainage and I was looking at some deer a couple hundred yards away when my daughter whispered there is a buck. I slowly turned and glassed a nice deer moving away at a couple hundred yards. I set her up to shoot and she said my son should shoot that one because it was a big deer. By this time the deer was working out past 200 yards. My son set up on the deer and let a shot out at 250. The deer did not do anything. Looked around and started trotting away. All of a sudden took a strong right-hand turn and worked back towards the creek a half mile away. I watched the deer bed down and we made another plan. I told both of them that this was a good deer. I have been hunting a while and a good deer to me is pushing the 160" mark. I told them both that when we set up on the deer the first one that has the deer in the scope can shoot. Well we snuck in and I found the deer bedded in some buck brush. 225 yards. Both of the kids laid down and had their guns on their packs. My son found the deer first. Went to adjust the scope for more power and lost it, then my daughter was on it, but did not have a bullet in. this went on different issues for at least two minutes when the deer stood up. I heard boom, then another, and another, this happened 7 times between them. They were out of bullets at the deer looked at us then trotted away. We saw lots more deer this weekend and the next but never were able to get a good shot.
I like to call this first picture the walk of shame, we also got hit with a heck of a snow storm the first two weeks of general season if I remember right.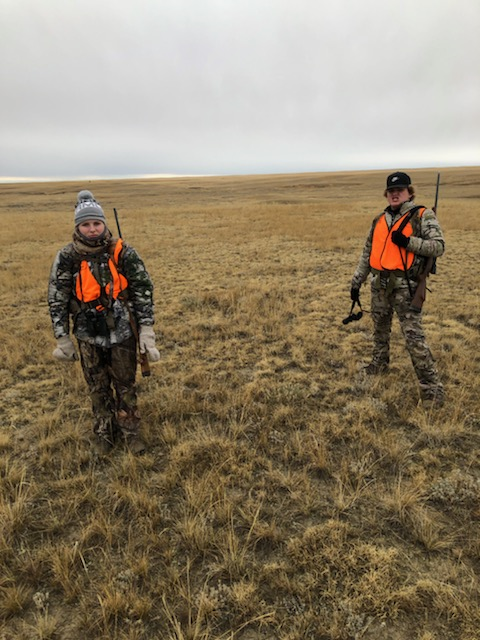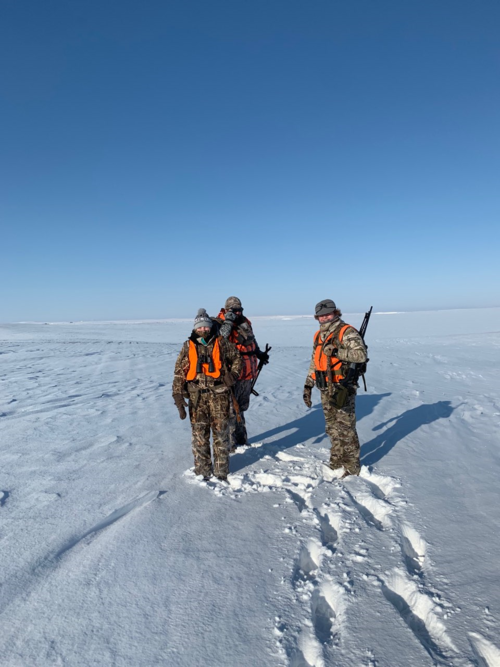 It was a couple days before the weather cleared up, the first weekend of general rifle season was another blizzard, and we went out but could see much of anything for the first day. The second day we went and found three decent bucks bedded down, We had a great stalk. And were within 200 yards of the deer. I set them both up, but the snow was too deep for the bipods on my sons' gun, and my daughter was still worried about missing so that didn't work out at all.
My Daughter was having some issues this season. She is a bit of a perfectionist and was upset she missed a deer a few days back. She was in her head pretty bad. Even had some tears because she was not providing for the family like she thought she had to. I just told her I would pick up a extra Doe tag when I head to the breaks if she does not shoot a deer its not a issue in the world. We decided that it was a great idea to skip school one day, my son couldn't go because of a basketball game. She was so happy it was just her and I, daddy daughter hunt. We arrived at a spot she has had a bunch of luck at in the past and today was her day. I saw a buck working across the private and we made a plan to sneak down and get behind a little hill the deer looked like they were angling at. I just told her that there are no bad thoughts on this stalk. We arrived at the spot just as the deer were passing by. I put her up on the shooting sticks and she made a great shot on her biggest buck. The morning was beautiful, and spending time with her was on of the best days I had hunting all season. She helped gut the deer and wanted to game cart it back to the truck all by herself. It was still very early in the morning by the time we got back to the truck. I asked her if she wanted to go home and get to school. Her answer was no I just want to spend time with you today, so we went to the lake and had some lunch. We hunted for most of the rest of the day. I asked her if she wanted me to European the deer for her being it was her biggest. She said no she just wanted the horns cut off and the skull plate wrapped with string like I have done to her previous bucks. She hangs her necklaces off the horns on her wall. she also loves taking der selfies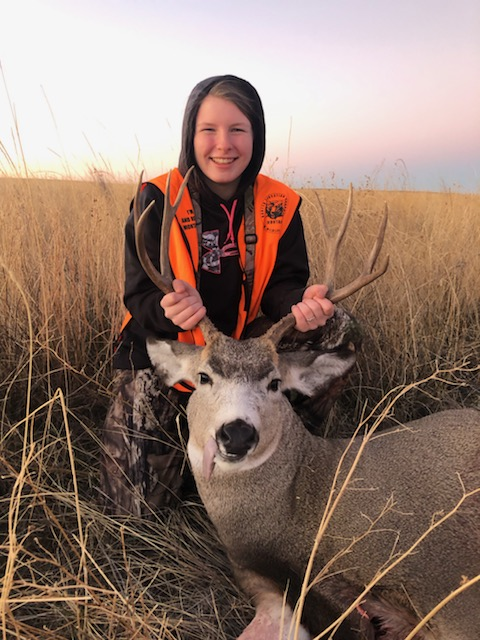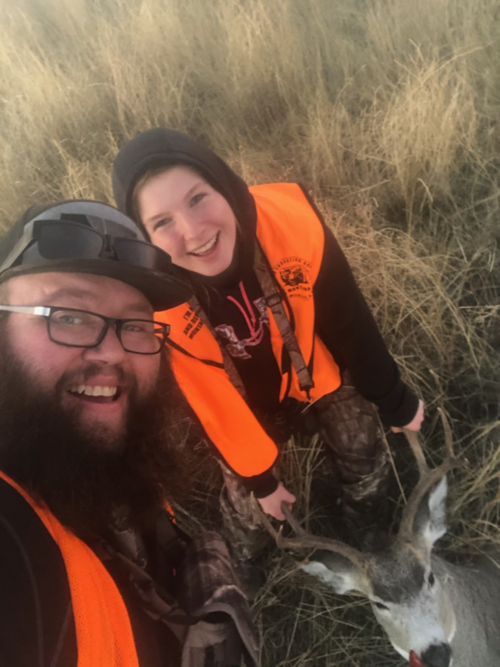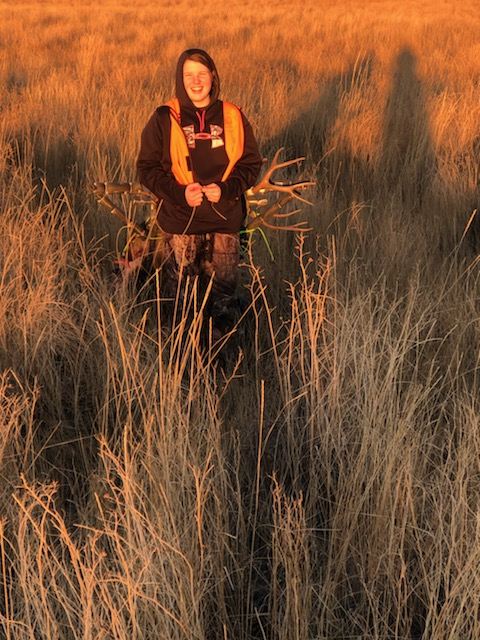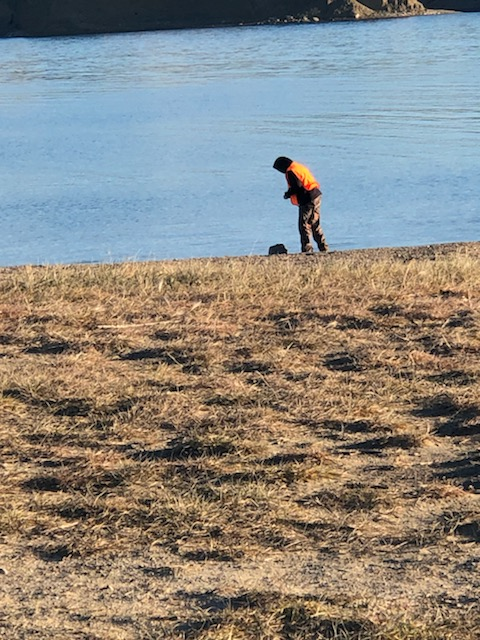 Last edited: