Joined

Jul 31, 2012
Messages

486
Location
As many in Montana know, the opening weekend of rifle season was very snowy and cold. I had my nephew from Washington come up for a hunting camp experience and to learn what hunting was like as it has interested him for sometime and no one in his immediate family hunted or would take him. I did my best to create an authentic experience for him: stayed in a wall tent, used the stove to keep warm, ate camp food, woke up early, hiked our butts off in the snow storm, saw lots of deer, explained hunting ethics along the journey to finding a buck and some does to harvest, the joy of the hunt and the value of the meat to my family.
My friend had his boys at camp as well and they stayed in his camper, but we opted to hunt together on opening morning and while visibility was limited we made plenty of stalks to get close for a good shot and played the wind to our favor. my friend was able to double down and fill his A tag and reload to fill his Limited are B tag and have both deer down just fifty yards apart. After notching some tags and a quick bite of lunch we took some photos before getting into field dressing both deer via the gutless method to drag out of the coulee they were in.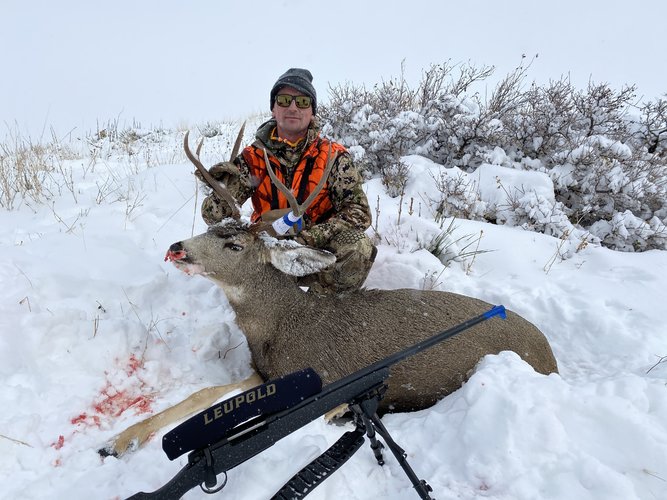 with my nephew being 17 years old and 6'2" he naively volunteered to drag the sled once the deer were quartered up all the way back to the truck, about 3/4 of a mile. My friend and I immediately agreed he was going to learn a valuable lesson in volunteerism and let him proceed!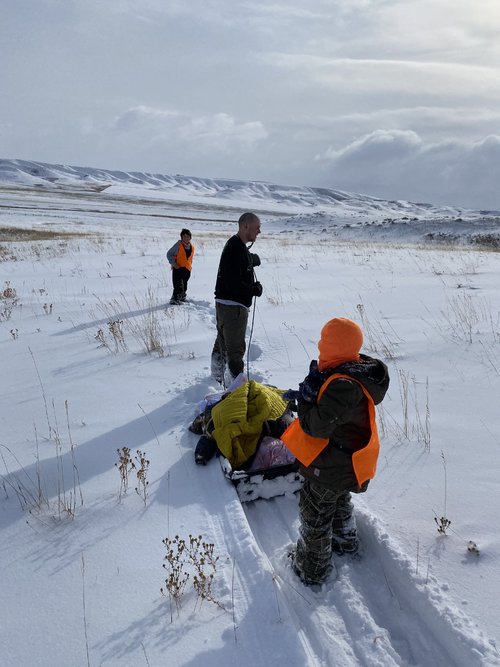 He quickly learned that just because it is in the sled does not mean that it will be easy to tow out two deer. He had shed down to a thin sweatshirt and somehow misplaced his orange vest by the time I caught up to them and was mocked by the 8 and 10 year old boys the entire way to the truck about his decision to tow the sled and keeping track of something bright orange.
more to come later...