Joined

Jan 9, 2001
Messages

15,765
Location
My last hunt of 2021 got delayed a bit due to having a ton of elk hunting to do with friends/family, weather, and work.
But I finally made the drive south to hunt coues deer. Had the last 8 days of the season to spend and because I've hunted the area in the past, I was confident I could find a buck.
Started slow and continued that way with lots of rain, fog, and wind.
Glassed these two bedded under a mesquite and saw decent numbers of bucks in this class: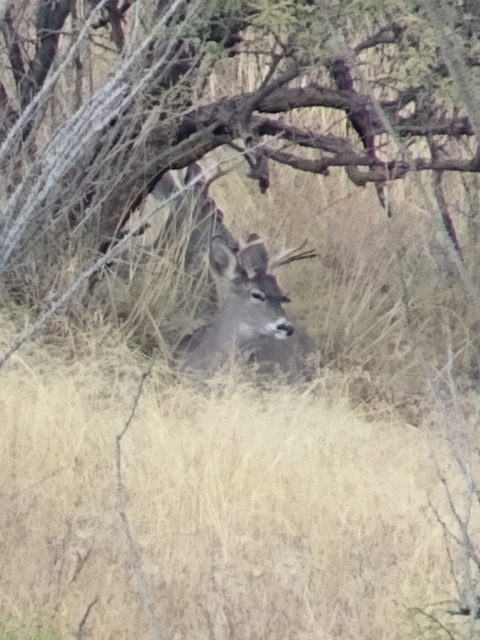 Always fun to just see these deer and observe their behaviors and really like the coloration/lines on them.
Finally one morning was pretty good, clear weather and sunny. I spotted a doe right away and then followed that with a small buck sort of pushing a doe. I moved about 30 yards to get a better view of the area I was glassing and was rewarded with a nice buck that was directly in the center of my binoculars the first place I looked. Ran back got my rifle, pack, and rangefinder.
Ranged it at 402 yards, made the turret adjustment of 1.1 mils. Got a solid rest across my pack prone...everything felt right. At the shot from my 7-08, the buck jumped straight up, giving a kick. I heard the bullet smack really loud. The buck took about 5 strides and was in the mesquites. I got my buddy I was hunting with on the radio and he said he heard the bullet hit the deer as well. I left my binoculars on tripod, in the place the deer was standing. I got a couple landmarks to find the exact spot, a large saguaro cactus and big clump of cholla cactus that was just below the opening in the mesquites.
Made my way over and couldn't find any sign of a hit, no hair, no blood, but I knew I hit the deer. My buddy came up and confirmed with binoculars that I was in the right place. I continued to look for another hour, mostly downhill from where it was standing. Nothing.
I then walked back through the catclaw, and wait a minute bush, to get another look. When I got back and looked things over again Monty and I decided once the deer hit the brush line it either had to go mostly directly uphill (not real steep) or directly downhill. I would have seen it cross a large opening if it had side-hilled.
We also decided to call in some help. We were hunting with 2 other friends, Nate and Scott. Scott has a great eye for blood and tracking and as it turns out, his friend Nate as well.
While Monty stayed put to make sure we were in the right place, Nate, Scott, and I made our way back over. After about 20 minutes of looking Nate found some blood uphill from where the deer hit the brush line. The blood was TOUGH to follow, but between the 3 of us, we were able to sort out the blood trail (mostly Scott and Nate). I did find one spot where it pulled a pretty hard 90 degree turn when we weren't finding much. Finally after about 50 minutes of looking and 10 feet from the last blood, I found him dead behind a bunch of brush. He hadn't went more than about 150 yards, but in the country they live in, that's a long way to follow sparse blood. My shot was pretty good but just in front of both shoulders...maybe 2 inches would have made a big difference.
I was very relieved as I'd spent the past few hours beating myself up over not being able to find it. I also discovered that I have a really hard time with accepting help from friends (stupid pride). I much prefer being the one helping others, than getting help from them. One of the things I like most about hunting is figuring things out for myself.
Some lessons (re)learned:
1. Don't assume a wounded deer will for sure run downhill, even one mortally wounded.
2. Maybe practice a bit more with your shooting, these deer are small and sometimes require longer shots.
3. If possible, get closer.
4. Definitely leave your binoculars on the exact place the deer was standing.
5. Don't be a prideful jackass, its OK to ask for and accept help from others...no question we would all help our friends if the tables were turned.
6. Continue to track even sparse blood trails as far as you can, as long as you can.
7. Hunting on your own is fun, but having some extra help can really change the outcome of your hunt.
8. Reading glasses are necessary for finding sparse blood at my advanced age (throwing in 2-3 pairs of readers from now on).
Anyway, all is well that ends well...good way to finish the season.