Joined

Feb 11, 2004
Messages

2,613
Location
Well I went solo on Monday morning 10/25 and had a great day. I saw well over a hundred deer with a total of 14 bucks. I'll skip over all the boring stuff and get right into the killing part. I had decide it was time to head back to the truck with about 1 hour left of light. I just crested the ridge and was heading down it when I glassed down and saw a decent buck chasing about 8 does. I put the scope on him and saw he was a slick 4 that I guessed was 26". It took me a minute to decide if I was going to shoot him or not. But luckily decided to. I worked down the ridge and setup to shot. He crested the little finger ridge he was on, so I had to wait for him to come back over. After 15 minutes I thought I better go after him. I headed back up and around to the other side of the ridge he was on. I saw 3 of his does but no buck. I went back up the mountain and with only 15 minutes of light left I figured I better press the deal. I headed straight down the ridge he was on and about 150 yards down I saw his does. Then I saw the buck crest the hill at mach 1. I ran down and setup for the shot. I ranged an opening 250yrds away and waited, he came flying through it and I hit him a little back. He went another 100 yards and stopped. That was his final resting place. As I was walking up to him I noticed that I under estimated this buck. He is 30.5" wide.
My 30" buck.
With only minutes of light remaining I decide to gut him out and come back in the morning. I rounded up a couple of buddies and told my buddy Von to bring his gun because we may get lucky and find him one. Lucky we were and as I went up and over the ridge my buck was down we spotted a nice 4 point. He was about 300 yards from mine and my buddy shot him right there.
Von's 23" buck.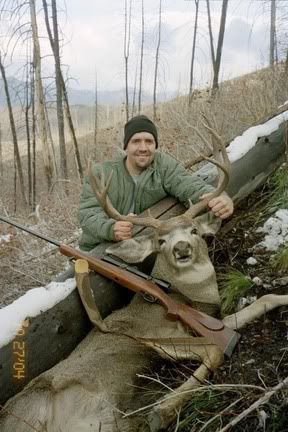 It took three of us the rest of the day and half the night to get these deer off the mountain. It was still worth it.
A picture of both of our deer.