Joined

Mar 17, 2019
Messages

75
Afternoon fellas,
New Hunttalk member here and I wanted to share a great hunting experience that I had last November hunting elk. This all started after the 2017 Maine deer season came to an end, I started thinking about doing something different, and heading out west for a hunt. This was all new to me, but I figured what the hell, might as well give it a try. At first I thought I was going solo, which seemed a little daunting, but eventually I talked a good hunter, and one of my old co-workers (who's retired) to go with me. We settled on Colorado, and originally were going to go with an outfitter drop camp, during CO 3rd rifle season (11/2 - 11/9).
After talking with quite a few folks who had done both DIY and drop camps, we decided to scrap the drop camp idea (eventually got our deposits back) and go full DIY, hunting all public forest service land in the OTC units. Now the planning really began, and we had to weed out the "nice to have" items vs the "had to have". We also needed a place to stay, and at first I considered renting a wall tent set-up with a wood stove, but the logistics of dealing with that in a whole new unfamiliar area (firewood, fresh water, etc) was just too great, and we settled on renting a small cabin about an hours drive from USFS land. The two of us were flying in and renting a truck, so we needed to keep our challenges manageable, and focus on hunting.
In November 2018, I hunted Maine with my brother and his best friend who lives in Denver, and it didn't take long for those two to be on board with my Colorado elk trip. So now we had four in the group, two in their earlier 30's, me at 46, and my buddy at 65. One hell of a mix, but we were determined to make it work. With a year of waiting ahead of us, we had plenty of time to train, spend $$ on gear, and generally try to have a clue of what we were getting into!
For months leading up to the hunt, I scoured every little piece of info on elk hunting the late season. From chat rooms, google earth, USFS and BLM maps, Randy's podcast and episodes, hunting elk in dark timber, and especially the OnX hunt app. What a tool that is, and since their satellite images were different dates than google earth (fall), I was able to see actual hunting tents and outfitting access points (horse trailers, etc) in areas I had originally thought looked like good access points. This was a huge lesson to me, as it prepared me for the fact that I was not going to be the only hunter during CO 3rd rifle OTC bull tag hunt. However, the areas I e-scouted were huge, so plenty of room to roam.
Travel day arrived, and we flew into Denver at 1000 on Thursday, 10/31, two days before the season started, grabbed the rental truck (4x4 dodge) and headed west! Denver had just gotten 6" of snow, and as we hit the mountains, there was plenty more. After a few stops, we didn't get into the cabin until around 4pm, which was a bummer, as I had hoped to do a bit of scouting the first day and maybe a hike to try an acclimate.
The next day we all headed out early to scout, and I drove to some lower elevation BLM land that I had heard held elk when they pass through to private land. This piece was only at 7200ft but I felt the elevation change right off the bat while hiking in. There were some elk and muley tracks, and as we glassed onto private, we could see probably 30-40 head of elk on private land scattered about. After that we got out of there and headed north to the USFS land to do more scouting.
The snow depth was really building as we got higher up, and I really wished I had chains just in case. Luckily, plenty of other folks did, which kept the road plenty churned up and gave me good traction in 4wd. Right when we hit public land, we started seeing camps. There were some pretty nice setups, and you could tell folks had been doing this for a while.
We saw decent elk sign on the USFS land, and found plenty of space to hunt. Unbelievable how large the western tracks of land are. Opening morning we got up there with -3 temps at 0530 and hit the woods just before first light. My buddy was really feeling the effects of the altitude as we were at 8000ft now, so I headed up on my own, while he moved perpendicular. at 0730 I catch a glimpse of movement and about 300 yards in front of me in the aspens is a legal bull elk! I've got no shot at this range, as I can just see his antlers and neck, and a bit of ass. I catch more movement to his right, and there's another elk, which turns out to be a legal bull as well.
I cannot believe my luck, but I have no shot on either bull as there's too many aspens in the way. I try to close the distance by going from one aspen to the next, but then catch a glimpse of a cow elk, and she's looking my way. I'm behind a tree but after a few minutes goes by, she winds me and off they go. I have a quick quartering shot at the first bull, but wait for the second and try to steady my breathing. Seconds go by and he never shows. Instead of following the rest of the heard, he b-lined it straight up and I never saw him.
The elk headed up and to my left, so I start to move that way, but not long after, I hear shots, and then see elk move above me and to my right. I'm hoping I can cut them off and get another glimpse of the bull so I really pick up the pace.
As I'm moving through the aspens, I look down to my right, and there coming out of a meadow are 8-10 elk, with a couple bulls mixed in. These elk are a long ways off but headed to intersect my course, if I can get there in time. I drop my pack and hiking poles and start loping through the aspens looking for a shooting lane.
The elk are moving up in front of me now, so I kneel down and use a dead tree as a rest. Two cows and a legal bull go by, but I'm breathing too hard to have a steady shot at the bull. Another cow heads past, and then a bull. I can't count the points (need 4 pts a side or 5" brow tine to be legal) but I can easily see long brow tines and know he's legal. I take the shot, but it does not feel good. As I scope the area, I can see an elk down. I lower my rifle, grab my binocs, but it's not there anymore! As I slowly creep forward, I see a bull elk bolt up and run up the hill chasing the others. What the hell, I say, there's no way the elk was just bedded there while the others ran past! Then it clicked, I had hit the bull hard!
I backed away and retrieved by pack and sticks, as I wanted the bull to bed again. 10 minutes or so later I found where he was hit, and started on the blood trail. I hadn't gone more than 50 yards when I see the bull elk down on a little shelf and trying to look at me. I circle around and put a finishing shot in his neck, and that's the end of my first ever elk hunt! Who would have thought it was going to happen on the first day!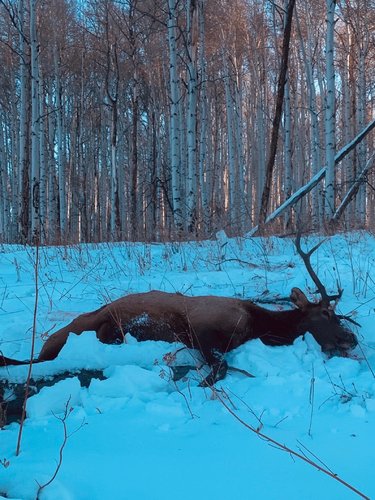 He ended up being a 5x3 rag horn, probably 2 1/2 years old. To say I was excited is an understatement! But I just wish I got to share the moment with someone. This was 0800, and by the time my hunting partner got to the kill site, is was 1030 and I had him all quartered up and ready for the hike out.
I used the gutless method, which kept me pretty free of blood, but since it was my first time, it took me about 1.5 hours to finish the job cleanly. A funny part is that I got a free Gerber Vital when I join the RMEF last year, which worked great for skinning; however, I kept nicking my right hand and luckily had electrical tape to bandage myself up, haha!
Our first load was the front shoulders and backstraps, plus rifle, etc, and we did this using Badlands 2200 packs, which carried the loads ok.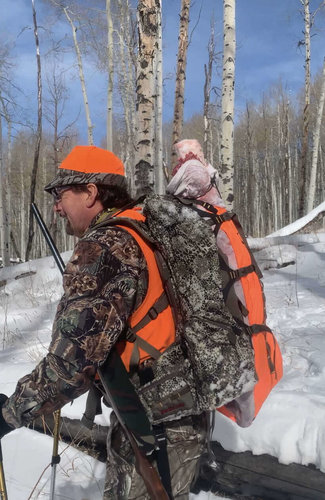 For the second trip, we grabbed external frame packs from the truck, and just carried our water bladders in them. On my last load, I had a hindquarter, bag of loose meat (rib, neck, shank, etc), and the skull with antlers. Not sure of the exact weight, but it was heavey and needed help to just stand up. We finally got back to the truck at around 4pm, and both of us were beat!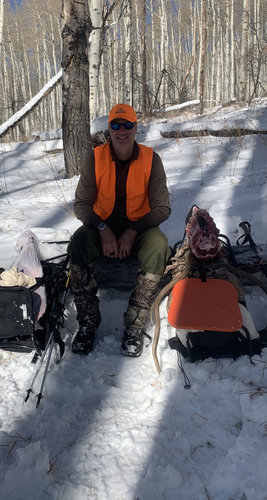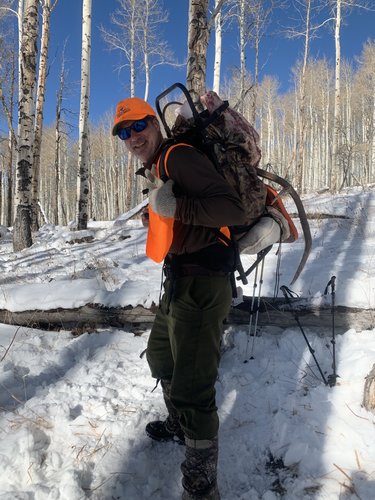 We dropped the meat off at the butcher the next day, and we continued to hunt through Thursday. I was tagged out, but pretty much was another set of eyes, glassing everywhere I could. The big dumb move on our part, is we should have bought those leftover cow tags, which were available the day we got the bull license.
In the end, we saw 6 legal bull elk and probably close to 60 elk combined, all on USFS land. I saw four legal the first day, and my brother had a shot at a decent 4x4 mid-week, but hesitated just a second and that was it. The bull was gone and no catching up. He also saw a real big mature bull across a meadow, but it disappeared into the softwoods like a ghost, never to be seen again. He tried tracking him, but it was impossible to catch up with all the snow and blow downs, that the elk just seem to glide over.
We learned a ton on our first western hunting adventure and are already planning another trip back. My brother is planning to drive out next time, and we'll take a small cargo trailer for gear, coolers, etc. It's hard to believe that it took me so long to hunt out west, but a lot of that has to do with the joy of whitetail hunting Maine and NH in November. My bonus in all this, is that my daughter and wife absolutely love elk meat now! She said "next time you need to get 3". Not sure if that's legally possible but I did tell her that if my hunting buddies had scored an elk as well, I would not have had to share so much of mine!
She's happy now, but that will change when my new Metcalf pack arrives on Friday......
Last edited: