Joined

Jan 9, 2019
Messages

1,873
Location
Posting this in other big game because it's technically a bear hunt even though it's mostly just a camping trip and there's prob a better chance of me hitting a bear with my car than with a rifle.
sorry if it's too long and basically just describe y'all's day to say life, but this is some out of the ordinary ish for a trucker from the shire.
*
@MTLabrador
You were right, I can't 1 trip a bear out of this spot at least not on my first time in there.
"there are levels to this"
Day 1: drive out to Colorado, stop by one of my old haunts, throw some brats on the grill and have a wonderful evening enjoying the beauty of the mountains.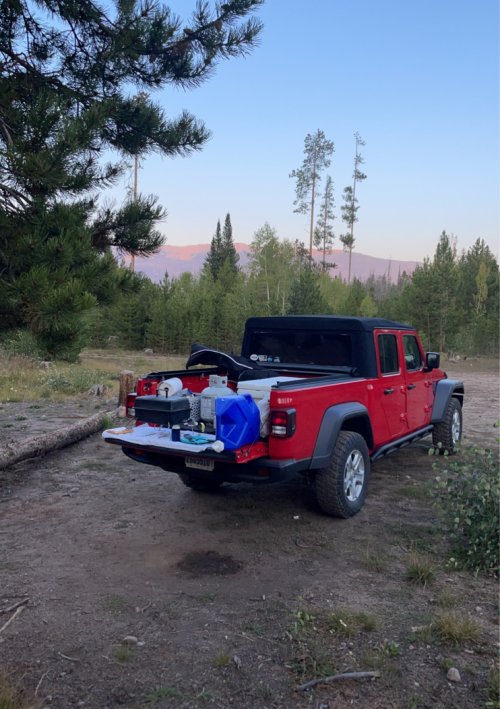 Day 2: Sleep in. Get up and drive a couple hrs further west.
Park at trailhead next to another Illannoyian, load up my pack and hike in.
went about 3/4 mile up trail, hung a left and bushwhacked through thick nasty ish and started up a hill to get to a ridge I was hoping to be able to glass from.
For a flat lander this climb got pretty f***ed pretty fast but I really had the eye of Cam at this point so I just kept going and going.
Right before topping out the ridge there was 1 section that was maybe 15-20ft of smooth rock that I would think had to be class 3.
Definitely had to use my hands and plan out the route before I did it.
I went up once without my pack walked the ridge and tried to find a better spot but I couldn't.
I thought about emptying out my pack and shuttling gear up in multiple trips but in the end I said F it and just pulled one big job. Lol
However, once I got up there I 100% decided I was not going back down through that steep ass unstable Mars dust.
Got up on the ridge, dropped down over the back side of the ridge to the dotted blue line to get water and too my surprise
"Rut-roh" there ain't no water here and it's a mile as the crow flies through country I have no idea about to the nearest creek.
Glad I carried in 3 liters because I definitely almost only took 2 to save weight.
glassed from the ridge till sunset. Pretty sure I could hear something big raising hell in the brush 200yds below but could never get eyes on it.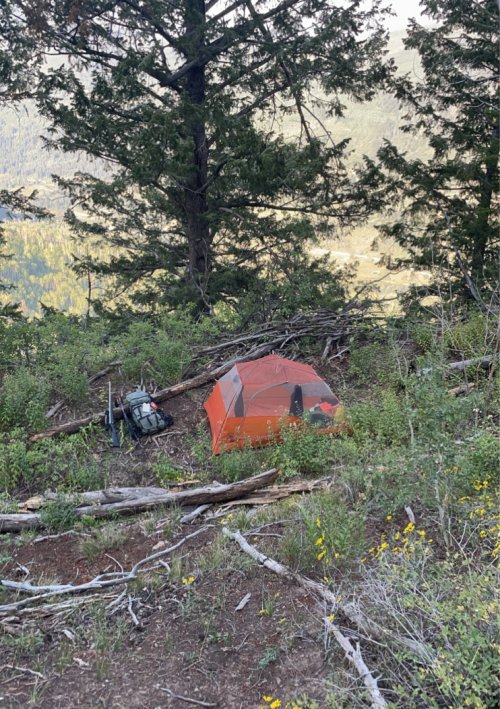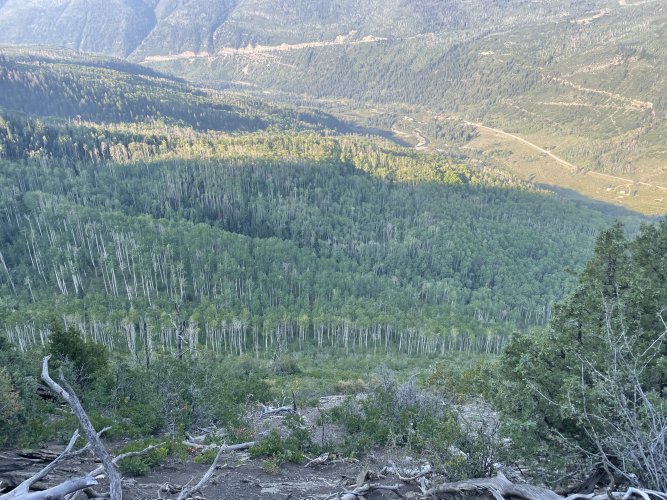 Day 3: glassed ridge again in the morning, didn't see anything, loaded up and headed for the creek a mile away.
Did a lot of hiking through blowdown and and thick ish.
At one point I dropped down into a hole so deep I'm pretty sure I was actually in Medellin, Columbia. There was an unbelievable amount of old propane cylinders and trimming scissors.
It's none of my business how you use your public lands but seriously clean up your mess when you leave.
I looked around for souvenirs, found a Cumberland gap quarter and put it in my pocket.
bad move.
You don't steal from those people.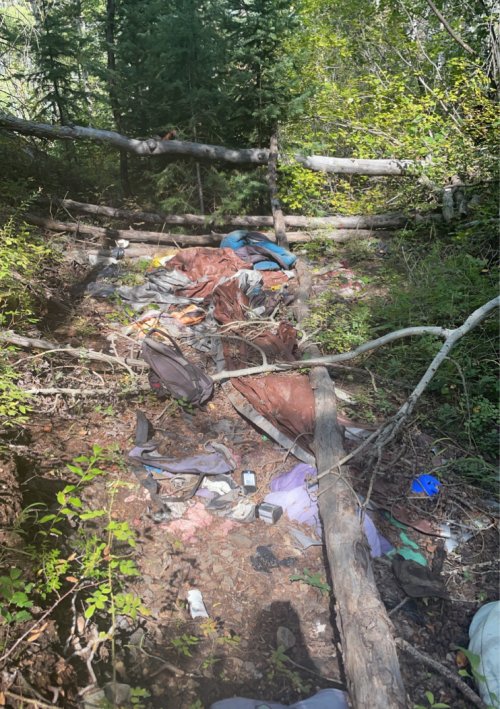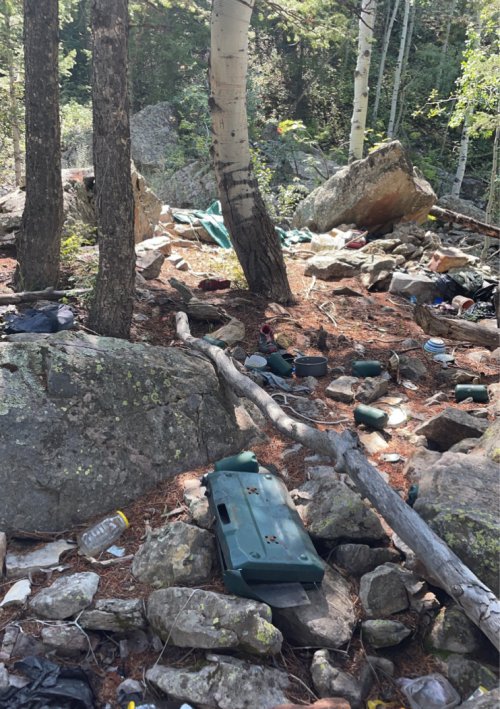 Continued on, finally found some openings with sign that you could prob still hunt through.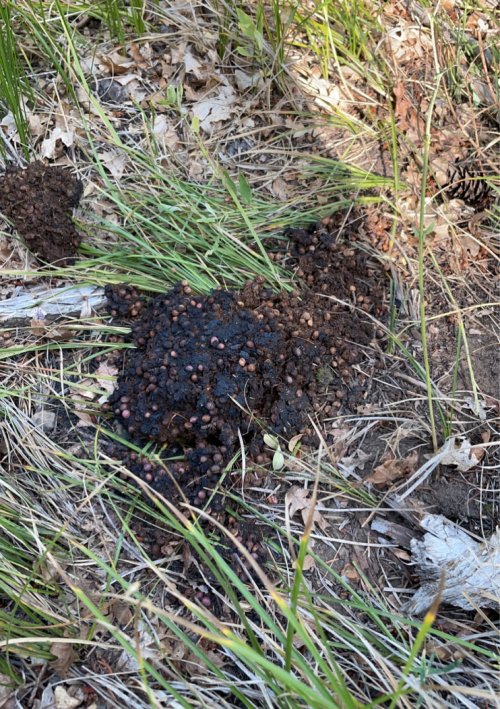 by this time I had been hiking for several hrs and while it was cool to be out in a huntable area and seeing sign it was hotter than absolute hell and I was out of water.
so I look at my onX system and try to identify a nice open path 500ish ft down to the creek bottom.
bad idea, that open area was more thick ass Mars dust.
I started dropping down that mother f***er and immediately regretted it.
Inner monologue throughout this down climb:
"wtf are you doing you stupid mfer? You're a $*)Q!#@$ trucker from central Illinois not a mountain man"
So to get down this I've basically got my left leg fully extended in front of me leading the way with my right leg tucked and I'm laying on the side of this hill as I try to side slide from bush to bush back over towards the thick trees and shit.
blowdown sucks but it's definitely better than free falling to your death.
btw, as a guy who jv wrestles and slides down mountains with his left leg forward I'll be moving my rifle over to the left side of my pack.
I beat tF out of that thing in that down climb and at one point it popped off my pack and went for a quick slide but thankfully got jammed up in a bush like 10ft below so I was able to get it.
I get back over to the thick shit where I can hold on and thank god.
start hiking down through the blowdown and dehydration is really stating to set in.
I get about 200yds above the creek and say f it.
ditch my pack, stuff my water filter bags in my bino harness, strap my empty nalgene to it and start bombing for the creek
bottom.
When I get there of course the creek is like 100ft down a cliff but thankfully the master programmer decided to show mercy on me and put a decently safe goat path down to the creek right where I was at.
I couldn't do it with a full pack but it wasn't horrible.
had some descent cramps.
Drank lots of water, hiked back up to pack, got the rest of my water bags, hiked back down, filled them up, hiked back up all the way to the top and set my camp in the most huntable spot with the most sign because it was the only flat place I could find.
moving around the tent was hard that night. Lots of cramps.
at this point one of my alter egos @bitchmadehunter took control of the hunt and decided he was finding a safe route back to the car the next day...